Texas State University Police officer creates DWI simulator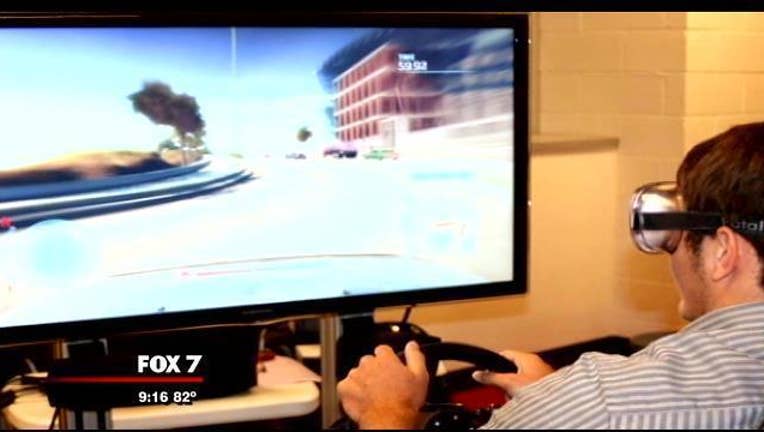 article
SAN MARCOS, Texas - A chance of fate prevented him from being involved in a fatal drinking and driving crash and now he is doing all he can to keep young students from getting behind the wheel when they shouldn't. This week's Crimewatch features a Texas State University officer's invention called the DWI POD.
Texas State University Police Officer Otto Glenewinkel recalls one of the most influential events of his life.
"If we would've been with them, God knows where I'd be right now," said Glenewinkel.
As a high school student, he narrowly missed being the victim of a horrific crash.
"…There was a group of friends that we knew," Glenewinkel said. "We met them down in Gruene and we were playing volleyball all day and they said they were going to San Antonio that night."
He and a friend were late and the group left without them. Glenewinkel says the vehicle was hit by a drunk driver.
"There were five people in the car. Two died, one was left brain dead and then two were confined to a wheelchair for the rest of their lives," Glenewinkel said.
As a police officer, Glenewinkel stopped many drunk drivers. He also participated in prevention education for students.
"I was like, there is bound to be a better way to educate people about drunk driving," he said.
While playing a video game called "Need for Speed", his son asked to use the department's drunk goggles to play. An idea was born and in 2008 he built his first prototype. He called it the "Driving While Impaired Portable Onsite Demonstrator" or "DWI POD".
The participant sits in a driving chair, wears the drunk goggles and plays a specialized version of "Need for Speed".
"We've created profiles in the game that can control the braking, the acceleration and the steering and all change it like if they were intoxicated," he said.
He saw great success at Texas State.
"It draws the kids in. Sometimes there's a line 100 people deep just standing around watching the simulation," Glenewinkel said. "When you look at drunk driving the people most at risk are males between the ages of 16 and 24. Those just happen to be the same people who play those video games."
Glenewinkel created a non-profit and has since built 12 simulators; the Texas A&M Agrilife Extension Service has purchased eight, New Braunfels police have one, a simulator is also at Scott and White Hospital in Waco and the Methodist Hospital in Dallas.
"It kind of makes them stop and think, 'is this really the way I am when I'm intoxicated?' We've had people tell us when they get out 'I don't remember it being like this when I was drunk,'" Glenewinkel said.
Glenewinkel recently expanded his software to include texting and driving.
"For that one there's no drunk goggles, you're driving a car in the game and the operator sends you text messages and you have to respond on your cell phone. Once you take your eyes off the screen, you're wrecking all over the place," he said.
His main purpose remains with the day that almost changed his life, "If we can keep one person from driving drunk it's gonna be a success."