Dallas mother, 8-year-old daughter dead in apparent murder-suicide
DALLAS - A Dallas woman and her 8-year-old daughter were found dead Monday after an hours-long police standoff.
Dallas police said a man and a woman got into an argument just after midnight at their home in the Red Bird area. The mother killed her little girl and then herself during a police standoff.
Police have not yet released the names of the victims, but neighbors say they'd seen the family Sunday evening and nothing appeared to be wrong.
SKY 4 was over Highcrest Drive Monday morning at the scene of a SWAT standoff that started overnight.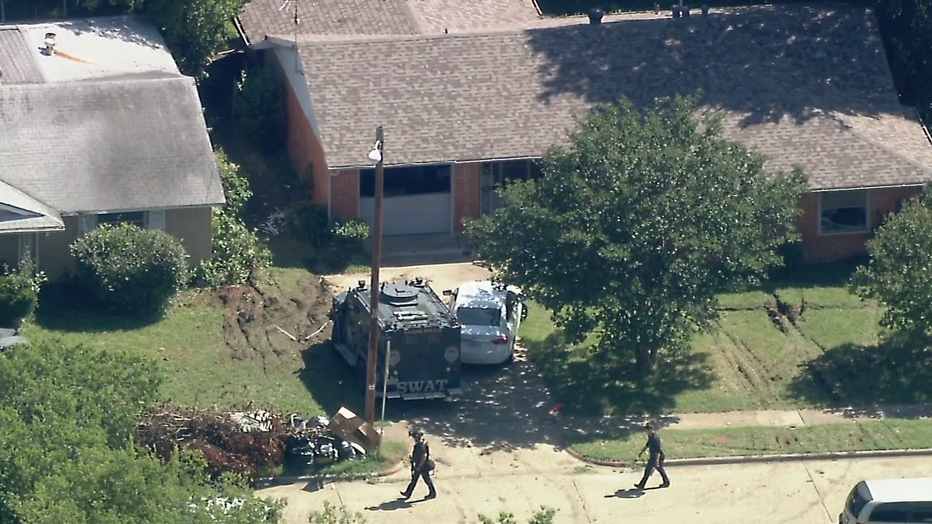 Dallas Police Chief Renee Hall was on scene and addressed the media herself.
"When they arrived, they encountered a black male victim who stated that he and his wife had had an altercation," Hall said. "And as a result, she grabbed a firearm and fired several shots."
Hall says the man ran out of the house, but the 35-year-old woman barricaded herself inside with their 12-year-old son and 8-year-old daughter.
"After several hours of negotiation one of the individuals, the 12-year-old boy, was able to get away from the location," Hall said. "However, the 8-year-old girl was still inside."
Hall says SWAT officers entered the home and attempted negotiating with the woman, but she fired several rounds and grazed an officer.
Officers retreated and tried to negotiate again. But a short while later, they heard two gunshots. Police found the woman and her little girl dead.
Edith Jones, who often stays with her cousin two doors down, says she'd see the kids playing outside, including Sunday, just hours before something went terribly wrong.
"We sat out and nothing really weird. Everything was nice," Jones said. "It's sad. It is. It's really sad."
"Throughout my almost 23 years in law enforcement, these kinds of scenarios are the absolute worst," Hall said.
Police said the 12-year-old son made it out of the home safely. They did not give any details on if he was released or able to escape on his own.