Dallas mother facing new charge in connection to shooting death of 3-year-old son
DALLAS - The mother of a Dallas 3-year old boy who was shot in the head has been charged with an additional crime.
Lacravionne Washington, 26, was arrested Wednesday on outstanding warrants. Police also took her in to interview her about the death of her son, Jalexus Washington.
On top of the child endangerment charge that Dallas police announced early Thursday, she's now charged with tampering with evidence.
Police say Lacravionne told them her child was a victim of road rage, but her story wasn't adding up. A gun was found in her car. The child's father also had a gun.
It's still unclear where Jalexus was when he was shot. 
Dallas police added an evidence tampering charge against the mother , saying she concealed a weapon but would not give further details about the charge.
Police records show Lacravionne was under surveillance after the shooting death of her 3-year-old son. An undercover officer observed her in a vehicle that was driving erratically on Wednesday. Uniformed officers pulled the car over and arrested her for outstanding warrants.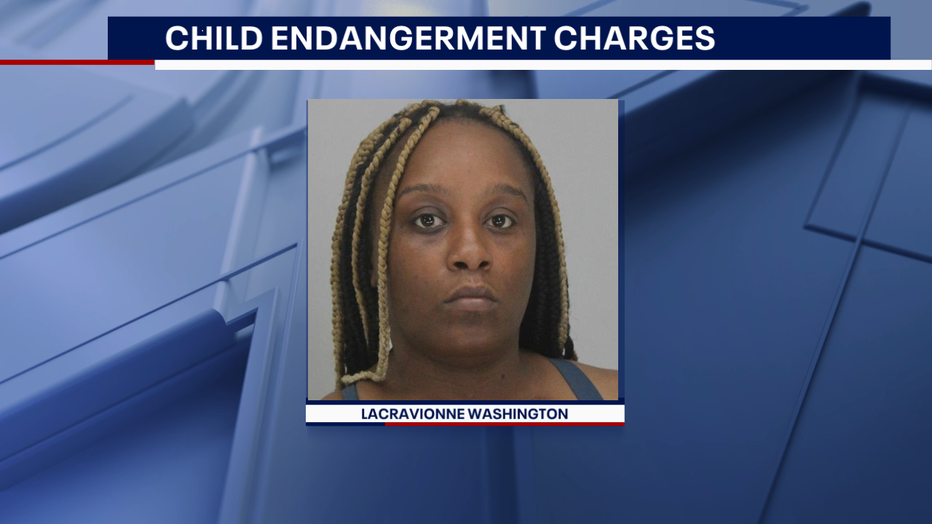 According to police, Lacravionne declined to speak to detectives prior to being booked for the outstanding warrants. She was then charged with endangering a child, due to a weapon being accessible to a child.
"She declined to talk further, took her into custody, charged with endangering a child that stems from a child having access to a weapon," DPD spokeswoman Kristin Lowman said.
RELATED:Dallas PD releases new timeline details in 3-year-old's shooting death
The fatal shooting happened Monday, when Lacravionne brought the boy to the hospital with a gunshot wound to the head. He died at the hospital. 
Police initially interviewed Lacravionne Monday after she arrived at the Medical City Dallas ER at 10 a.m. Both the mother and child were seen about 20 minutes earlier at a donut shop near the Dallas College Richland Campus. 
According to the arrest affidavit, Lacravionne initially told police that her son was shot by a stranger in a road rage incident. Police had previously said they found no evidence to support that claim.
There were also no child restraint seats, despite her arriving at the hospital with children ages 4 and 2, in addition to the 3-year-old. 
Lacravionne said there were no weapons in her car and allowed officers to search it. However, police found a gun in her glove compartment, a weapon they said she purchased earlier this month.
When police interviewed the mother again, she admitted she had a gun in the car but claimed she never used it. She told police she recently bought it for her husband, Jalexus Washington, Sr.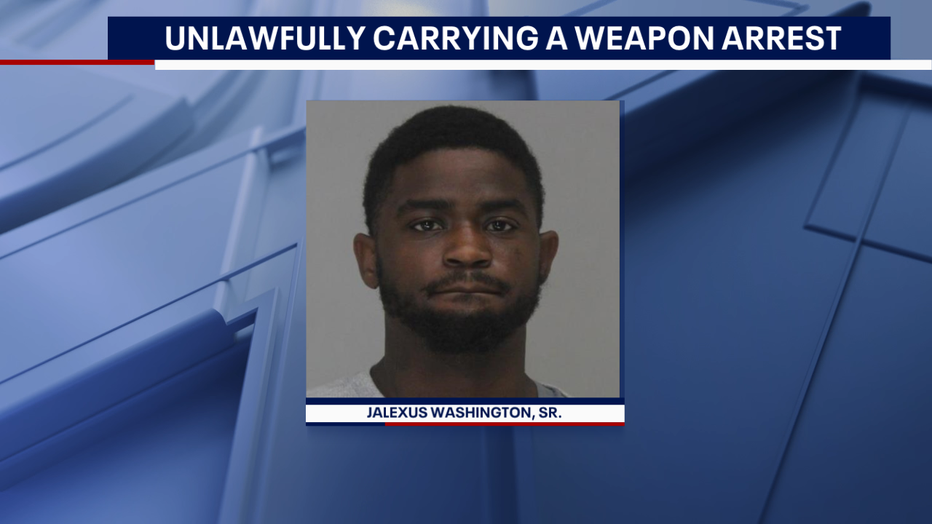 Police later found out Lacravionne had bought two guns. 
The second gun was found on Lacravionne's husband when police arrested him on outstanding warrants. He was later booked for unlawful carrying of a weapon.
The autopsy shows the boy's bullet wound was at close range, ruling out the possibility that gunfire came from a passing vehicle, according to police. It is unclear who in the car fired the shot that killed the boy.
"This is the death of a 3-year-old child, tragic, a lot of detectives working around the clock to determine what happened to this child and find the person or persons responsible for this death and find justice for this baby," Lowman said.
"During the investigation into the death of the 3-year-old, officers saw him with an unholstered weapon," Lowman said.
During a police interview, Jalexus Sr. told detectives he was at work when the shooting happened.
Anyone who may have seen the mother and child during the timeframe of the shooting is asked to contact Dallas police.
RELATED: Dallas toddler dies after being shot in the head
Lacravionne's other children were taken into CPS custody and are now with a family member. CPS says they have been involved with the family before.