Expert testifies Garrett Foster was inches away from Daniel Perry's car door in murder trial
AUSTIN, Texas - Day six of Daniel Perry's murder trial included testimony from a forensic engineer who created a 3D rendering of the incident on July 25, 2020. 
Perry could face life in prison if convicted by a jury for killing Black Lives Matter Protester Garrett Foster on July 25, 2020.
This rendering analysis was requested by the defense to give the jury a clearer view of what happened that night, according to the analysis.
Through a laser scan done on Fourth Street and Congress Avenue, Forensic Engineer Jason Evans was able to create a 3D recreation of the intersection. He also created a recreation of the incident using a series of five photos and four videos taken the night of July 25, 2020. 
He started by showing a playable rendering of Perry turning into the crowd of protesters.
"Initially at 11.9 mph, [Perry] starts to decelerate or slow down to the apex of the turn to 9.8 mph and then continues to slow down until he comes to a stop," said Evans.
Evans was also able to provide a rendering of how close Foster might have been standing to Perry's car door before Perry shot and killed Foster.
"We were able to show, and actually know, that a tenth of a second before the first shot fired that Mr. Foster was 18 inches from the driver's door," said Evans.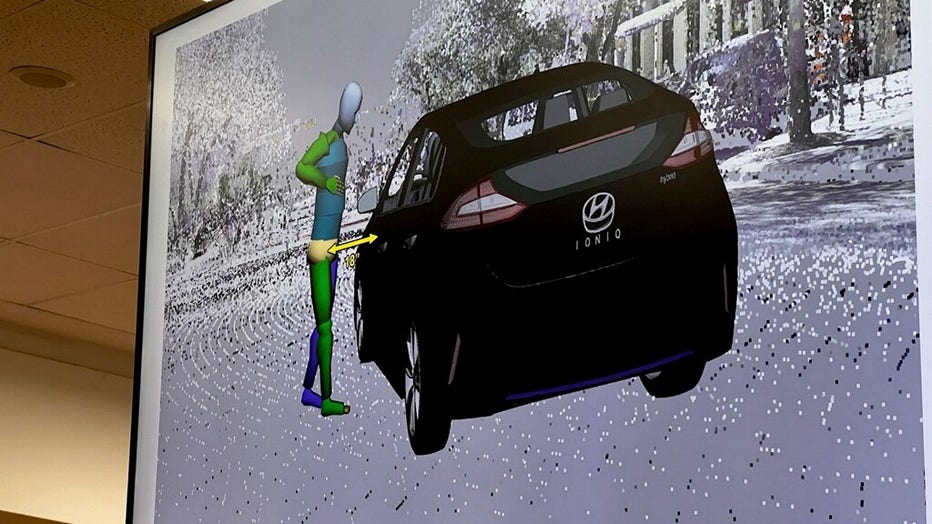 (Photo courtesy: Scott Guest, pool photojournalist)
RELATED COVERAGE:
The analysis also included a rendering of how Perry might have seen Foster through his driver's side window.
"Ultimately able to show that you were able to see Mr. Foster from the area of his mid-thigh all the way to the top of his head," said Evans.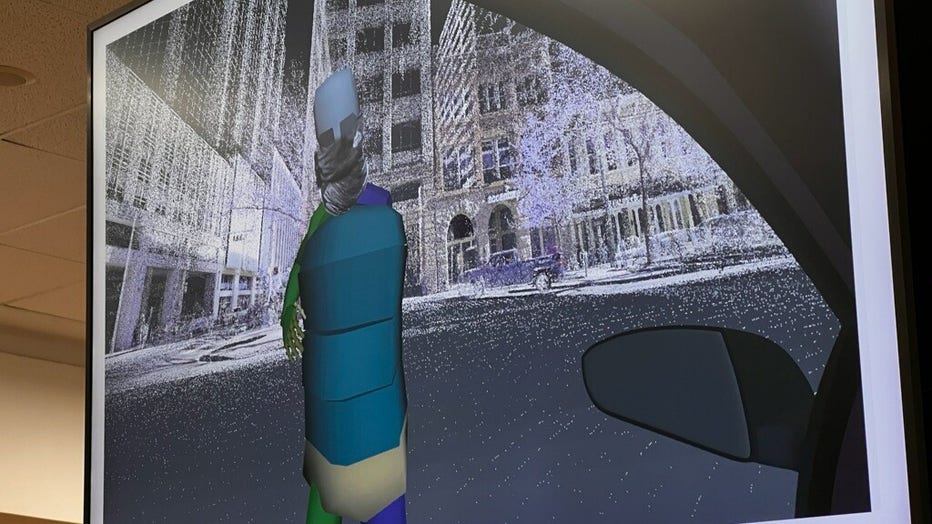 Photo courtesy: Scott Guest, pool photojournalist
The state cross-examined Evans by mentioning the rendering of Foster looks to be standing almost fully upright when previous testimony from a medical examiner claimed otherwise. She previously testified saying Foster was most likely leaning forward to look into the car since all four of his gunshot wounds were downwards.
"If I told you that there was testimony before this jury that the trajectory of Mr. Foster's wounds were all downward going across his body in a downward direction. Would that change your analysis?" asked the state.
Evans responded with, "we didn't do any trajectory analysis."
The state also questioned Evan's analysis of how close Foster was standing if a video from that night shows he's moving when the first muzzle flash goes off.
"I know in our analysis, we determined that the frame for the 22nd clip showed both of his feet on the ground in that one frame," responded Evans.
In the end of his testimony, Evans claimed he was highly confident when it came to the accuracy of his analysis.
"Yes, there is some error associated with this, but there is no reason for a quantified calculation to give you an exact measurement associated with it, but in my personal opinion, it's well below the industry standard, and it clearly is very small," said Evans.
Emmanuel Kapelsohn was called to testify next by the defense. He is certified in police firm arm consulting by the FBI and certified in shooting scene reconstruction.
During his testimony, he presented a video where he recreated how fast a person with a rifle can shoot in a low ready position from 18 inches away from a car door. He shot seven consecutive shots and each one averaged less than a quarter of a second. 
He also demonstrated shooting a rifle in a cross body carry. Each shot averaged a little more than a quarter of a second.
Trial picks up Wednesday, April 5 at 9 a.m. The defense expects to call former APD Homicide Detective David Fugitt to the stand. He was the lead detective in the case.