Data from SUV shows deadly wreck may have been intentional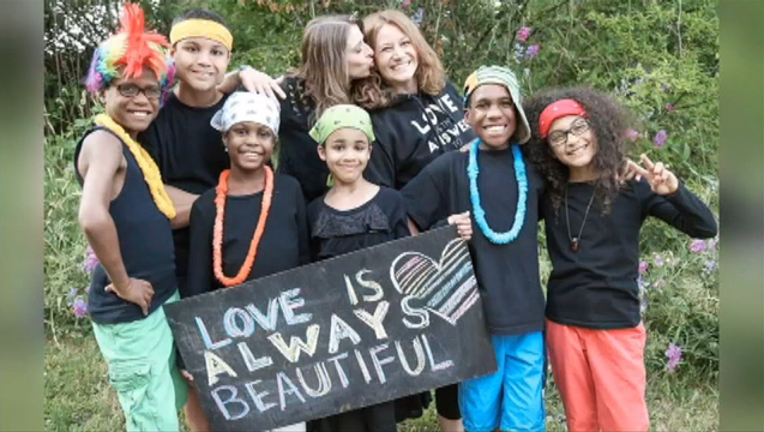 article
MENDOCINO, Calif. (AP) - An SUV carrying a large, free-spirited family from Washington state accelerated straight off a scenic California cliff and authorities said the deadly wreck may have been intentional.
Information pulled from the vehicle's software shows it was stopped at a flat, dirt pull-off area before it sped off the steep rocky face and plunged 100 feet, said Capt. Greg Baarts with the California Highway Patrol Northern Division. Speaking at an evening news conference Sunday night, Baarts said the electronic information combined with the lack of skid marks or signs the driver braked led authorities to believe the crash was purposeful.
Five members of the Hart family were found dead. The search continued for three more children believed to have been in the vehicle when it went over a coastal overlook and landed on rocks in the Pacific Ocean below. The missing children may have been washed out to sea, authorities say.
"This specific location is very difficult to search because the ocean currents and tides are strong, it's unpredictable, and the murkiness of the water makes it difficult to see," said Capt. Greg Van Patten, a spokesman for the Mendocino County Sheriff's Office.
Known as the Hart Tribe, the multiracial family of two married women - Sarah and Jennifer Hart - and six adopted children often took spontaneous road trips to camp and hike and traveled to festivals and other events, offering hugs and promoting unity.
Authorities don't know exactly when the wreck took place. A passing motorist discovered the vehicle on March 26, three days after social service authorities in Washington state opened an investigation apparently prompted by a neighbor's complaint that the children were being deprived of food. Authorities believe at least one felony was committed but Van Patten declined to specify.
Well before the wreck, Sarah Hart pleaded guilty in 2011 to a domestic assault charge in Douglas County, Minnesota, telling authorities "she let her anger get out of control" while spanking her 6-year-old adopted daughter, court records show.
The two women, both 38, were found dead inside the SUV, while three of their children - Markis Hart, 19, Jeremiah Hart, 14, and Abigail Hart, 14 - were discovered outside the vehicle. Searchers were looking for Hannah Hart, 16; Sierra Hart, 12; and Devonte Hart, 15.
Devonte drew national attention after the black youngster was photographed in tears, hugging a white police officer during a 2014 protest in Portland, Oregon, over the deadly police shooting of a black man in Ferguson, Missouri. Devonte was holding a "Free Hugs" sign.
Two weeks ago, Bruce and Dana DeKalb, next-door neighbors of the Harts in Woodland, Washington, called state Child Protective Services because Devonte had been coming over to their house almost every day for a week, asking for food.
Dana DeKalb said Devonte told her his parents were "punishing them by withholding food." The boy asked her to leave food in a box by the fence for him, she said.
Social service authorities opened an investigation, and a state caseworker went to the house on March 23 but didn't find anyone home. The agency had no prior history with the family, said Norah West, a spokeswoman with the Washington Department of Social and Health Services.
On Thursday, authorities in Washington state combed through the family's home for information. The Clark County Sheriff's Office said deputies were looking for bills, receipts or anything else to shed light on why the family left and other circumstances related to the trip, KGW-TV reported.
"To the best of my knowledge, there was not a suicide note found at the residence," said Baarts, who added that authorities have been interviewing friends and family members of the Harts.
"There have been red flags," he said, but did not elaborate.
Van Patten said he was not aware of any other evidence of abuse.
Family friend Max Ribner last week took issue with the notion it was something other than a tragic accident. The couple adopted the six children, many of whom came from "hard backgrounds," he said. "They transformed these kids' lives."
___
Associated Press writer Michelle A. Monroe contributed to this report.