Browns QB Deshaun Watson out for remainder of season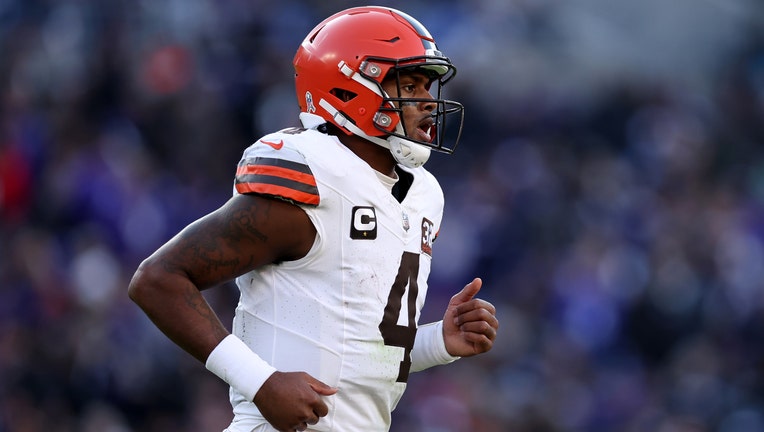 article
CLEVELAND - Deshaun Watson's season is over, once again leaving the Cleveland Browns without a franchise quarterback.
Watson will miss the rest of his second year with Cleveland after sustaining a fracture in his throwing shoulder, an injury that came during his best performance since joining the team following a controversial trade in 2022.
"I'm still in disbelief," Watson said Wednesday.
Watson will undergo surgery to repair the fracture in his right shoulder, which happened during Sunday's 33-31 win in Baltimore on an unspecified hit in the second quarter. The team said an MRI revealed a displaced fracture to the glenoid.
Watson said he has "no idea" when the fracture happened, but knew by the end of the first quarter there was a problem.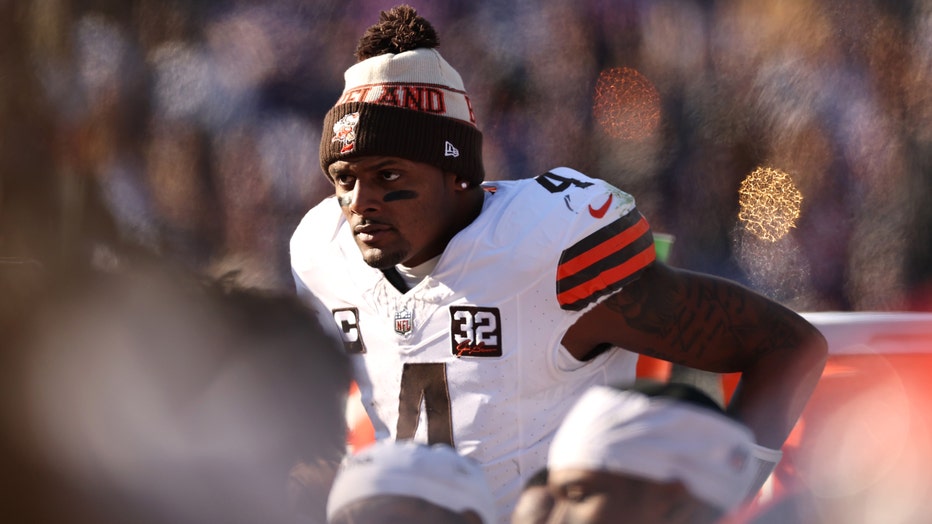 Deshaun Watson #4 of the Cleveland Browns looks on from the sidelines against the Baltimore Ravens during the second quarter at M&T Bank Stadium on November 12, 2023 in Baltimore, Maryland. (Photo by Scott Taetsch/Getty Images)
"I kind of recognized something was wrong, but during the midst of the game, I was just pushing through whatever I was feeling," said Watson, who was also in a walking boot. "And then after the game, and Monday and Tuesday we got testing done and that's when I found out from the doctors that it was something worse than what we thought it was."
Watson paused for several seconds when asked about his emotions at his season being over.
"It's very tough," he said. "But I'm going to make sure I keep my head above water and make sure I stay in touch with all the guys and support them as much as I possibly can and attack this rehab process after surgery and make sure that I'm doing whatever I can to be beneficial for the team while not actually being on the field with them and also prepping for the next year."
READ MORE: Saints' Michael Thomas arrested after altercation with construction worker, police say
Browns general manage Andrew Berry said the fracture is not related to the strained rotator cuff that Watson sustained earlier this season.
"We are very disappointed and devastated for Deshaun, especially given all that he has battled and gone through medically this season," Berry said. "We look at this as an incredible challenge and opportunity for our organization."
Berry credited Watson for staying on the field against the Ravens and leading the Browns to the last-second win despite his shoulder injury and a high left ankle sprain.
"He really didn't start even really feeling it to the second half of the game and that he didn't even really raise it until well after the game," Berry said. "It's an incredible display of physical toughness for him to play with that and not even notice it given the severity of the injury."
Watson will go on season-ending injured reserve, a devastating blow to the Browns, who are in the playoff race and invested $230 million into the 28-year-old whose arrival seemed to end their long search for an elite QB.
Now, Watson will have to work his way back from a shoulder injury with just three seasons left on his deal.
It's the latest setback for the Browns, who have managed to stay in the playoff hunt despite losing star running back Nick Chubb and Pro Bowl right tackle Jack Conklin to season-ending injuries and playing without Watson for several games.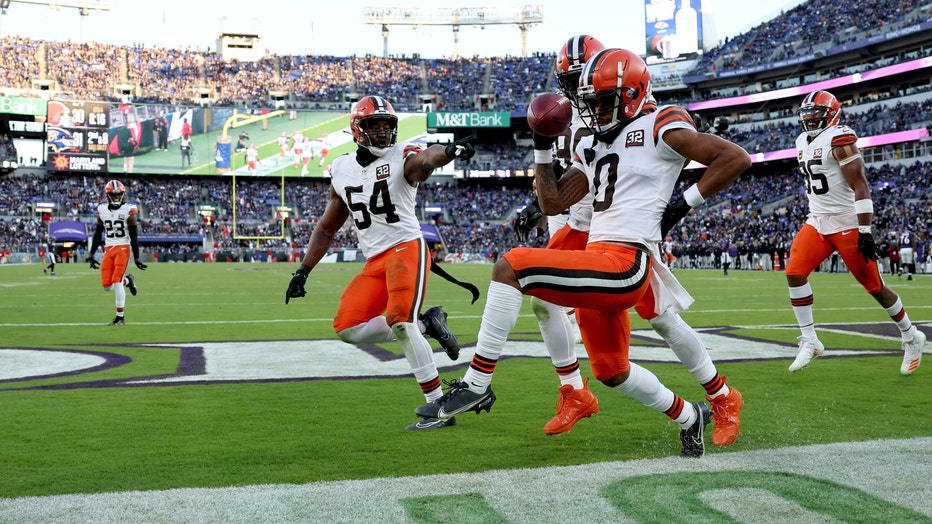 Greg Newsome II #0 of the Cleveland Browns celebrates a touchdown against the Baltimore Ravens during the fourth quarter at M&T Bank Stadium on November 12, 2023 in Baltimore, Maryland. (Photo by Scott Taetsch/Getty Images)
Berry deferred to coach Kevin Stefanski on the team's plans at quarterback going forward. The Browns (6-3) host the Pittsburgh Steelers (6-3) on Sunday.
When Watson missed time earlier this season — he was on the field for just 12 plays in four October games — the Browns started rookie Dorian-Thompson-Robinson one game and P.J. Walker in two games.
Walker has passed for 618 yards with one touchdown and five interceptions.
Stefanski could go with Walker the rest of the way or give Thompson-Robinson another shot after a rough pro debut. It's also possible the Browns will consider signing a veteran free agent. The team was criticized for not acquiring a proven backup before the trading deadline last month when Watson was hurt.
Berry said the team will add a third quarterback, but did not give any details.
The Browns traded three first-round draft picks last year to Houston for Watson, a three-time Pro Bowler who wound up being suspended for 11 games by the NFL after he was accused of sexual assault and harassment by more than two dozen women during massage therapy sessions.
Watson, who has made just 12 of 26 possible starts since coming to Cleveland, twice twisted his left ankle Sunday but insisted on staying in. He completed 14 of 14 passes in the second half while leading the Browns to one of their biggest wins in years.