Dozens arrested outside White House during protest over Israel-Hamas war
WASHINGTON - More than 30 protesters were arrested in front of the White House on Monday, according to the U.S. Secret Service. 
This comes after thousands of pro-Palestinian activists took to the streets of the nation's capital on Saturday to advocate for a cease-fire between Israel and the Iranian-backed Hamas militant group, urging President Biden to end the conflict.
"We need a cease-fire. We need innocent people to stop being killed," Mohamad Habehh, the director of development for the American Muslims for Palestine – which organized the Saturday rally – told Fox News. "It seems that the Biden administration would rather condemn people calling for peace than try to step in."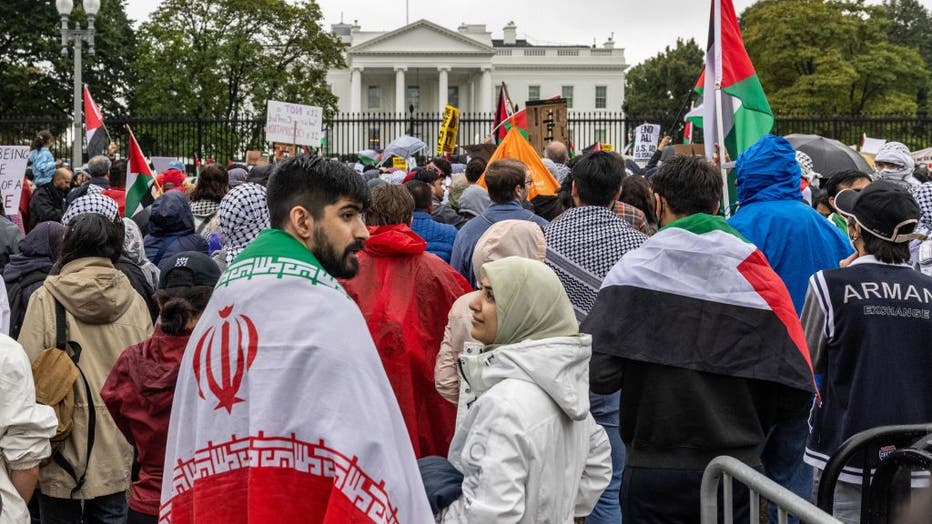 10/14/2023 Washington, D.C., USA. A man wrapping himself in the flag of the Islamic Republic of Iran during a rally in solidarity with Palestine near the White House.Thousands of Palestine supporters participate in a rally in Washington, D.C. They de
Ayah Ziyadeh, the advocacy director for American Muslims for Palestine, told Fox News, "Our U.S. government is literally enabling genocide and pushing Israeli propaganda, and we demand a cease-fire immediately."
"This is mass murder, this is ethnic cleansing," she continued
The "Day of Action for Palestine" event drew more than 10,000 pro-Palestinian protesters to Washington, D.C., on Saturday, according to the American Muslims for Palestine. Hundreds of Palestinian flags waved as demonstrators marched through the streets before culminating in a rally outside the White House. As rain poured down, a cohort of Palestinians, Americans, some Jewish people and more cheered for the freeing of Gaza and the end of the war between Israel and Hamas.
On Monday, "more than 30 individuals were arrested by the U.S. Secret Service's Uniformed Division for Unlawful Entry or Incommoding after crossing safety barriers or blocking entrances during a demonstration at the White House complex," Special Agent Steve Kopek, a U.S. Secret Service spokesperson, told Fox News in a statement. 
Protests against the war between Israel and Hamas are ongoing.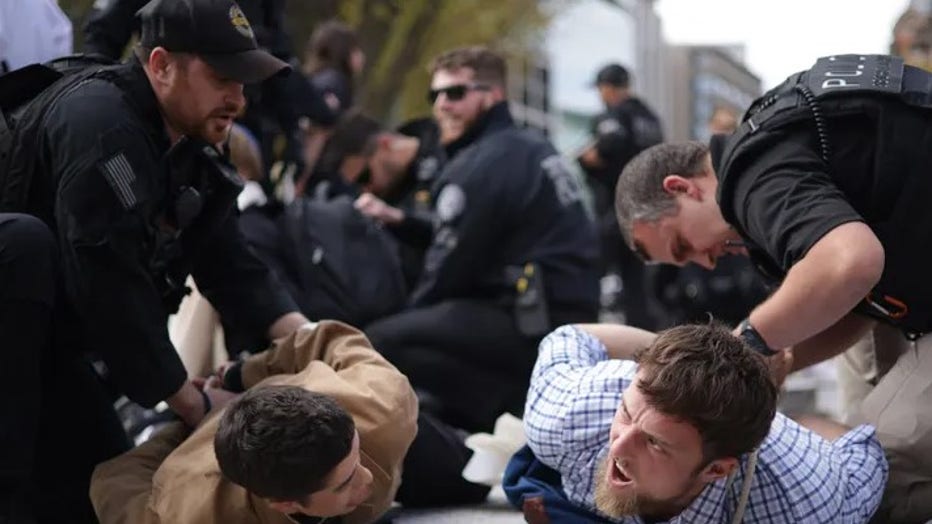 "What's going on is sad. What's going on is kids being murdered, killed," one attendee, "Haitham," said Saturday. "Our government here, they have to stop this war."
Another protester, "Meziane," told Fox News, "There needs to be an immediate cease-fire in the Gaza Strip. I think civilian lives need to be protected."
Since Hamas terrorists invaded Israel on Oct. 7, and Israeli Prime Minister Benjamin Netanyahu subsequently declared war against the organization, at least 4,200 people have been killed. At least 2,800 Palestinians have been killed and nearly 11,000 have been wounded, many of which have been children, according to Palestinian health authorities.
Meanwhile, at least 1,400 Israeli civilians and soldiers and 30 Americans have been killed.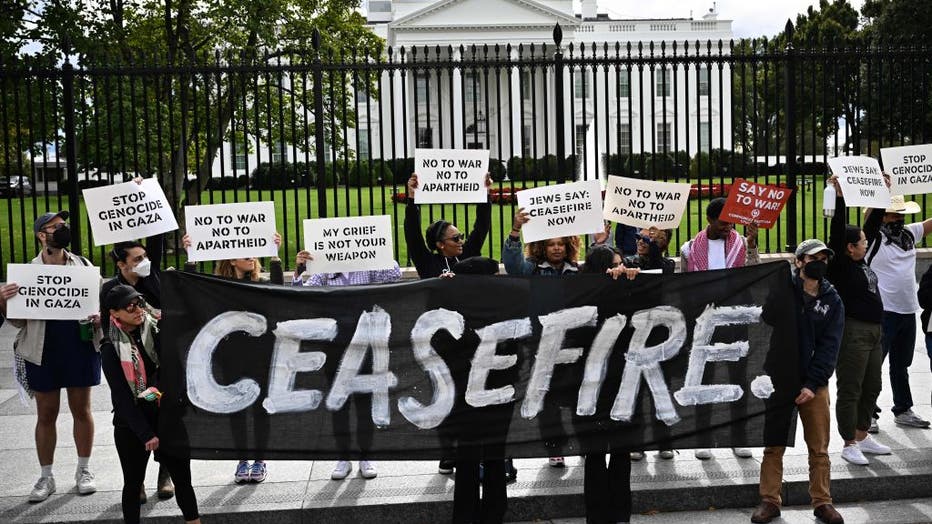 TOPSHOT - People rally in support of Palestinians in front of the White House in Washington, DC on October 16, 2023. Israel warned Monday of a long but winning war against Hamas as US Secretary of State Antony Blinken made his second visit within day

President Biden avoided calls for de-escalation while addressing the war in a speech on Oct. 10, vowing that the U.S. "has Israel's back."
"We stand with Israel," Biden said. "And we will make sure Israel has what it needs to take care of its citizens, defend itself and respond to this attack."
WASHINGTON, DISTRICT OF COLUMBIA, UNITED STATES - 2023/10/14: A demonstrator with a Palestinian flag on her cheek in front of the White House during a Day of Action for Palestinian event in Washington, DC. Pro-Palestinian protesters gathered across the country as Israel prepares for an expected ground offensive in Gaza. (Photo by Probal Rashid/LightRocket via Getty Images)
Still, activists demanded the president help de-escalate the ongoing conflict.
"President Biden must declare a cease-fire immediately," "Andy" said. "He must tell the Israelis to disengage all offensive actions against the innocent civilians of Gaza.
Another protester, "Merveen," told Fox News, "Mr. Biden, I thought that old age taught you wisdom."
"What's coming from war?" she continued.
Ramiro Vargas contributed to the accompanying video.
Read more via FOX News.