Suspect wanted for breaking into NE Austin apartments with intent to sexually assault victims: APD
AUSTIN, Texas - The Austin Police Department's Sex Crimes Unit is asking the community to be vigilant. They need help identifying a suspect who's been breaking into homes with the intent to commit sexual assault.
Investigators said in December 2022, they started investigating a series of burglaries with intent to sexually assault victims. Officials said the suspect has been targeting victims in apartment complexes near Berman and Highway 290 in Northeast Austin.
Recently, police said the incidents happened in the overnight hours of Jan. 6 and 7.
Police said they don't believe the suspect is targeting a particular type of victim. They aren't releasing the number of victims, but said several have come forward, and more may still be out there.
"During our investigation, we did discover ones that we didn't know about because they weren't yet reported," Austin PD Sex Crimes Unit Lt. Chris Leleux said.
"This type of incident when it's repeated like this is not a common occurrence, but when something like this does happen, all hands come to bare in trying to solve it as quickly as possible," Austin PD Sex Crimes Unit Sgt. Robert Barger said.
The suspect has been described as a white or Hispanic male, approximately 5'7" to 5'9" in his 30s with a slender athletic build, short brown hair, and possible facial hair.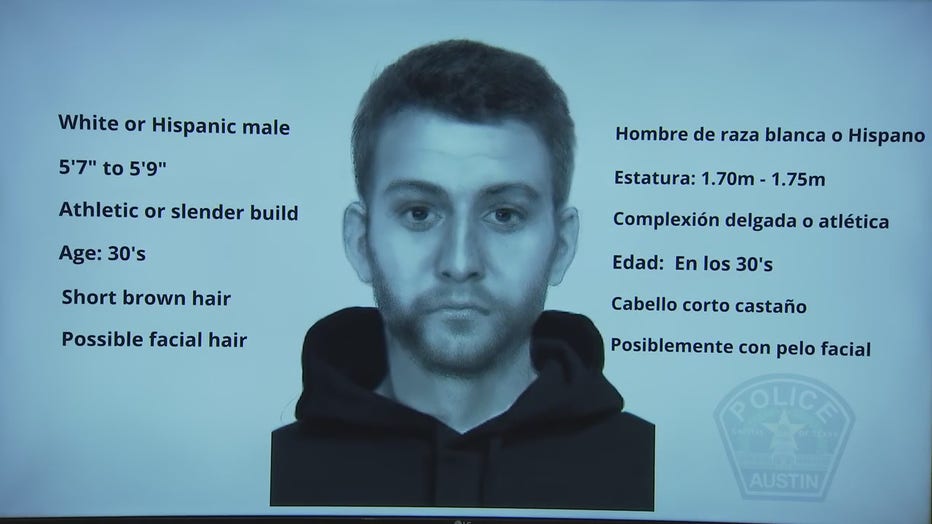 (Austin Police Department)
Police said they are actively pursuing leads at this time, but need the community's help. 
"If you see something, please report it, we're able to get a lot of valuable information that may be the piece of information that would be needed for us to affirmatively link a suspect to the case," Sgt. Barger said.
APD said victims concerned about reporting a related incident to police due to their immigration status are urged to come forward without fear.
"We want to assure them that it's important that they contact us, we have no interest in what their status is, and we hope that does not prevent them from reporting, we really need to know about this, and we want to work their case," Lt. Leleux said.
While the search continues, officials urge community members to lock doors and windows and if they're broken, don't wait for maintenance, find a way to close them and be on the alert.
"When you're out, if you see something that doesn't look like it's normal or that it's out of place, be vigilant and be aware of your surroundings," Sgt. Barger said.
APD said they'll be setting up a community meeting in the targeted apartment complexes to speak with residents.
Anyone with any information is asked to contact the Austin Police Department at 512-974-TIPS. You may submit your tip anonymously through the Capital Area Crime Stoppers Program by visiting austincrimestoppers.org or by calling 512-472-8477. A reward up to $1,000 may be available for any information that leads to an arrest. Reference APD case #22-3400147.