Elon Musk: Tesla claims to have world's fastest production car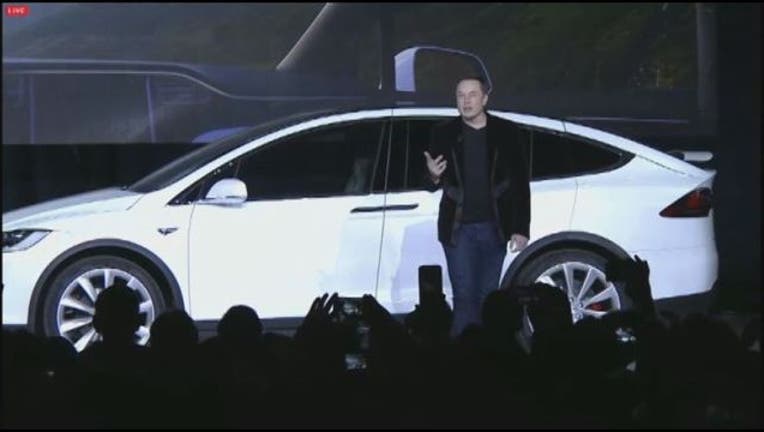 article
SAN FRANCISCO (KTVU) -- Tesla CEO Elon Musk announced Tuesday that his company has a version of the Model S electric car, which he said is the quickest production car from zero to 60 miles per hour.
The company said the Model S P100D sedan can go to 60 MPH in 2.5 seconds. The vehicle has a 100 kilowatt-hour battery pack that extends the car's range to about 315 miles whereas the previous range was 294 miles. The new battery is also available on the Model X SUV.
The company said in a written statement that the new Model S P100D with its Ludicrous mode is the third fastest production car in history, noting that the LaFerrari and the Porsche 918 Spyder were vehicles produced in limited quantities and with a 7-figure price tag.
"While those cars are small two seaters with very little luggage space, the pure electric, all-wheel drive Model S P100D has four doors, seats up to 5 adults plus 2 children and has exceptional cargo capacity," the company's statement said.
The company said the larger battery pack is also available on the Model X.
New customers can pay $10,000 for the larger battery pack. Existing owners must pay $20,000 because their existing batteries must be recycled.
The news of the product reveal Tuesday morning began with a cryptic tweet from Musk.
His statement on Twitter at 8:23 a.m. prompted Tesla's shares to rise after the CEO posted the announcement, which did not contain any details about the upcoming announcement.
There had been speculation the announcement would involve the company's autopilot system. The company is planning to launch a new vehicle known as the Model 3, a $35,000 vehicle slated to go on sale next year. Buyers lined up outside Tesla stores earlier this spring to place advance orders for the car.
"While the P100D Ludicrous is obviously an expensive vehicle, we want to emphasize that every sale helps pay for the smaller and much more affordable Tesla Model 3 that is in development. Without customers willing to buy the expensive Model S and X, we would be unable to fund the smaller, more affordable Model 3 development," the company's statement said.
Tesla's Autopilot allows the car to maintain a set speed, brake automatically and stay centered in its lane. Most luxury vehicles — and even some mainstream ones like the Honda Civic — can do the same. When Tesla upped the ante by offering automatic lane-changing, Mercedes-Benz quickly matched that.
The Associated Press contributed to this report.
RELATED CONTENT