Family of Tongan man killed during Oakland police chase files wrongful death suit
OAKLAND, Calif. - The family of a Tongan man who stopped at a taco truck with his mother after a graduation ceremony and then was killed during an Oakland police pursuit, sued the city of Oakland on Thursday, alleging the officers engaged in an unauthorized "ghost chase," leading to his death and injuries to his relatives. 
The estate of Lolomanaia "Lolo" Soakai, and his mother, Lavinia Soakai, along with cousins Daniel Fifita, Samieuela Finau and Ina Lavalu filed a wrongful death suit stemming from the tragedy that occurred on June 25, 2022, at 54th and International Boulevard in Oakland. 
"There's not a day go by that she doesn't grieve the death of her son, cousin Ian Finau said at a news conference.
Speaking on behalf of Lavina Soakai, Finau said that the family is still speechless about Lolo's death.
"We have received no apologies. We have received no notifications," Ian Finau said. "It builds an anger in us. It makes us feel, 'What's our worth?' We want those who did this punished for their actions. The system is broken. We need answers." 
Representatives of the city and the mayor's office did not immediately respond for comment on the suit, filed in U.S. District Court.
In an email, Oakland police said they do comment on pending litigation, referring questions to City Attorney Barbara Parker, who also declined comment.
Civil rights attorney Adante Pointer is alleging that the police officers initiated an out-of-policy, high-speed chase on a heavily trafficked street, leading to the crash. The officers had been pursuing 19-year-old Arnold Linaldi who they said was involved in a sideshow and crashed his Nissan 350Z into a row of parked motorcycles and cars.
One parked car slammed into 28-year-old Soakai and killed him. 
His mother broke her back. Fifita and Lavalu, his cousins, were sitting in their SUV, which was struck by Linaldi's Nissan. They, too, were taken to the hospital with injuries and were in pain for weeks. Finau was standing next to his motorcycle by the taco truck, when Linaldi's Nissan struck his leg, causing injury and damaging his bike, the suit alleges. 
Pointer also alleged that the officers didn't get out of their cars and render medical aid after they saw what had happened, which was first reported by KTVU.
KTVU also first reported that two officers saw the crumpled Nissan in the middle of the street and never got on the radio to ask for medical care. It's unclear if they saw that the crash had also killed Soakai and injured others on the sidewalk. 
Linaldi was not injured.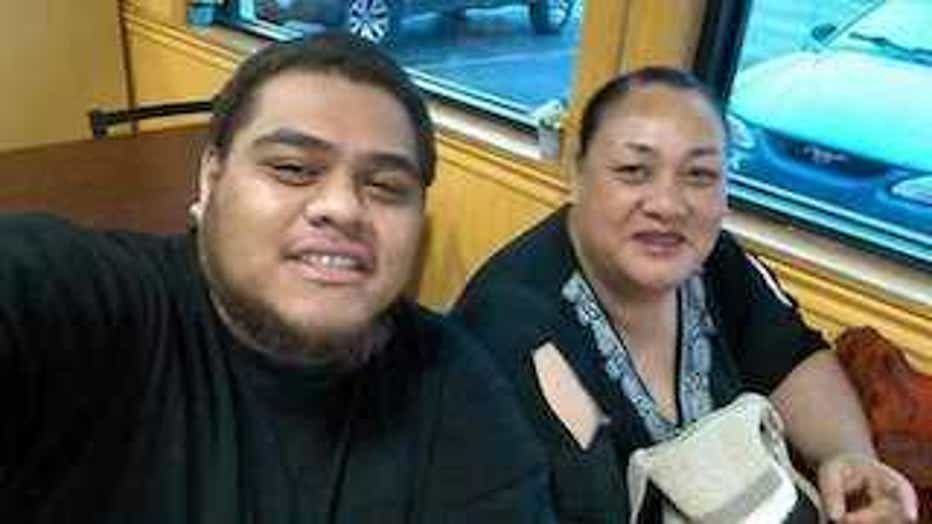 Lolo and Lavina Soakai. Photo: Courtesy family via Adante Pointer 
"The two Oakland officers watched the carnage, injuries and death they caused," Pointer wrote in the suit. "But they did not stop their car or even summon emergency medical services. Instead, they kept their sirens and lights off, their radios dead, and doubled-back to the scene when they heard other police sirens responding. When they returned to the scene, they pretended to have just arrived and were overheard saying that they hoped that the driver had died in the crash." 
Such rogue chases are known as "ghost stops." That's when officers keep off their lights and sirens and don't radio in their chase to dispatch.
Neither officer documented their involvement in the chase, the suit alleges, as is required by the department. 
Since 2014, Oakland police are allowed to initiate chases only if a "violent forcible crime," such as rape, assault, murder or robbery, is being committed. 
The officers have not been publicly identified, but last week, OPD said the investigation is still going on six months later, and there is no evidence that the officers have been terminated. 
When KTVU asked about the officers' status, an OPD spokeswoman emailed: "There has been no new information released at this time. This is still an active investigation." 
When the crash first occurred last summer, Oakland police sent a news release blaming the crash solely on Linaldi, who was charged in September 2022 with felony vehicular manslaughter.
Linaldi is out of custody. 
However, after KTVU reported about the officers' behavior, OPD Chief LeRonne Armstrong held a news conference later that day, acknowledging that he had placed the officers on administrative leave. 
By all accounts, Soakai was a loving son and God-fearing young man. 
He was an airline supervisor and a devout Christian. Friends and family described him as a humble, quiet man who sang gospel at church and who took care of his single mother ever since his father died in 2016 of heart disease. 
Soakai was born and raised in Oakland, but moved with his younger brother, Henry, and parents to Euless, Texas, a hub for Tongans, many of whom work in the airline industry, according to great-aunt Cynthia Huahulu. 
As a teen, he played football and went to church. He also has three older sisters. 
A few years back, Soakai returned to the Bay Area. His mother followed. And the two lived together in Hayward.
"These officers engaged in an unsanctioned, deadly car chase in order to satisfy their ego and urge to arrest someone for a low-level traffic infraction," Pointer said. "We expect officers to have the maturity and discipline to not give chase, or to discontinue a vehicle pursuit, when the odds of catastrophic injury or death are high. These officers ignored their training and commonsense which cost a good man his life."
Lisa Fernandez is a reporter for KTVU. Email Lisa at lisa.fernandez@fox.com or call her at 510-874-0139. Or follow her on Twitter @ljfernandez