Family stays hopeful in search for man swept away in flood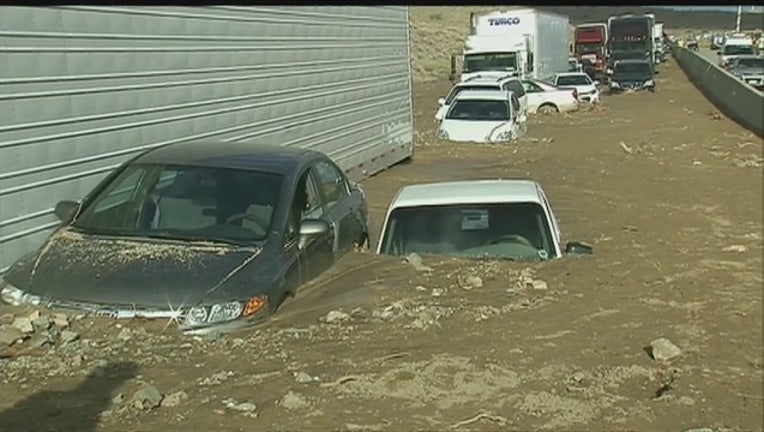 article
LOS ANGELES (AP) — Richard Harvell saw the mud and water coming and knew he had to get out of the flash-flood zone where he had been camping at the foot of the Tehachapi Mountains.
He almost made it.
Harvell, 67, was knocked off his feet by a boulder and swept away by mud and water as he tried to climb into his truck Thursday while a ferocious thunderstorm sent mud, water and debris down a mountainside, inundating roads, homes and vehicles.
Family and friends have joined a Kern County Sheriff's Department rescue team in searching for him since Friday, their efforts sometimes interrupted by bad weather.
On Monday, the team brought out cadaver dogs, Harvell's daughter Susan Garcia said, adding that she and her five siblings and their mother are holding out hope he's alive.
"We're not going to give up hope until they find him one way or another," she said.
Her father, a Vietnam War veteran, knew how to survive in the rugged desert area near Boron, where he has lived for years, she said.
"He's definitely able to live off the grid if he had to," she said. "If it's possible for someone to survive this it would be him."
Teams searched the foot of the Tehachapi Mountains, in the open desert near communities hit hard by mudslides. The area, which saw up to 6 feet of muck, is south of State Route 58 in Tehachapi, where Thursday's powerful thunderstorms triggered massive debris flows that trapped more than 100 cars, buses, RVs and big-rig trucks.
Garcia said her father and a boyhood friend were camping in the area when they saw the water rapidly rising. Harvell left his camping trailer to try get in his truck and move to safer ground. His friend watched helplessly as he was washed away.
On Monday crews hauled away the last of the trapped vehicles, but tons of hardened mud still needs to be removed before traffic starts flowing again, officials said.
Drainage systems also need to be cleared along an 8-mile stretch of the highway about 80 miles north of downtown Los Angeles, said Florene Trainor, a spokeswoman for the California Department of Transportation. Officials hope to reopen the highway by Thursday.
Geologists determined that nearby hillsides were stable, so there were no fears of another mudslide if it starts raining again, Caltrans officials said. The area got some weekend drizzle, but no serious rain, and a dry period was developing, forecasters said.
To the south, Los Angeles County crews reopened stretches of five roads in mountain communities about 40 miles north of Los Angeles that also were inundated during the flooding.
The reopening Sunday came well ahead of original forecasts, with more than 40 bulldozers, dump trucks and other heavy equipment working through the weekend to shift an estimated 200,000 cubic yards of mud, according to a Los Angeles County Public Works statement. Work continued on two other roads in the Lake Hughes and Lake Elizabeth areas.
Nearly 3 inches of rain fell in 30 minutes Thursday in the Leona Valley area of Los Angeles County. Hundreds of cars got stuck on Interstate 5.
Homeowners in northern Los Angeles County communities spent their weekend digging mud out of their houses.
At least one of the homes is considered a total loss after flooding ripped it from its foundation, Kerjon Lee, a spokesman for county Public Works, said. Crews were assessing homes in the area, and Lee said the number of those destroyed could rise.
Carrie Bowen, a district director at the California Department of Transportation, said the agency is reviewing storm response to see if Caltrans could have done anything better, a standard procedure following major events.
But "it was a flash flood that happened so quickly — 4 to 6 inches of rain in a short period of time," Bowen said, adding that the agency alerted drivers as best it could and worked with other agencies to divert traffic from affected roadways.
"I don't know that we could have (done better) given the volume of mud," she said.
At a news conference Monday, Bowen and other state officials urged Californians to be prepared for an unusually wet winter and the potential for more flooding because of the El Nino phenomenon that experts say has formed in the Pacific Ocean.
Most of the storms California has been seeing are small, intense cells, while El Nino is likely to bring more widespread events, said Bill Croyle, deputy director of statewide emergency preparedness and security for the California Department of Water Resources.
"Mud and debris flows will be an issue," he said. "Those are the things that we're going to have to stay on top of."
Authorities urged residents to maintain survival kits, identify evacuation routes, clear debris from gutters and storms drains, follow instructions from emergency officials, and stay home when dangerous weather is expected.
They also acknowledged there's only so much anyone can do during severe weather events.
"There's going to be situations where (a weather event) is just going to be there, and there's no right answer for what to do when you're in the middle of it," said Chief Scott Edson, who heads the special operations division of the Los Angeles County Sheriff's Office.
Last week's rain struck some remote areas. "If that happens, you're kind of stuck until someone comes to get you," Coyle said.
___
Associated Press writer Amanda Lee Myers contributed to this report.