Man in custody in connection to Mason County Courthouse fire
MASON, Texas - The Mason County Courthouse smoldered until the noon hour Friday and by then a suspect was already in custody. The man, who was not immediately identified, was captured near Waco after driving through Burnet, Georgetown, and Temple.
Before the courthouse caught on fire, a house a few blocks away was set on fire, which provided investigators a critical lead. Sources say the man allegedly set the fire because he was upset over a previous family court case.
County Judge Jerry Bearden called the fire "a real tragedy." He says they originally got a call on February 4 at around 10 p.m. about the house.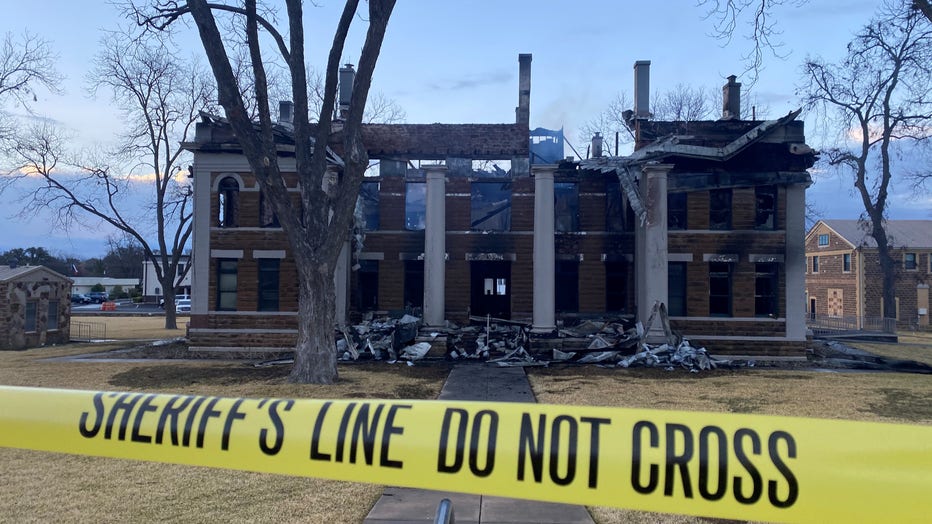 Photo of Mason County Courthouse after a fire in Mason, Texas on February 5, 2021. (Photo taken by Gerzain Peralta)
"As they responded to the house fire about 5 after 10, the lady across the street in the jail, that's our dispatcher, looked out the window and noticed flames coming out of the second floor Mason County Courthouse," said Judge Bearden.
Multiple fire agencies from nearby towns were called and Judge Bearden says by about 1:30 a.m. everything was destroyed. He says all that is left is basically the walls and outside pillars.
DOWNLOAD THE FOX 7 AUSTIN NEWS APP
"It's a real tragedy for us here in Mason County but we think we're a resilient community we're strong we're gonna try to see if we can come back with a little help," Judge Bearden says. 
Judge Bearden told FOX 7 Austin the building was undergoing a renovation, using money from a Texas Historical Commission grant. Everything, except furnishings, was moved out of the building in December and Judge Bearden said records were in the annex, so they were not damaged in the fire. "It's just like losing a loved one," he said.
Images of the blaze that engulfed the historic courthouse were provided to FOX 7. Deborah Silerio recorded video at her house two blocks away. "Once the roof collapsed on the courthouse, everything just kind of went poof, and all these embers, it looked like fireworks over our house," said Silerio.
Friday afternoon Aly Yonker, a county deputy clerk, stood outside of the 111-year-old structure. She watched as investigators searched for and collect evidence. "Devastating, we worked really hard to get where we were in our restoration," said Yonker.
The Mason County Courthouse was built in 1909, according to state records. It was listed as a Texas Historic Landmark in 1988 and it is also part of the Mason Historic District which was listed on the National Register of Historic Places in 1974.
This is the third courthouse in Mason County. The first courthouse was built in 1872 but it burned in 1877 and was replaced by a second red sandstone building.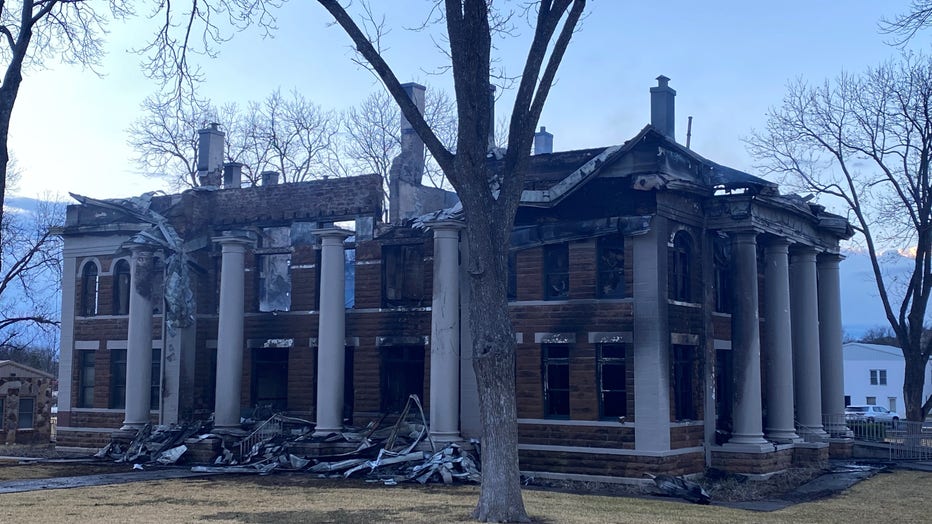 Photo of Mason County Courthouse after a fire in Mason, Texas on February 5, 2021. (Photo taken by Gerzain Peralta)
Bearden said the structure was the heart of the town. "Pray for us, I can't, I just can't imagine how something like this could affect you, we appreciate your prayers and appreciate the community support," he said.
The courthouse was designed by E.C. Hosford and built at a cost of $39,796.
According to a historical marker on the property, the courthouse is beaux-arts style and features a central dome and clock tower, gable-front porticoes with two-story Doric columns, and rusticated stonework with contrasting stone lintels.
SIGN UP FOR FOX 7 AUSTIN EMAIL ALERTS
Judge Bearden also told FOX 7 a structural assessment will be done. If the walls are okay, they will try to start rebuilding before May. The Texas Historical Commission is now regarding assistance to the county.