FOX 7 Viewer hopes to help Taylor flood victim buy furniture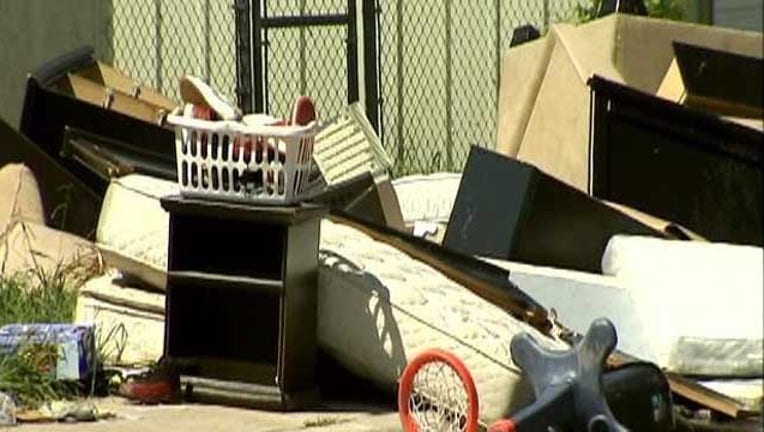 article
The Memorial Day storms brought floodwaters and heartache to a housing complex on the southeast side of Taylor this week.
In the aftermath, we spoke with an emotional Annette Mackey.
"Tears me up, we have nothing, I worked so hard to get all this by myself and I have nothing, I have nothing," she told us Tuesday.
We caught up with Mackey on Friday. She recalled the harrowing experience...the apartment filling with floodwater and snakes.
"It was scary. It was very scary," Mackey said.
Mackey says her week has been spent cleaning up her home that's been deemed uninhabitable. So she's staying with family. Some clothes were salvageable but everything else is gone.
"Everything I had, I worked hard to get that stuff as a single mother, as a single parent. It wasn't a lot but it was enough, it was what we had. And to come back to our home and see that it was all destroyed, everything gone, it was devastating. And my baby keeps asking 'Can we go home?' We don't have a home to go to," Mackey said.
Mackey is a Behavior Assistant at Pasemann Elementary. She says the district has given her the whole week off to pick up the pieces.
"Oh my God! The school district here is amazing. Everyone at my school at Pasemann Elementary, the outpour has been amazing, it's been an overflow," she said.
Back at Mackey's neighborhood, Nathaniel Mcfarlin is worried about his family and friends that live there.
"Some people just moved here. And now they've got to go and their stuff is ruined. I mean just like I told them 'Hey you know you lost everything but I look at it this way: God blessed you. You may have lost everything but he still blessed you with something new and better,'" Mcfarlin said.
After our story on the Taylor flood aired earlier this week, a Fox 7 viewer who wants to remain anonymous wanted us to pass her number along to Mackey. She wants to help her buy new furniture.
"That makes me feel amazing. Thank you. Thank you. To know that somebody would help that I don't probably even know, it's amazing to pay it forward," Mackey said.
The city of Taylor says damage to the Avery Apartments alone affected 40 families who were displaced due to the flooding.
They're still working on a final assessment on damage for the entire city.