Free electric cab service expands into downtown Austin, sees success at Domain Northside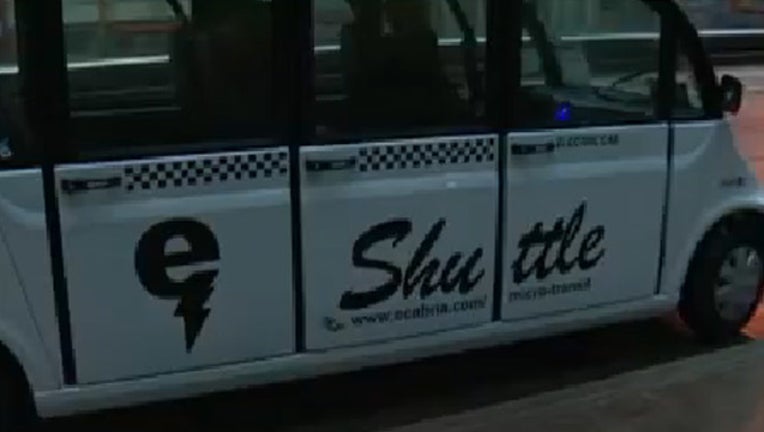 %INLINE%After successfully launching its free first-mile, last-mile service at Domain Northside in November, Electric Cab of North America has expanded the service to the downtown Austin area.
"Initially the company was created because I worked at the Omni Hotel in downtown Austin and … I couldn't get anyone to give me a ride for under a mile," Electric Cab CEO Chris Nielsen said.
Electric Cab of North America, formerly called Electric Cab of Austin, is a microtransit transportation provider based in Austin that focuses on offering last-mile service from a rail or rapid bus station to a rider's workplace, home or shopping destination.
Riders are picked up in six-passenger electric cabs that operate on a flexible route from the Kramer MetroRail Station to Domain Northside and from the downtown MetroRail station and MetroRapid stops to locations between the Austin Convention Center and near Sixth and Bowie streets by Whole Foods Market.
Electric Cab is able to provide the service through at least October using a $1 million grant from the U.S. Department of Energy and partnership with Capital Metro and Pecan Street Inc., an Austin company focused on advancing research of water and energy. Nielsen said the company is interested in talking with businesses regarding a private partnership to continue the service.
Digging into data
Nielsen said the Domain Northside service has done very well and provided service to 1,246 riders since Black Friday.
"It even surprised me," he said.
The downtown service has done even better since the late January launch. According to Electric Cab, 1,173 people have used the service.
In downtown Austin, the service is in most demand from 4-5 p.m., and 46.9 percent of all users took it to get to work.
At Domain Northside, 32 percent use it to head back home, and almost 20 percent use it to get to work.
"There are a lot of people who work at The Domain, and they like to hop on the train and avoid the mess that is Austin traffic," Nielsen said.
How to use
To use the service, riders may request a ride by downloading the mobile app from the Google Play store or Apple app store by searching for Electric Cab North America.
The cabs are timed with the arrival of MetroRail trains and will drop off riders along a designated route. However, Electric Cab does operate in a larger service area beyond the route.
"If you need to leave the route for any reason, we can take you that last leg," Nielsen said.
Riders may pick up the cab at Domain Northside by Culinary Dropout to head back to the station. As for where else to grab it in downtown Austin, Nielsen said the company is waiting to find the highest points of interest.
Services is available at Domain Northside from 6 a.m.-7 p.m. and in downtown from 6:30 a.m.-7 p.m.
In May the company will further expand into the Mueller area. Nielsen said expanding into this area was pushed back so as not to interfere with Capital Metro's pilot ridehailing transit service called Pickup that is set to expire in June.
-
From FOX 7's reporting partner Community Impact.