Funeral arrangements set for Deputy Jessica Hollis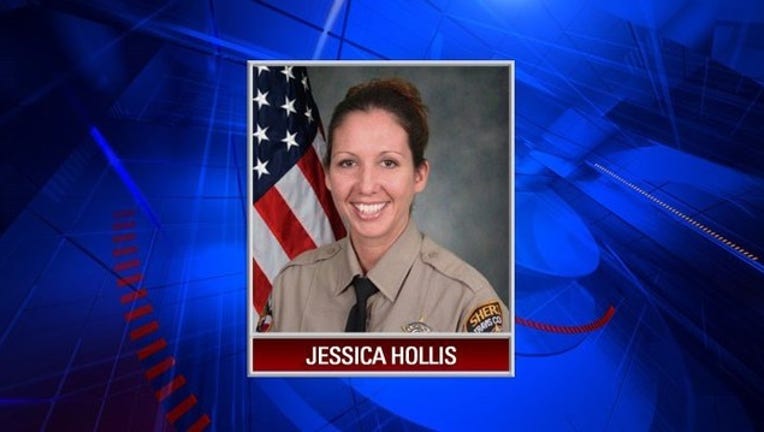 article
PFLUGERVILLE, Texas - *Update* Funeral arrangements are set for a Travis County Sheriff's deputy who lost her life during last week's storms. Senior Deputy Jessica Hollis was killed after she was swept away while checking a low water crossing by Lake Austin Thursday morning.
Crews found her patrol unit shortly after it went into the water. They searched the water but couldn't find her until Friday afternoon.
A visitation for Deputy Hollis will be held Tuesday night from 6:00 until 9:00 at the Cook-Walden Capital Parks Funeral Home in Pflugerville.
She will be laid to rest Wednesday morning at 10:00 at Hill Country Bible Church on 620.
A procession will then escort her body to the cemetery.
This is an update to a previous story. The original story is as follows:

Search crews found the body of Travis County Senior Deputy Jessica Hollis Friday afternoon in Lake Austin.
She was swept away by flood waters while checking on a low water crossing just before 2 a.m. Thursday in the 3400 block of Fritz Hughes Park Road.
Not long after her body was discovered deputies she served alongside lined the street. Dozens of cars with lights flashing also lined up to take part in a ceremonial procession. First responders held on to American flags and wiped back tears as the ambulance carrying Hollis left Lake Austin.
"A lot of people are asking why. I am asking why," said Sheriff Greg Hamilton with tears in his eyes.
Hamilton says he feels numb and has for about two days.
He went to visit with the Hollis family and vowed to bring her home. The ending is not what Hamilton wanted.
"We wanted to bring her home alive. She had been out there in that water for a while. She's back home now and not out there by herself anymore," said Hamilton.
Hollis' death also touches the Austin Police Department. Hollis was married to an APD officer.
The seven year veteran was considered a strong swimmer as a member of the county's underwater rescue team. The fast moving flood waters were no match for even a strong swimmer says Hamilton.
The sheriff vows to bring more awareness to low water crossings and will look into starting a campaign.
Search crews quickly located her patrol car on Thursday just 14 minutes after she called in for help. The car and its cameras and computer may hold clues as to exactly what happened. Roger Wade with the sheriff's office says investigators are waiting for the equipment to dry out.
Help from area agencies poured in. Hamilton says he was overwhelmed by the support from other agencies and the prayers from strangers.
The TCSO will begin work on Hollis' funeral plans and a way to honor her dedication and sacrifice.
Hollis worked with the underwater recovery and vice units. She was assigned to protect the western part of Travis County.