Funeral service held for HPD Senior Officer William "Bill" Jeffrey
HOUSTON - The Houston Police Officer shot and killed a week ago while attempting to serve an arrest warrant was laid to rest on Monday. The home-going service for HPD Sr. Officer Bill Jeffrey was beautiful at Grace Church, but also emotional as city leaders, family members, and his law enforcement family gathered to say goodbye to a man who gave his life protecting the people of Houston.
"The Lord is my shepherd I shall not want," says Lacie Jeffrey, reciting her father's beloved Bible passage. "This was dad's favorite verse. He had it tattooed on his arm." 

CLICK HERE FOR DETAILS ON WHAT HAPPENED TO OFFICER BILL JEFFREY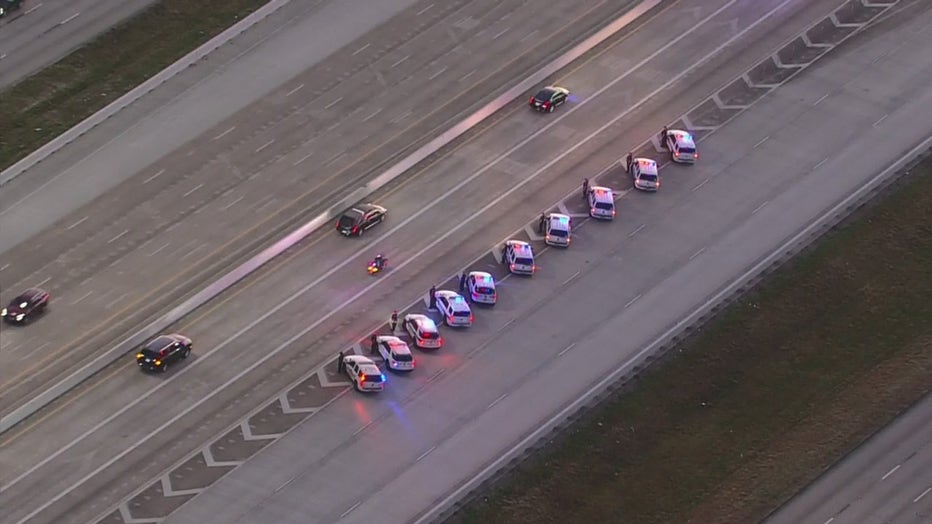 A funeral procession is held Monday morning for HPD Senior Officer William "Bill" Jeffrey.
Jeffrey's only child was funny at times.
"My dad gave me two rules in life: Don't be a cop. Don't marry a cop. He did both of those." But most of all Jeffrey's daughter was strong and courageous as she honored her father, fallen Senior Houston Police Officer Bill Jeffrey at his funeral.
"I'm overwhelmed. I'm overwhelmed with love. I'm overwhelmed with sadness. I'm overwhelmed with anger, but today, I'm most overwhelmed with support."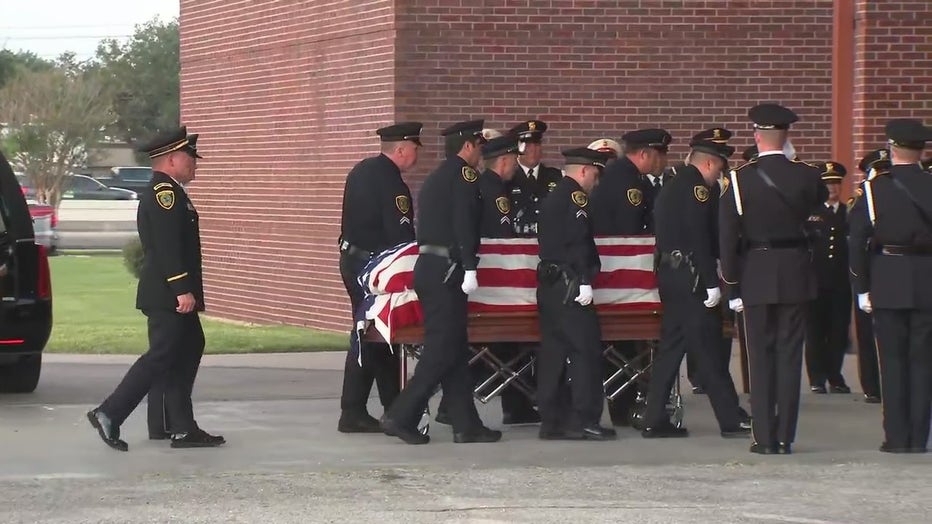 HPD Major Offenders Division officers and the HPD Honor Guard escort Senior Officer William "Bill" Jeffrey's flag-draped casket into Grace Church.
"To the Jeffrey family, I would like to express my sincere condolences to you. There is a sorrow in our hearts, but there is also joy because we knew your beloved family member as one of our brothers in blue and he will never be forgotten," says HPD Chaplain Vincent Johnson.
Officer Jeffrey served in the U.S. Navy before joining HPD 31 years ago. That's where he met his wife, now retired HPD Officer Suzanne Jeffrey.
"Suzanne you looked me and the mayor in our eyes and you told us never forget his service, never forget who he was, and let me tell you something he was a great man," HPD Chief Troy Finner said from the stage.
In his 12 years in the Major Offenders Unit Officer, Jeffrey helped arrest over 2,500 of the cities most violent criminals. It was serving one of those dangerous arrest warrants last Monday when Officer Jeffrey was shot and killed.
"Today the city of Houston, all of us come together to say 'Bill, thank you for giving of yourself to this city.' And to this family, we lift you up, and may God undergird you every single day," Houston Mayor Sylvester Turner announced before the crowd after proclaiming Monday as Sr. Police Officer Bill Jeffrey Day in the city of Houston.
"Bill's not dead. He believed in John 3:16 and he's in Heaven. I know that. I knew that, that day," says HPD Det. Paul Lowery,  who's been Jeffrey's best friend since childhood.
"My daddy took those bullets so those guys didn't have to. He was their leader. He is their hero and he is my hero and I'm so, so proud of him. I will miss him every single day for the rest of my life. I will do everything in my power to keep his memory alive until the day that I meet him at Heaven's gates," says Jeffrey's daughter.
FOR THE LATEST NEWS UPDATES, DOWNLOAD THE FOX 26 NEWS APP
Members of Congress, including Sheila Jackson Lee and Al Green, sent proclamations and presented an American flag for Jeffrey's family that has flown over the U.S. Capitol.
HPD Sgt. Michael Vance was also shot last Monday in the shooting that killed Officer Jeffrey. Vance was released from the hospital over the weekend.