General is 1st woman to lead top-tier US combat command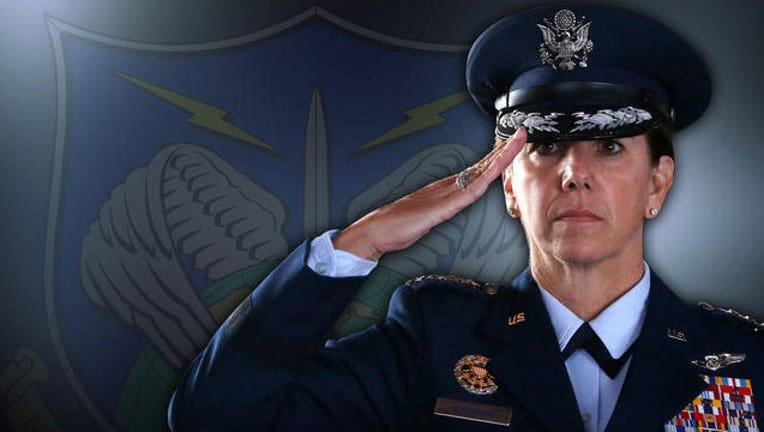 article
PETERSON AIR FORCE BASE, Colo. (AP) — Air Force Gen. Lori J. Robinson on Friday became the first woman to lead a top-tier U.S. warfighting command when she took charge of the North American Aerospace Defense Command and U.S. Northern Command in Colorado.
Robinson — one of just two female four-star generals in the Air Force — was "the clear and obvious choice," said Defense Secretary Ash Carter, who attended the change of command ceremony in a vast hangar at Peterson Air Force Base. Outside, a row of cannons fired a 19-gun salute.
Carter praised Robinson's extensive experience and her skill as a strategic thinker capable of making split-second, life-and-death decisions. Her promotion shows the U.S. has female officers qualified for the most senior positions, he said.
"I do hope — well, I know — there are more in her wake, more female officers in her wake," Carter said.
Robinson is an inspiration to female cadets at the nearby Air Force Academy, said Academy Superintendent Michelle Johnson, a three-star general and the first woman to head the school. "They appreciate seeing somebody that they can aspire to," Johnson said after the ceremony.
Robinson's family has deep roots in the Air Force. Her husband, David Robinson, is a retired two-star general and was a pilot in the Thunderbirds demonstration team. A daughter, 2nd Lt. Taryn Ashley Robinson, was fatally injured in a pilot training crash months after graduating from the Air Force Academy. She died in January 2006, four weeks before her 23rd birthday.
"I knew she was peeking over the clouds, and I knew that she was saying, 'You go, Mom,' " Robinson said after the ceremony.
People who know Robinson describe her as the personification of a new generation of leaders, someone who understands that the Air Force has a broad role in space, cybersecurity and drones, not just flying and fighting.
That's what sets Robinson apart, not her gender, said Maria Carl, a retired Air Force colonel who worked with her when the general headed the Pacific Air Forces at Joint Base Pearl Harbor-Hickam, Hawaii.
"Gen. Robinson reflects that change as much as anything else," said Carl, who serves on the Military Affairs Council of the Hawaii Chamber of Commerce. "She has an ability to take all the different pieces of the picture and pull it together strategically."
One of her new commands, the North American Aerospace Defense Command or NORAD, is a joint U.S.-Canada operation that defends the skies over both nations and monitors sea approaches. It's best known for its Cold War-era control room deep inside Cheyenne Mountain — now used only as a backup — and for its wildly popular NORAD Tracks Santa operation on Christmas Eve, fielding calls from children asking for Santa's whereabouts.
Her other command, Northern Command, is responsible for defending U.S. territory from attack and helping civilian authorities in emergencies. It was created after the Sept. 11, 2001, terrorist attacks.
Robinson has an extensive background in command and control, the science of orchestrating military operations across a broad area. In her previous job, commander of Pacific Air Forces, her area of responsibility spanned more than half the globe.
"You're dealing with a lot of countries, a lot of the air forces in the Pacific, China being one of them," said Darryll Wong, a retired Air Force major general and Hawaii's former adjutant general. "She had to be a fast learner."
___
Follow Dan Elliott at http://twitter.com/DanElliottAP. His work can be found at http://bigstory.ap.org/content/dan-elliott.