GOP, Dems, Obama reach accord on 2-year budget deal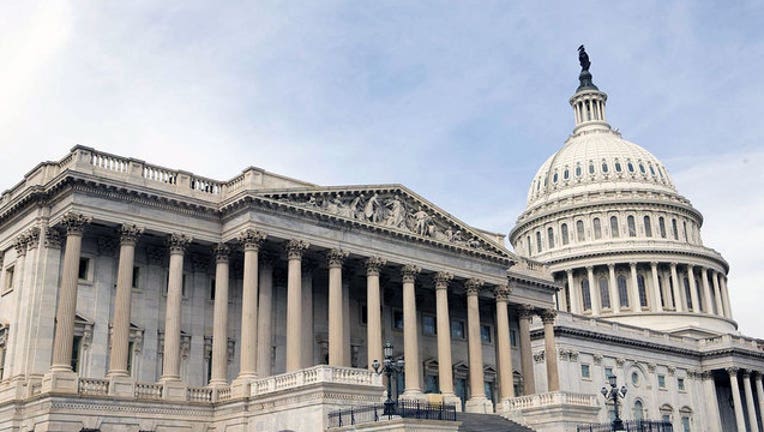 article
WASHINGTON (AP) — Congressional leaders are throwing their collective weight behind a hard-won, two-year bipartisan budget plan aimed at heading off a looming government debt crisis and forestalling a government shutdown in December.
The pact, which would take these volatile issues off the table until after the 2016 presidential election, emerged in behind-the-scenes negotiations late Monday on Capitol Hill. It-would give both the Pentagon and domestic agencies $80 billion in debt relief in exchange for cuts elsewhere in the budget.
The deal represents one last accommodation between President Barack Obama and departing House Speaker John Boehner, but whether it succeeds depends in great measure on the reception it gets from restive House Republicans, including the arch-conservatives who forced the Ohio Republican out.
"This is again just the umpteenth time that you have this big, huge deal that'll last for two years and we were told nothing about it and in fact even today, were not given the details," said Rep. John Fleming, R-La. "And were probably going to have to vote on it in less than 48 hours." A vote could come as early as Wednesday in the House.
The measure was to be discussed further at a GOP meeting Tuesday morning. Boehner hoped to get it passed before Rep. Paul Ryan's election as his successor, expected Thursday
Boehner had promised to clear away as much business as possible before handing his speaker's gavel to Ryan, R-Wis. The newly-assembled budget plan would restore order to Washington and remove the threat of budget and debt chaos — a premier goal of congressional Republicans like Senate Majority Leader Mitch McConnell of Kentucky, a key architect of the pact.
Capitol Hill Democrats are likely to solidly support the agreement, although it gives greater budget relief to the Pentagon than it does domestic programs.
The legislation would suspend the current $18.1 trillion debt limit through March 2017. The budget portion would increase the current "caps" on total agency spending by $50 billion in 2016 and $30 billion in 2017, offset by savings elsewhere in the budget. And it would permit about $16 billion to be added on top of that in 2016, classified as war funding, with a comparable boost in 2017.
It also would clean up expected problems in Social Security and Medicare by fixing a shortfall looming next year in Social Security payments to the disabled, as well as a large increase in Medicare premiums and deductibles for doctors' visits and other outpatient care.
"Cleaning out the barn," Boehner said, as he entered the evening meeting of Republicans to pitch the deal. He doesn't want to saddle Ryan, R-Wis., with a lot of messy unfinished business.
The emerging budget side of the deal resembles a pact that Ryan fashioned two years ago in concert with Sen. Patty Murray, D-Wash., to ease automatic spending cuts for the 2014-15 budget years. A lot of conservatives disliked the measure and many on the GOP's right flank are already swinging against the new one, which would apply to the 2016-17 budget years.
"I'm not excited about it at all," Rep. Matt Salmon, R-Ariz., said of the agreement. He called it "a two-year budget deal that raises the debt ceiling for basically the entire term of this presidency."
Boehner was pushed aside by conservatives in his own party after repeatedly turning to Democrats to pass must-do legislation in an era of divided government. Many Republicans also resented being kept in the dark. The pending deal fits both criteria.
Among the proposed spending cuts are curbs on Medicare payments for outpatient services provided by hospitals that have taken over doctors' practices, and an extension of a 2 percentage-point cut in Medicare payments to doctors through the end of a 10-year budget.
The budget side of the deal is aimed at undoing automatic spending cuts which are a byproduct of a 2011 budget and debt agreement, and the failure of Washington to subsequently tackle the government's fiscal woes. GOP defense hawks are a driving force, intent on reversing the automatic cuts and getting more money for the military. A key priority for Democrats is to boost domestic programs.
The focus is on setting a new overall spending limit for agencies whose operating budgets are set by Congress each year. It will be up to the House and Senate Appropriations committees to produce a detailed omnibus spending bill by the Dec. 11 deadline.