Harvey deaths rise; victims balance post-storm challenges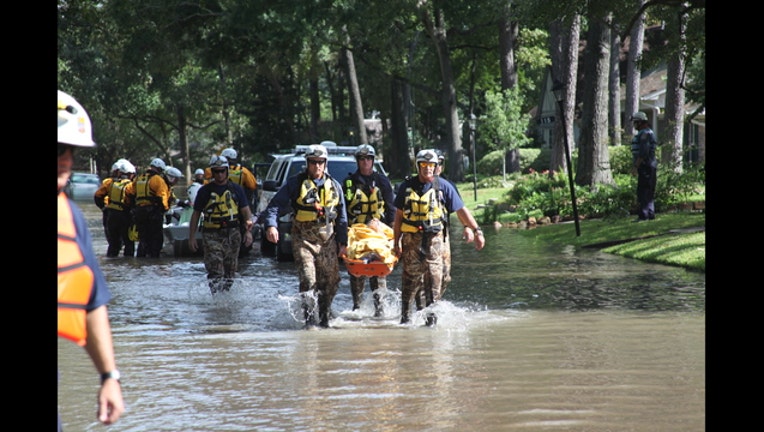 HOUSTON (AP) - Nine days after Harvey roared into Texas, the death toll has risen and victims are trying to balance struggles from the storm with challenges they already were facing. Some set their stress aside to watch the Astros play as baseball returned to Houston. A look at what's happening:
THE FORECAST
Meteorologists expect what's left of Harvey to break up and merge with other weather systems late Saturday or Sunday. The storm system still has rain - but not much more than moderate rain, National Weather Service meteorologist David Roth said.
Harvey made landfall as a Category 4 hurricane on Aug. 25 in Texas, then went back out to sea and lingered off the coast as a tropical storm for days. The storm brought five straight days of rain totaling close to 52 inches (1.3 meters) in one location, the heaviest tropical downpour ever recorded in the continental U.S.
THE DEAD
Harvey is blamed for at least 44 deaths . The latest is a man found floating in Cypress Creek floodwaters. His death brings the total in Harris County, which includes Houston, to 29.
Texas has started burying its dead. In Tyler, family and friends gathered Saturday to remember a former high school football and track coach whose body was found Monday.
In the community of New Waverly, about 55 miles (88.5 kilometers) north of Houston, fire officials said a 6-month-old baby is missing and presumed dead after being ripped out of its parents' arms and swept away by floodwaters, according to the Houston Chronicle.
FLOODED CARS
Auto industry experts estimate 500,000 to 1 million cars, trucks and SUVs were damaged by Harvey floodwaters. They say most can't be fixed and insurance companies will declare them total losses .
But the damaged cars could be retitled and sold to unsuspecting buyers. Ron Montoya, a senior consumer advice editor for Edmunds.com, said a vehicle considered a total loss in one state might not require a salvage title in another state.
Experts say owners of flooded cars shouldn't start them. John Nielsen, managing director of automotive engineering for AAA, said the cars should be towed to a mechanic for inspection.
VICTIMS WAIT AND WORRY
Many people whose homes were flooded by Harvey say they were dealing with personal issues before it hit and that the storm only made things worse .
Candis Cortez was still coping with her husband's death from cancer last year when Harvey struck. The 46-year-old scaffold builder at a chemical plant said she moved her spouse's ashes to a top shelf of a closet and prayed it didn't cave in. She still struggles to pay for the funeral. She feels even more vulnerable after Harvey.
Samantha Cusson, 31, is pregnant with her third child, her rent is already overdue and she wonders when the Subway shop she works at will reopen. But she doesn't want her children to see her worrying.
"I can't show it," she said. "They're fine because I'm fine."
BASEBALL RETURNS TO HOUSTON
The first professional sporting event in Houston since Harvey was held Saturday, as the Astros beat the New York Mets 12-8. The crowd of 30,319 included victims of the storm who were staying at the George R. Brown Convention Center. The Astros provided 5,000 tickets to each game for the mayor's office to distribute at the center.
"I hope it provides a break from what's going through these people's minds," Astros manager A.J. Hinch said.
The Houston players wore patches on the upper left side of their jerseys with the team logo and the word "STRONG" in block letters as a tribute to those affected by Harvey.
The Astros honored first responders during a pre-game ceremony. A video was played showing tweets about the heroic work that people have done in the wake of the storm.