Harvey dilemma: Stay as water rises or risk flooded roads?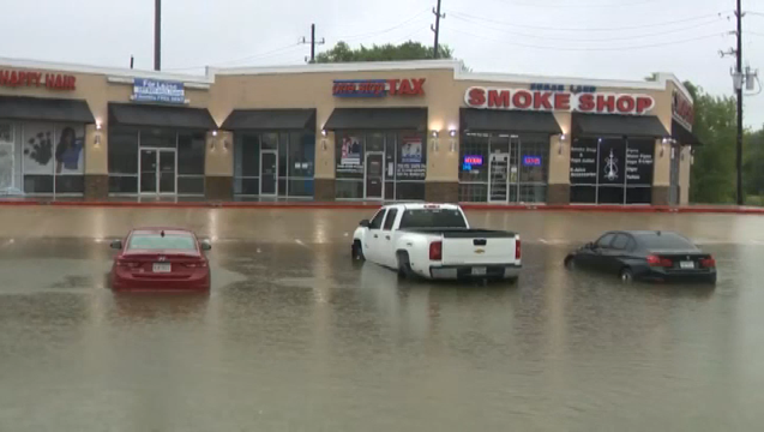 article
WASHINGTON (AP) - As floodwaters from Harvey keep rising, some Houston-area residents must decide between two dangerous choices: staying in homes with water coming in or venturing out on potentially deadly flooded roads.
It's a no-win situation. There's nowhere for the rain or these people to go. And it matters, because water kills. Even though wind is fierce, water is responsible for nearly 90 percent of the deaths in hurricanes, according to a 2014 study by acting U.S National Hurricane Center director Ed Rappaport.
In general, if people are safe, they shouldn't move. In their updates on the storm's progress Sunday, the Hurricane Center underscored in capital letters its warning to "not attempt to travel ... if you are in a safe place."
Yet some New Orleans residents who decided to stay put in their homes during Hurricane Katrina in 2005 ended up dying in their attics, while others were trapped there for days awaiting rescue.
Former National Hurricane Center directors Neil Frank and Max Mayfield fear casualties from Harvey could rise over the next few days if stir-crazy residents decide to venture outside of their homes and into the high waters.
"This is going to go on a lot longer than most people think," Mayfield said.
Gregory Waller, coordinating meteorologist at the National Weather Service's West Gulf River Forecast Center in Fort Worth, Texas, especially worries about people going out at night.
"The dangerous time would be the overnight hours when you just can't see the magnitude or the impact of the floodwaters," Waller said.
Frank, who left the Miami-based hurricane center after 13 years as director to spend 20 years as chief meteorologist at KHOU, Houston's now-flooded television station, knows firsthand how difficult the decision about whether to stay or go can be.
On Sunday, his grandson, the father of a new baby, was asking his advice about whether he should risk driving through floodwaters or stay put and hope the water wouldn't overtake them in their home.
"This is a major, major difficult decision," Frank said from his relatively safe home 40 miles (65 kilometers) west of Houston. "You can't call anybody on the phone and say, 'Help me!' And rescue workers can't even get to you."
Frank's grandson is staying put. For now.
Although Harvey has spawned a number of tornadoes, they are far less dangerous and less likely than the flooding, Mayfield said. So he said it is still best to get high above the water than worry about going to the basement to avoid tornadoes.
Leaving Houston before the storm conceivably could have helped. But residents got conflicting advice. Gov. Greg Abbott urged people to flee from Harvey's path, but the Houston mayor issued no evacuation orders and told everyone to stay home, saying it was too difficult to empty the city of 2.3 million people.
Harvey made landfall Friday as a Category 4 hurricane. It has since been downgraded to a tropical storm.
The National Weather Service is predicting another 20 to 25 inches (50 to 64 centimeters) of rain for southeast Texas with some parts of Houston expected to accumulate as much as 50 inches (130 centimeters) of rain.
"It just really is a disaster that is only now beginning to unfold," said meteorologist Patrick Burke of the National Weather Service's Weather Prediction Center. "I think we're going to run out of words to describe this, honestly."
Even before Harvey struck, Houston was already more saturated with rain than normal, according to Waller. Post-Harvey, nearly all of the region's waterways are at record-high levels, he said.
Waller says some forecasts have rain tapering off by the end of the week.