Heartwarming video of little boy sneaking into a woman's garage to cuddle her dog goes viral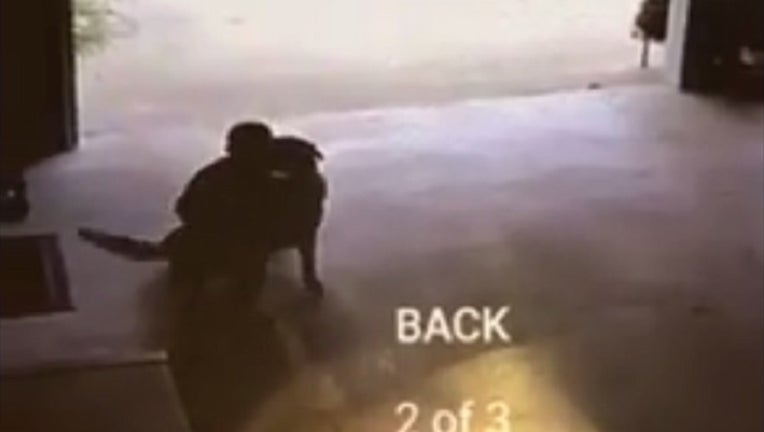 article
A little boy was caught on camera sneaking into a Louisiana woman's garage, but he wasn't up to no good.
Holly Breaux Mallet noticed the boy sneaking into her garage on her security camera footage, according to Daily Mail. The footage showed the boy jumping off his bike and running into Mallet's garage to give her dog, Duchess, a quick cuddle and some play time before running out and jumping back on his bike for the ride home. 
Mallet was so touched by the heartwarming video footage of Duchess with her new secret buddy, that she posted the videos on Facebook to find the boy. 
 She posted this caption on Facebook along with the video, "Attn Neighbors! Anyone know who this sweet little boy is? Every now and then when he rides his bike he will quickly come and love on my dog or play fetch real quick, but always leaves quick like he doesn't know if he should be here! I'd like to tell him he's welcome to stay and play, she loves the attention!"
It didn't take long to find the little boy, and his mother, Ginger Clement Breaux, responded within 24 hours.  She confirmed that Duchess' new buddy was her son Josh, and the video has since been viewed over 1.3 million times.
Josh's mom, Ginger, promptly responded to Mallet on Facebook saying, "Thanks for the add Hollie! Josh talks about your dog all the time! Every time we pass he looks to see if she was sitting where he could see her. Just didn't know he was doing things like this!"
Ginger said she was torn because she knew Josh shouldn't be trespassing on Mallet's property, but Mallet was thrilled and hoped Josh would come back to play with Duchess more.
Breaux said Josh turned "ten shades of red" when she showed him the video on Facebook, but Josh couldn't help but smile when he turned to his mom and said, "You know I love dogs momma."
Breaux posted two selfies of Josh and his new pal Duchess, along with an explanation as to why Josh doesn't have his own dog saying, "We had our dog Bella since Josh was 2, but she passed away last year. Things have been busy and Josh is active with after school activities so we have not jumped back into taking on the responsibility of starting all over again with a new pup quite yet. It will happen though!"
Since the original video was posted it has been shared over 10,000 times, and Mallet has received a lot of attention for sharing the heartwarming video, "so glad to see that innocence and love was caught on camera instead of what they are normally used for. Can't believe all the views this post has received, so glad to have captured this sweetness," said Mallet.