'Disgruntled' ex-husband shoots, kills himself in front of 2 students at Farnell Middle School: Sheriff
TAMPA, Fla. - A man described by Hillsborough County Sheriff Chad Chronister as divorced and disgruntled took his own life at Farnell Middle School on Friday morning. 
HCSO identified the man Friday night as Jason Alex Layman, 52, and confirmed that he took his own life with a self-inflicted gunshot. According to the sheriff's office, Layman's family has been notified.
According to Sheriff Chronister, Layman did not raise any red flags initially as he was in the drop-off line for the school's early start program, which begins at 6 a.m. He then began walking toward the back of the school where the program takes place. 
"He stops, pulls out a firearm and with a self-inflicted gunshot wound to the head, he takes his own life," stated the sheriff.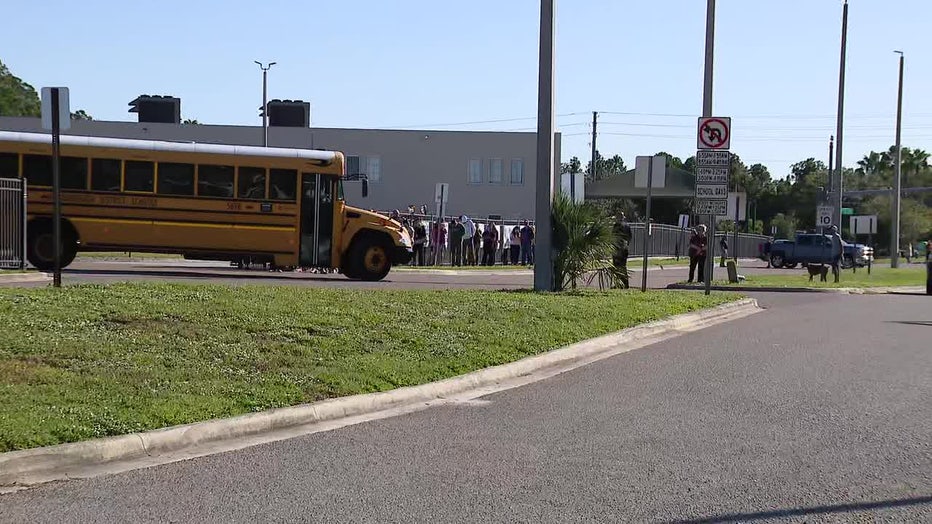 Exterior of Farnell Middle School where the deceased body of a male was discovered on Friday morning.
According to Sheriff Chronister, there were two children behind him who had just been dropped off for the day. 
"I am so proud of these children, middle-school age children," Sheriff Chronister said. "They didn't panic. They fought through their own trauma, was worried about what was occurring here- is it an active shooter? They didn't know if it was a suicide or what was happening, so they valiantly run as fast as they can to the office, notifying the office that someone had just fired a firearm and took their own life."
READ: Escaped inmate with Pasco ties captured after several days on the run in Florida
Upon learning of the shooting, the sheriff said the school utilized its emergency notification system and immediately went into lockdown.
According to the sheriff, there was a deputy on campus and two more blocks away. He said they immediately raced to the scene.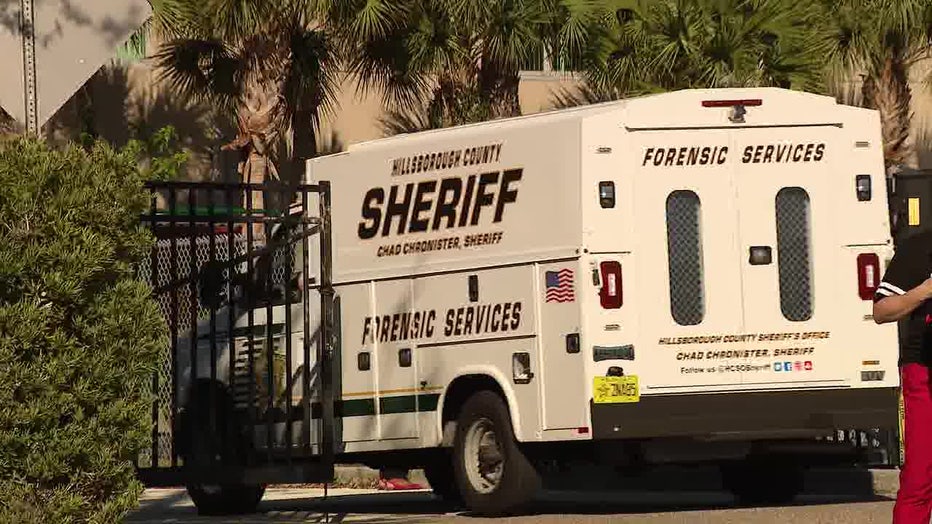 Forensics unit at Farnell Middle School. 
"I'm saddened that somebody would take their own life. I'm angered, even more so that they would come onto a student campus, where our children are and traumatize these children. You want to take your own life, and you believe that is your only option, I feel horrible for you, but to come here on a campus where children had to witness this and they're traumatized now - shame on you," Sheriff Chronister said.
Sheriff Chronister said Friday morning he believes Layman's ex-wife works at the school.
READ: Vet hospital shooting: Former employee took responsibility in social media post prior to murder-suicide
"He's a disgruntled, divorced husband and maybe this was his act, last act of defiance. He wanted to come and prove a point to his wife, ex-wife, who's a school teacher, who's a faculty member who works here," Sheriff Chronister said.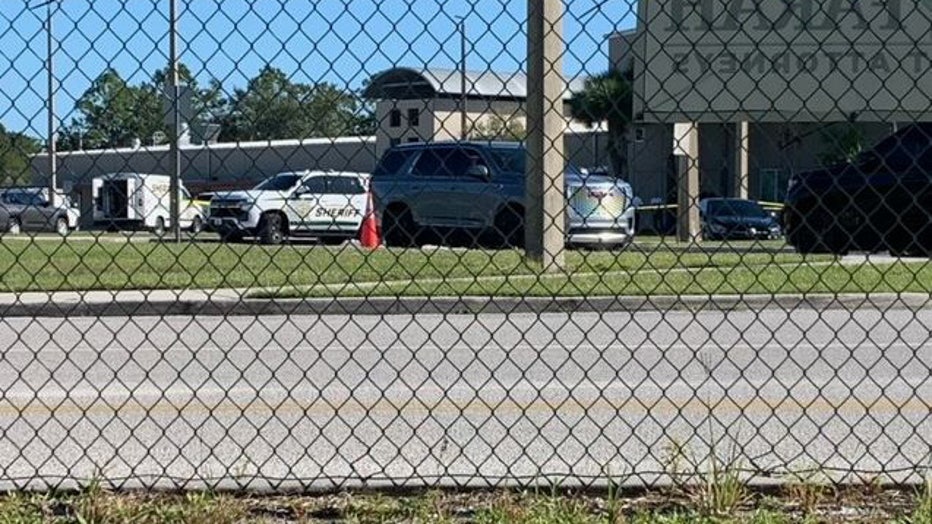 Exterior of Farnell Middle School where the body of a deceased man was found on Friday morning. 
The sheriff said whenever there is a firearm on campus, there is always a threat to student and staff safety, and noted that 34 of the 46 early drop-off students were on campus at the time of the shooting.  
"Whenever you have someone on campus with a firearm there is always an increased threat to our children, our most vulnerable, but fortunately with the mechanisms we have in place, the fact that three deputies were here in seconds, school security immediately deployed, we work so well with them."
READ: Hillsborough man sentenced in 15-year-old's murder after trying to have key witness killed
Students are starting to be released from the school, but Sheriff Chronister said they need to make sure everyone is accounted for before everyone is dismissed. 
He added that the students who witnessed the suicide are receiving counseling. 
If you or a loved one is feeling distressed, call the National Suicide Prevention Lifeline. The crisis center provides free and confidential emotional support 24 hours a day, 7 days a week to civilians and veterans. If you or someone you know needs support now, call or text 988 or chat 988lifeline.org.