Houston police chief blunt and emotional during Harvey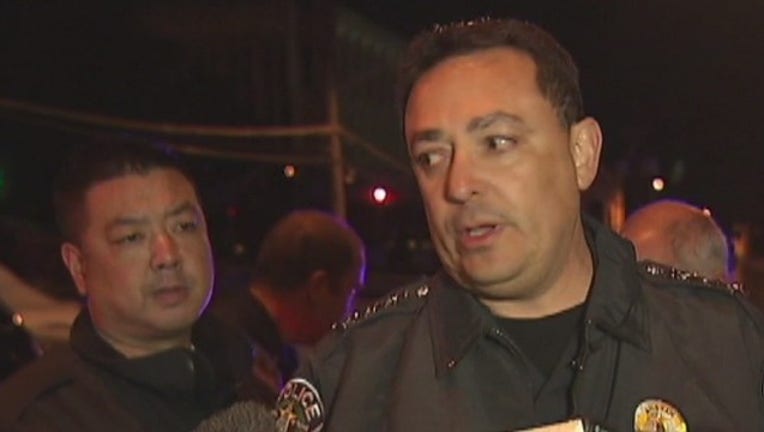 article
HOUSTON (AP) - In a matter of hours, Houston Police Chief Art Acevedo had warned looters to stay away from his city and then choked back tears as he announced the death of one of his veteran officers.
It's that empathetic side mixed with a heavy dose of no-nonsense law-and-order that makes Acevedo so endearing to the communities he has policed over his 30-year career in law enforcement.
The Cuban-born Acevedo, who came to the U.S. with his family in 1968, has been on the job in the nation's fourth-largest city for less than a year. He is the city's first Hispanic police chief and regularly answers questions from reporters in Spanish. Before Harvey elevated his national presence, he was known locally for his active role on social media and his blunt speaking style, which he showcased in his threat to looters.
"So word to the wise: Don't come to Houston," he said Tuesday, "because you're going to be caught. And I guarantee you when you take advantage of people and prey on them in these circumstances, that's despicable behavior and we're all going to push hard to make sure you don't see the sunlight anytime soon."
Acevedo grew up in California, started in law enforcement in East Los Angeles with the California Highway Patrol and rose to chief of that agency. He arrived in Houston last November after nine years as Austin's chief.
His tenure in Austin was marked by efforts to strengthen ties with community groups. He faced criticism for several use-of-force incidents, including the 2015 arrest of a black teacher who was thrown to the ground by a white officer and the fatal shooting of an unarmed, naked 17-year-old.
After the shooting, the police union criticized him for speaking at a news conference while standing with groups such as Black Lives Matter.
In another sign that he is not the typical Texas cop, he has been a vocal critic of the so-called anti-sanctuary cities law that expands police powers to question people who have been detained about their immigration status. He was also critical of recently-enacted laws that allow people to openly carry licensed handguns and carry concealed handguns into colleges buildings and dorms.
On Tuesday, Acevedo vividly laid out the details of how his officer, Sgt. Steve Perez, had lost his life trying to get to work when he became trapped in his patrol car in a flooded highway underpass.
His voice cracking, Acevedo chronicled how Perez left home about 4 a.m. Sunday to get to work, even after the sergeant's wife had urged him to stay home. Harvey's torrential rains had started the previous evening and continued to rage.
"I've got work to do," Perez told his wife, according to the chief.
"He has that in his DNA," Acevedo said.
"He was one of the sweetest people I've met," Acevedo said of Perez, whose death Sunday was two days short of his 61st birthday. "I've only been here nine months, we've got 6,500 employees and I knew who Steve Perez was, because he was a sweet, gentle public servant."
When Perez failed to show up at the regular roll call Monday, investigators back tracked his movements and narrowed their search to an inundated underpass.
On Tuesday morning, divers recovered Perez in 16 feet of water. Acevedo said he had "the privilege" of notifying Perez's family.
Mayor Sylvester Turner credited Perez for making "that extra effort" to get to work.
"What we can say is Sgt. Perez fulfilled his mission and the Lord called him home. I would dare not say he lost his life in vain, because he didn't."
As Turner and Acevedo turned from a podium, they hugged.
___
Associated Press writer Jim Vertuno in Austin contributed to this report.