Job skills of former military include a 'mission-critical' approach to their work
article
As military heroes return to civilian life, many are joining the American workforce in a variety of positions — including management roles. 
"As the corporate world begins to admire and adjust course in its talent acquisition strategy, a growing trend from small businesses to Fortune 500 companies is beginning to emerge: the value in hiring and retaining veterans," said Joe Sharpe, director, veterans employment and education, The American Legion in Washington, D.C. 
"Companies of all scales are continuing their investment in military and veteran hiring programs."
VETERANS ARE VALUABLE IN TODAY'S JOB MARKET: 'HIGHLY ADAPTABLE TO CHANGE' 
With a mission-critical approach to their work during their time in uniform and beyond, veterans provide dependability, a team-focused mentality, a culture of collaboration and loyalty to their organization, Sharpe said.
In addition, they're accustomed to an accelerated learning curve in their careers, as well as diversity and inclusion in action.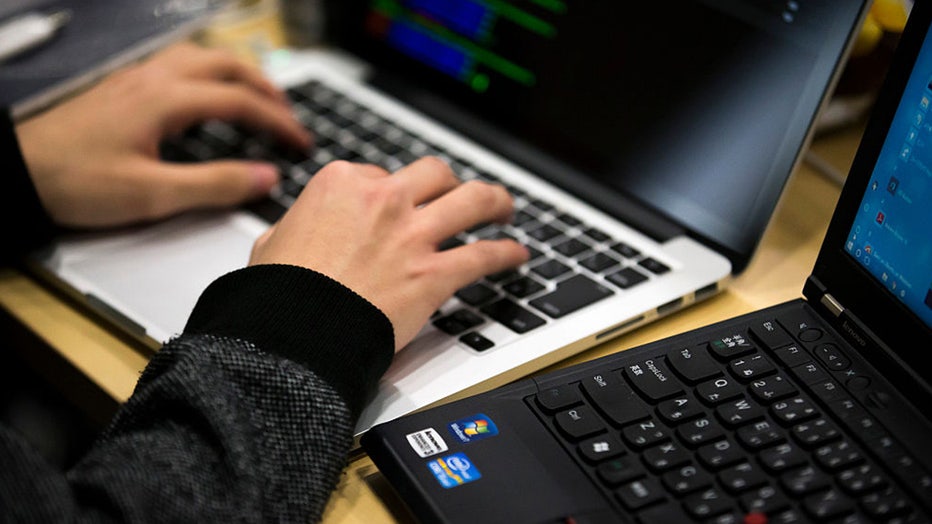 FILE - A participant uses two laptops during a final cyber security competition.  (Tomohiro Ohsumi/Getty Images)
They possess ample soft skills, technological literacy and other key assets that employers crave in the retention of talent.
"Veterans embrace leadership roles in the private sector — and they embrace their new roles with a unique, objective-driven approach to management," said Sharpe.
"It's a refreshing change from many corporate office places, where micromanagement ranks high in employee complaints," he also said.
HERE'S THE SECRET WEAPON FOR BETTER JOB PERFORMANCE BY EMPLOYEES AT WORK 
He added, "In restaurant or factory workplace environments, veterans in management positions foster a mission-critical team mentality, often driving a culture of working in the trenches alongside their staff … Former service members in positions of leadership ensure the mutual respect and the critical nature of the overall mission, regardless of tenure or hierarchy."
Investment in veteran employment
USAA, headquartered in San Antonio, Texas, understands the value and unique skills veterans and military spouses provide to their workplace, said Sharpe. 
VETERANS SHARE PATRIOTISM, PRIDE AND PRODUCTIVITY WHILE ALSO PROMOTING 'MILITARY WORK ETHIC'
"Their investment early in a veteran's employment can be seen through their Veteran Transition Leadership Development program, where they foster an environment of mentorship and support during a veteran's transition to employment," Sharpe told FOX Business.
A second company, Citizens Bank of Edmond, based in Edmond, Oklahoma, has set a high standard with its hiring commitment to veterans. 
"Citizens Bank of Edmond prioritizes innovation and partnerships and has thus paved its way as one of the best community banks in the country," said Jill Castilla, an Army veteran.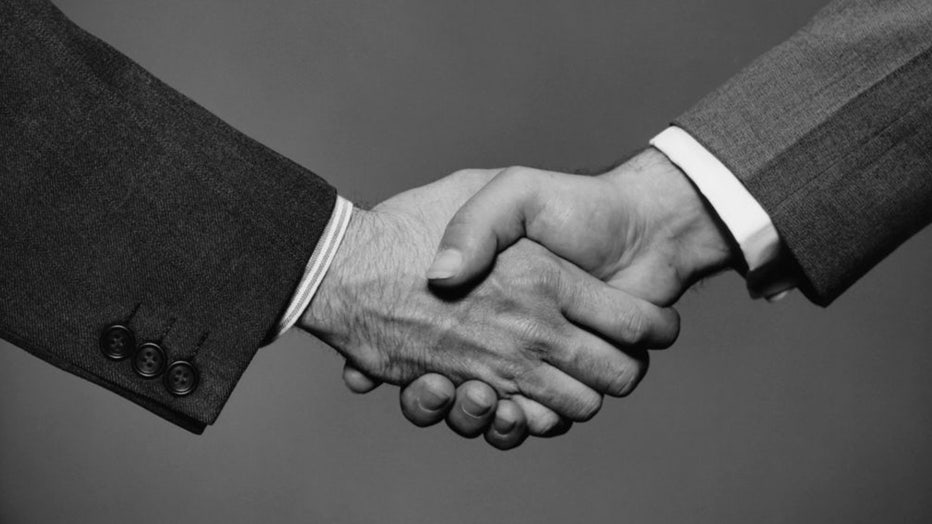 FILE - Men shaking hands. (Getty Images)
She is CEO and president of Citizens Bank of Edmond, which has also recently launched ROGER, a military-focused digital bank that serves all military members yet focuses on the new or future service member.
Specifically, Castilla said the bank uses programs — such as Employer Support of the Guard and Reserves; the Department of Defense's Skillbridge; and Hiring our Heroes — to identify and onboard military talent.  
THIS VETERANS DAY, 4 KEY LESSONS ON LEADERSHIP FROM A FORMER MARINE: 'SENSE OF MISSION'
Current military-experienced management at the bank includes Castilla as president and CEO, as well as a director of military banking, a retail banking officer, an operations and compliance officer, and the bank's controller. 
"We are also currently onboarding a senior officer through the Skillbridge program and a Navy veteran and military spouse through Hiring our Heroes," Castilla told Fox News Digital.  
"I serve as a civilian aide to the Secretary of the Army and promote veteran, Reserve, National Guard and military spouse employment throughout our community," she also said. 
"As a veteran, retiree spouse and military mom, I know firsthand the challenges for these jobseekers and the amazing benefit they can provide companies."
Hiring service members and veterans does our nation a great service, she suggested. 
"It elevates the performance of companies inclusive of this community," Castilla said 
"Leadership, loyalty, team building and problem-solving are a few skills that come to mind. Our team members with military experience each exude these skills."
From Castilla's vantage point, military veterans at the bank are able to assess problems and opportunities quickly and effectively, providing great leadership in times of crisis and change. 
CLICK HERE TO SIGN UP FOR OUR LIFESTYLE NEWSLETTER
"Their steady leadership sets a tone of strength and confidence that can be a rarity in a dynamic environment," she said.
How can companies support veterans in the workplace?
Supportive management with an eye toward retention is key for service members transitioning to their next chapter of employment, said Sharpe with The American Legion. 
"Those companies and organizations who invest in the development of their veteran employees will see dividends in talent acquisition and long-term loyalty to the mission," he said.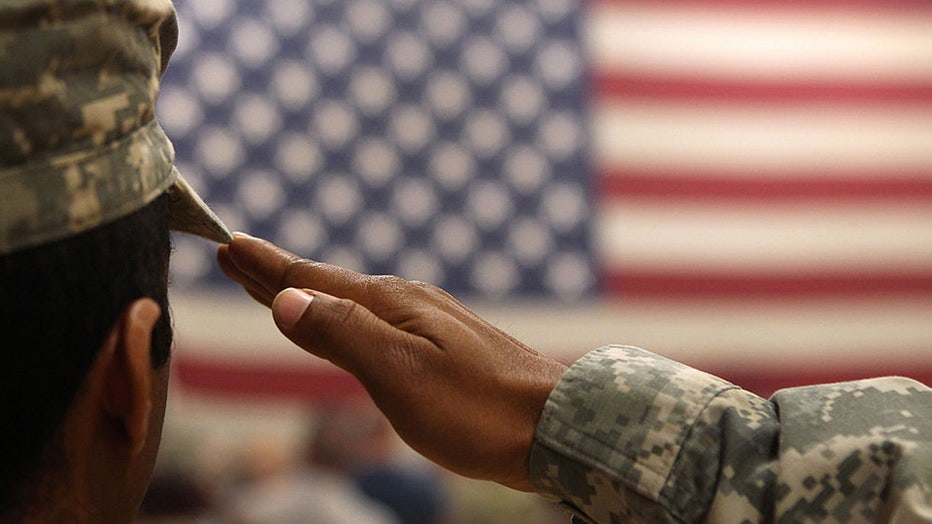 FILE - A soldier salutes the flag during a welcome home ceremony for troops arriving from Afghanistan on June 15, 2011 to Fort Carson, Colorado. (John Moore/Getty Images)
Leaders should practice empathy and measure both the engagement and well-being of veteran employees adjusting to their new career, Sharpe said. 
"Transitioning to the civilian world is a life-altering, often overwhelming experience for our nation's service members," Sharpe also said in comments made earlier to FOX Business. 
GET FOX BUSINESS ON THE GO BY CLICKING HERE
"This impacts every member of a veteran's family and every facet of their lives — from mental health stemming from service or new emerging financial stressors to navigating health care, housing and a spouse's career."
For more Lifestyle articles, visit www.foxbusiness/lifestyle.