Bengals QB Joe Burrow out for remainder of season; NFL investigating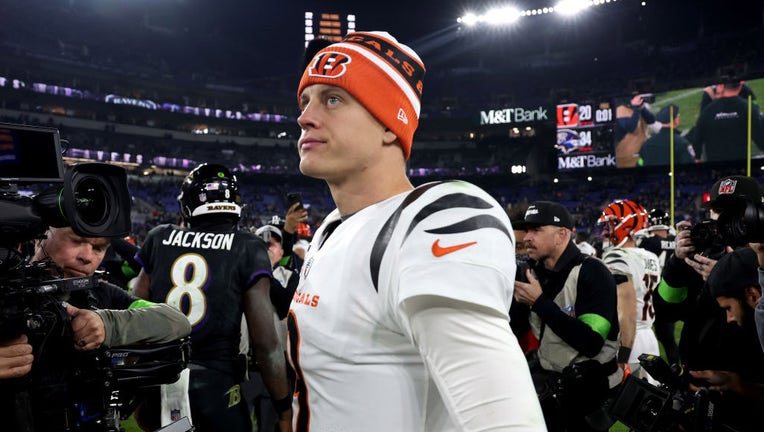 article
Bengals quarterback Joe Burrow is out for the remainder of the season with a torn ligament, the team confirmed Friday. 
The NFL will investigate why Cincinnati did not list Joe Burrow on the team's injury report before he was knocked out, a person familiar with the decision told The Associated Press. 
The Bengals had posted and later deleted a video on social media that showed Burrow getting off a team bus with his right hand in what appeared to be a soft cast.
Such reviews are not uncommon with the NFL regularly looking into similar cases, according to the person who spoke to the AP on condition of anonymity because the review is not being publicly discussed. Teams can be fined or lose a draft pick for violating the NFL's injury report policy.
Burrow tore a ligament in his right wrist in Thursday night's 34-20 loss to Baltimore. He left in the second quarter and was in too much pain to return.
READ MORE: Drone delays Ravens-Bengals game twice during 'Thursday Night Football' matchup
Burrow left shortly after throwing a touchdown pass to Joe Mixon that put the Bengals ahead 10-7.
A short while later, the 26-year-old quarterback tried a practice throw on the sideline and the ball slipped out of his hand. He winced in pain and bent his knees, then went down the tunnel with a frustrated look on his face.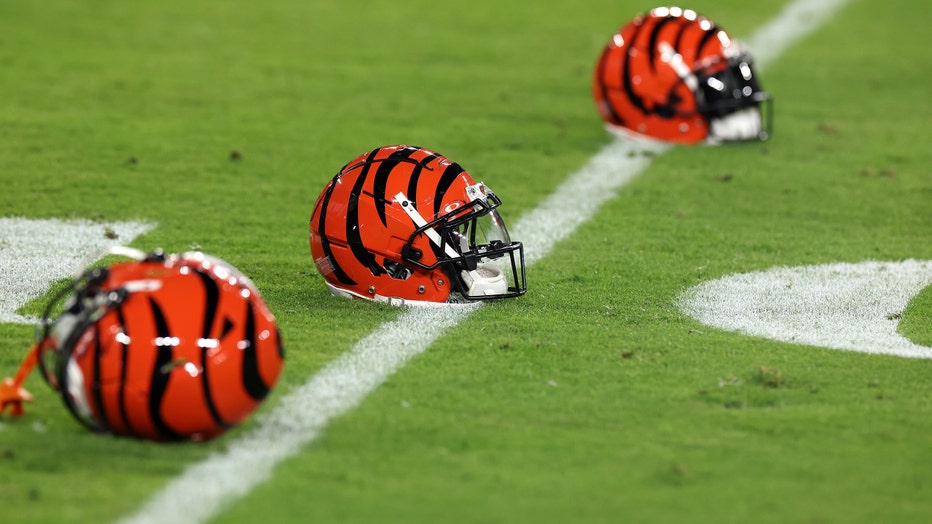 Cincinnati Bengals helmets are shown on the grass before the start of the Bengals andBaltimore Ravens game at M&T Bank Stadium on November 16, 2023 in Baltimore, Maryland. (Photo by Rob Carr/Getty Images)
Burrow was 11 of 17 for 101 yards and a touchdown when he left. Backup Jake Browning replaced him with the Bengals down 14-10. Burrow was back on the sideline as halftime ended but did not return to the game when Cincinnati started the third quarter with the ball. He was ruled out around then.
Burrow dealt with a calf injury earlier this season, but he hasn't missed a game this year. He's been sidelined for only one game since the start of the 2021 season while leading Cincinnati to back-to-back AFC title games and a Super Bowl appearance.
Burrow's season-ending injury is yet another blow to the Bengals (5-5) in a topsy-turvy year in which they opened 1-3, then rattled off four straight victories before falling 30-27 at home Sunday against Houston.
Now, Cincinnati trails Baltimore (8-3) by 2 1/2 games in the division, a deficit even more daunting because the Ravens swept the season series.
Yet in the wake of this lopsided loss, Bengals head coach Zac Taylor remained confident that Bengals have what it takes to rebound — with or without Burrow. Cincinnati, after all, was 5-4 in each of the previous three seasons before roaring back.
"In a long season like this, what you've got to do is be able to regroup," Taylor said Thursday. "We've done this kind of situation before. We've got to rally these last seven weeks. Great opportunity at home against Pittsburgh to get started on that track.
READ MORE: Browns QB Deshaun Watson out for remainder of season
"Don't get it twisted on what kind of team we have," he added. "We have a chance to regroup. All the things that we really want to do are still in front of us. We control our own destiny at this point."
The 27-year-old Browning made his NFL debut earlier this season during a loss at Cleveland. That was his only appearance until Thursday.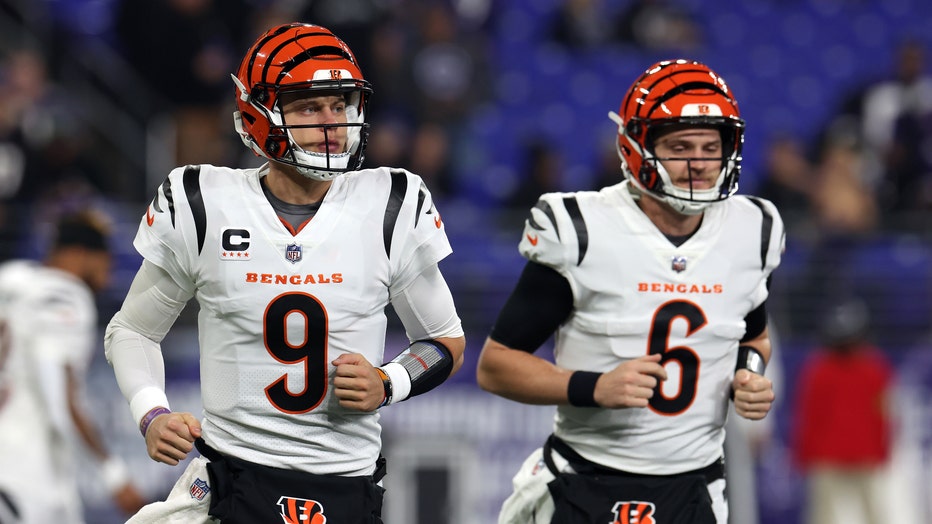 Quarterbacks Joe Burrow #9 and Jake Browning #6 of the Cincinnati Bengals take the field before the start of the Bengals and Baltimore Ravens game at M&T Bank Stadium on November 16, 2023 in Baltimore, Maryland. (Photo by Rob Carr/Getty Images)
The former University of Washington standout went 8 for 14 for 68 yards and a score.
"I felt calm all the time, felt like I threw the ball where I wanted to," Browning said. "But obviously there were too many three-and-outs; put our defense in a tough situation."
READ MORE: Damar Hamlin launching scholarship program to honor those who saved his life
If he is pressed into a starting role against the Steelers, Browning hopes to pull from the experience he received from playing against the Ravens.
"Having a short week and then playing the first non-preseason game since like, the 2020 (actually 2019) Rose Bowl, I definitely got some stuff to build on," he said. "I'm going to prepare like I'm the guy, just like I do every week."