Kentucky fisherman catches massive 'goldfish' with biscuit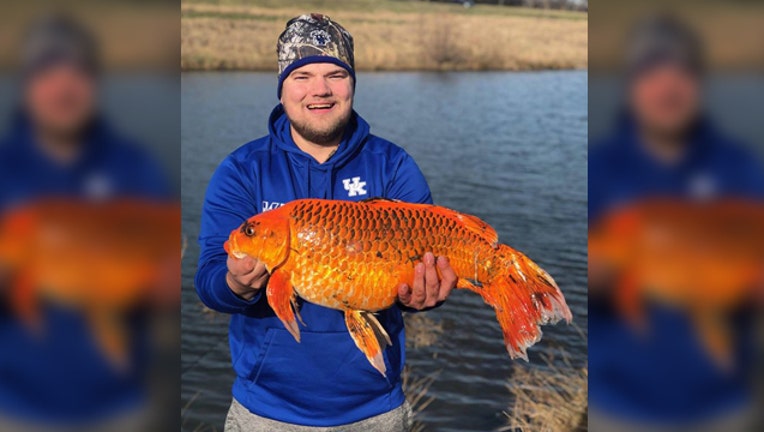 article
(FOX 2) - A Kentucky fisherman was just hoping for a bit of luck when he put a biscuit on the hook. He snagged the biggest goldfish you've probably ever seen.
Hunter Anderson works at a bait and tackle shop in Danville, Kentucky, southwest of Louisville. We tell you his employment history because he's probably heard some fish stories - but this one is 100% real and he has the picture to prove it.
"There's no faking that kind of fish," Anderson told WKYT-TV. "It was crazy."
He and his girlfriend were out fishing Saturday on a pond that's known to have large koi and goldfish.
Anderson told Fox News he used a Cashion rod but didn't have any bait, so instead he used a piece of Lee's Famous Recipe biscuit.
The couple had just eaten at the restaurant earlier in the day and he put his biscuit on the line to see what would happen. 
He snagged a 20-pound goldfish or koi. It wasn't easy - the beast put up a fight - but Anderson eventually got to shore. 
"This fish was different. It was one of the hardest fighting fish I've ever fought. It never ever wanted to give up. I'm lucky I got it in. But I did and I was screaming and jumping up and down as I had never seen anything like it," he said.
He paused to pose with the big fish and then set it free - in hopes that a kid can reel it in someday soon.
"I wanted to make sure it got back to the water safely so maybe a kid can catch it someday and be as happy as I was," he said.
His sister posted Anderson with the picture on Facebook and even joked that it was a pet goldfish they flushed years ago:
"What you are witnessing is NOT national geographic! It is not a stolen image or edited photo! This is my brother!! Who is holding what could possibly be.... that pet goldfish we flushed when I was 9!!! ...I swear, I thought you were dead bubbles!!! lol lol. Caught in danville ky y'all!! Oh my gosh don't flush your pets!" she wrote.
Fox 2 Reported this story from Southfield, Michigan.