Led Zeppelin's Page dodges court questions, riffs air guitar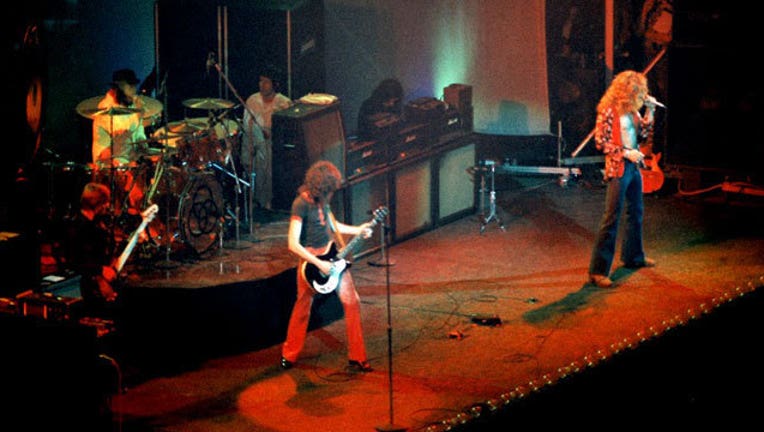 article
LOS ANGELES (AP) — Led Zeppelin works that include "Stairway to Heaven" had revenues of nearly $60 million over the past five years, an economist testified Friday in a lawsuit accusing the band of lifting a passage from another songwriter's tune for its best known work.
Michael Einhorn told jurors in federal court in Los Angeles that songwriters Jimmy Page and Robert Plant have received $58.5 million since 2011 for dozens of works, including "Stairway," their band's 1971 hit and most recognizable song.
Einhorn was the final witness for plaintiffs in the copyright infringement case brought against Led Zeppelin, Page and Plant by the band Spirit and the estate of Spirit's late guitarist Randy California.
The action claims Led Zeppelin lifted a passage from the Spirit instrumental "Taurus."
Under cross-examination, Einhorn said some of the $58.5 million in revenues were under terms of a 2008 contract that covered the band's catalog of 87 songs.
Led Zeppelin lawyers have challenged the inclusion of the contract in the case, contending it falls outside the statute of limitations.
Page has testified that he never heard "Taurus" until years after Led Zeppelin released "Stairway to Heaven."
The instrumental was written by California, whose real name was Randy Wolfe and who died in 1997.
On the witness stand Thursday, Page was reluctant to compare the harmony, tempo or structure of the two songs, thwarting the lawyer representing Wolfe's estate in the suit that also targets several music companies.
"You want to step through it," attorney Francis Malofiy asked as he tried to get Page to discuss the "Taurus" sheet music, which is the work protected by copyright.
"Not necessarily," Led Zeppelin's lead guitarist replied, sending a ripple of comic relief through the gallery during an otherwise dull day of testimony.
Page, 72, had entered the courtroom carrying a guitar but wrapped up testifying without playing a note. The closest he came was during a break when he briefly struck a jamming pose and played air guitar and laughed with Plant in the courtroom.
Jurors and a packed audience in court did get to hear the familiar opening chords of "Stairway," but they came not from Page but from an expert who said he found it strikingly similar to "Taurus."
Kevin Hanson, a guitar instructor and former member of Huffamoose, played passages from both songs on acoustic guitar, concluding they are virtually identical.
"To my ear, they sound like they are one piece of music," he said.
On cross-examination, however, Hanson, who doesn't have a college degree and is not a musicologist, said he can easily tell the songs apart.
Another plaintiff expert, Alexander Stewart, a music professor at the University of Vermont, said he found five categories in which both songs had significant similarities, including a descending chord progression, notes lasting the same duration and a series of arpeggios and similar pairs of notes.
Stewart said the descending chord progression and other elements have been found in songs dating to the 1600s. But he testified that of more than 65 songs the defense has said have a similar construction, including "My Funny Valentine," the Beatles' "Michelle," and "Chim Chim Cher-ee" from the movie "Mary Poppins," none contained all five elements shared by "Taurus" and "Stairway."
"Not one of them came close," Stewart said, though he acknowledged on cross-examination that the notes in both songs didn't all line up in the same places.
One of the biggest challenges for the plaintiffs is showing that "Stairway" is substantially similar to the sheet music for "Taurus" because that's what's filed at the U.S. Copyright Office.
The recording of "Taurus," which contains a riff very similar to the opening of "Stairway" is significantly different from videos of experts playing the sheet music.
Because the recording is not protected by the copyright, jurors can't consider it and it can't be played in court.
Malofiy tried several times to get Page, who said he never heard "Taurus" until comparisons began popping up online a few years ago, to compare the two songs. Page's lawyer successfully objected and the question was never answered.
However, when Page was asked to compare "Stairway" to the "Taurus" sheet music, he said he preferred to hear it.
"I'm asking if I can hear what was played," he said, knowing he couldn't.
To demonstrate the shortcomings of sheet music, though, Malofiy showed Page the copyright version of "Stairway to Heaven."
Page, who said he composed the music and Plant wrote the lyrics, said he had not written the sheet music he was shown.
It begins with the opening lyrics, "There's a lady who's sure/All that glitters is gold," eliminating the famous instrumental introduction that lasts nearly a minute.
"It's not there," Page said.