$1.5M ancient Buddha statue stolen from LA gallery recovered
LOS ANGELES - A $1.5 million Buddha statue that was stolen from a Beverly Grove-area gallery was recovered and a suspect was arrested on suspicion of receiving stolen property, police said Wednesday.
Justin Livick, 44, was arrested Saturday, when the nearly 250-pound statue was also recovered, according to the Los Angeles Police Department.
It was unclear exactly where the statue was found, and it remained unclear who actually pilfered the statue in the early morning hours of Sept. 18 from the Barakat Gallery in the 900 block of North La Cienega Boulevard, between Melrose Avenue and Santa Monica Boulevard.
According to jail records, Livick was booked Saturday night then cited and released early Sunday morning. He was given a tentative court date of Oct. 19.
Police said the statue was stolen around 3:45 a.m. Sept. 18.
The gallery said the statue was from Japan's Edo Period of 1603-1867.
According to surveillance video, the suspect broke into the entrance through a driveway gate and used a dolly to move the statue onto a truck within 25 minutes.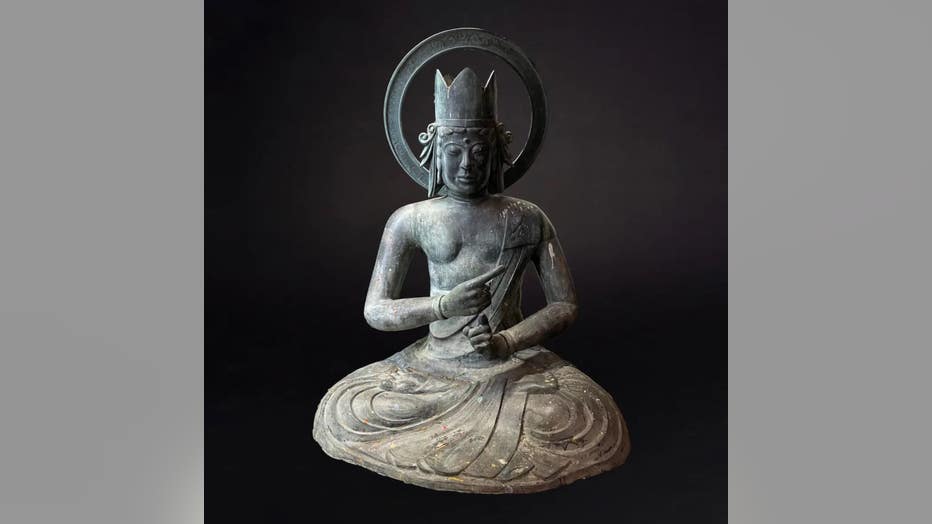 The stolen Edo Period bronze sculpture of the Buddha (1603-1867) Credit: Barakat Gallery
PREVIOUS COVERAGE: The search continues for a $1.5 million, 250-pound Buddha statue stolen from a Beverly Grove gallery
Paul Henderson, director of Barakat's Los Angeles location, told theartnewspaper.com that museum officials were "shocked" that a lone thief managed to steal the 4-foot-tall statue despite its weight and drive off with it in a Budget rental truck.
"We're all very puzzled," Henderson told the website. "Obviously this is a high-valued piece, it's important, and aesthetically it's a very interesting and unique item. It's clearly a temple sculpture from that period, and the size and the execution make it a very rare item, so it's not something you'd find on the market, which means it's not something that could be resold easily.
"We're still trying to figure out what the motive was and what the thief thinks they're going to do with this piece."
An artist named Tadazou Iinuma is credited with creating the sculpture, the international art website reported.
It bears an inscription, which translated reads "Produced by Tadazou Iinuma, first year of Shouho, Kanoe. Prayed for and requested by Ryozen, master of Shingon religious party, Dainichi-Nyorai, Yudo-no-San Temple, of the highest social class."
The inscription implies the sculpture was commissioned by a religious official named Ryozen and was likely once installed  at the Yudo-no-San Temple, a holy site on Japan's Mount Yudono, the online publication reported.
In addition to the Los Angeles location, Barakat also has galleries in London and Seoul.
Anyone with information about the theft was urged to contact the Los Angeles Police Department at 1-877-275-5273.