Lyft driver hailed a hero after he stopped violent assault in South Austin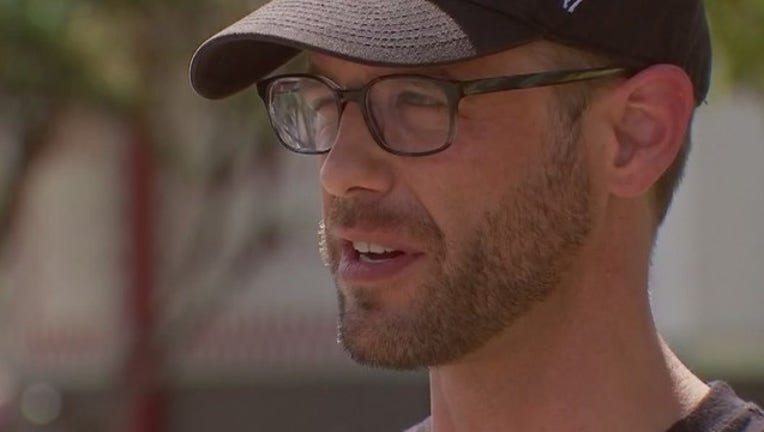 article
AUSTIN, Texas - Austin police say a local Lyft driver was able to stop a violent assault in South Austin last week, potentially saving a life. 
What started as a dispute between three homeless men over a mattress ended with one of the men bludgeoning another. Rob Black, an area photographer, musician and Lyft driver, witnessed the attack and was able to put a stop to it.
One of the homeless men who came to Austin from Michigan earlier this month says he is shocked by the level of violence he has seen on Austin's streets. His only saving grace has been Sunrise Church, near where he once slept under West Ben White Boulevard and Manchaca Road.
"They feed us, they make sure we got food, they make sure we got water." he explained. 
It was around 8:30 p.m. last Wednesday night when he and a friend returned from church to find Donald Koerber, 51, on the mattress they had come to call home. Court documents say they asked Koerber, whom police say is also a transient, to leave. He did, but he soon returned with a baseball bad.
The victim tried to fight Koerber off with his crutch, but Koerber got the best of him, beginning to bludgeon him and repeatedly strike him in the head with the bat.
Black drove up to the scene, witnessing what he thought was a killing blow. Passenger in tow, Black stopped the car in traffic under the bridge, hopped out and began to yell "Not in my city!"
Koerber began to walk towards Black. Black saw police lights in the distance, so he got into his car and drove away before coming back to provide a statement to police.
Black is now being hailed a hero. When Koerber bludgeoned the victim, it caused pain and swelling the size of a baseball that police say could have resulted in his death.
"When it comes to violence in public, like that's not gonna fly. And that's where I will draw the line," Black said. 
Detective Joshua Muchnikoff, of the Austin Police Department's Nighttime Violent Crime Unit, praised Black's actions. 
"[Black] decided to say something about what was going on and fortunately that's what stopped the assault, was someone else speaking up. It's really important that when someone sees a crime that they say something about it," Muchnikoff said. "And he didn't just say something about the crime, but he was willing to stay and give a statement which is very critical for the furthering of our investigations." 
Black, said his passenger had the "same attitude" he did throughout the ordeal.
Koerber is currently in the Travis County jail for second-degree felony aggravated assault with a deadly weapon.