Man denied bond as decade-long series of killings emerges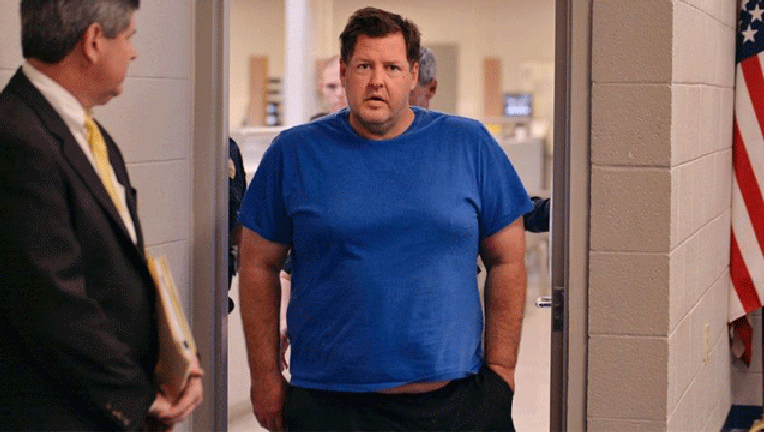 article
SPARTANBURG, S.C. (AP) -- A South Carolina man accused of holding a woman chained inside a storage container was denied bond Sunday after investigators say he also confessed to an unsolved quadruple murder that happened 13 years ago.
Authorities have charged Todd Kohlhepp, 45, with four counts of murder in the deaths of four people in 2003 at the Superbike Motorsports motorcycle shop in Chesnee, South Carolina. His alleged role in those killings was uncovered, authorities said, after the woman was found last week in a locked metal container on Kohlhepp's property in rural Woodruff.
Kohlhepp's arrest has put to rest for local law enforcement and the families of the victims a mystery that has haunted them for more than a decade.
"We got `em today. We got `em today. I'm rejoicing that this community can know that four people who were brutally murdered, there's no wondering about it anymore," Sheriff Chuck Wright said late Saturday night.
Kohlhepp is also charged with the woman's kidnapping, and prosecutors say more charges are expected.
Read Authorities: Body found on rural SC property is boyfriend of woman found chained in a..
A Spartanburg County Sheriff's investigative report says Kohlhepp "confessed to investigators that he shot and killed" the owner, service manager, mechanic and bookkeeper of the motorcycle shop. "Kohlhepp gave details ... that only the killer would know," the report says.
Authorities say Kohlhepp is a suspect in at least three other deaths.
Kohlhepp appeared before Magistrate Judge Jimmy Henson on Sunday for the brief bond hearing on the four murder counts. The issue of bond could be taken up by a circuit court later.
Wearing an orange jumpsuit, Kohlhepp declined to make a statement when offered the chance.
After Kohlhepp left the courtroom, Henson addressed the victims' families, saying, "What you've gone through ... is beyond what a lot of people would understand."
Wright says Kohlhepp also showed law enforcement officers Saturday where he says he buried two other victims on his 95-acre property near Woodruff. Wright said there could be more bodies.
Those are in addition to the body found Friday at the site. Authorities identified that victim as 32-year-old Charles Carver, the boyfriend of the woman found Thursday. Carver died of multiple gunshot wounds.
Read Sex offender reportedly in custody after missing SC woman found 'chained like a dog' in metal..
Carver and the woman went missing around Aug. 31, and their last known cellphone signals led authorities to the property. The Associated Press is not naming the woman because the suspect is a sex offender, though authorities have not said whether she was sexually assaulted.
The wife of one of the 2003 victims said detectives told her Kohlhepp was an angry customer who had been in the shop several times.
Melissa Ponder said that she had resigned herself to her husband Scott's death remaining unsolved -- until she got a phone call Saturday evening from detectives.
"He knew too much about the crime scene," Ponder said of Kohlhepp's account to detectives. "He knew everything."
"It isn't closure, but it is an answer," Ponder said by phone. "And I am thankful for that."
The parents of another 2003 victim, 29-year-old service manager Brian Lucas, came to Spartanburg for the hearing on Sunday, the 13th anniversary of the killings.
Standing with his wife before the hearing, Tom Lucas said he wanted to be in court to look the man accused of killing his son in the eye.
"We want to see the face. I want to look at him, and I want to try to use that in healing," he said.
Lorraine Lucas said she started counseling sessions several weeks ago to prepare herself in case a suspect was ever arrested.
"I needed to be prepared for when they do make an arrest, so we can accept what happened," she said.
Another grieving relative who came to the hearing, Terry Guy, was Scott Ponder's stepfather and the husband of another victim. Guy said Kohlhepp's arrest means relatives of the victims can now finally be at peace.
"I'm just so relieved," Guy said.
Henson, the magistrate judge, told the family members that they would have a chance later to address Kohlhepp in court.
"When it comes your time to speak to that defendant, speak from the heart," he said. "You have something to say. You've been waiting 13 years to say it."
Before Kohlhepp emerged as a suspect, investigators have said all four victims were killed with the same 9 mm pistol. They have theorized that the killer came in the back, perhaps through an open garage door, and killed mechanic Chris Sherbert, 26, as he worked. Bookkeeper Beverly Guy, 52, was found just outside the bathroom in the middle of the showroom.
Thirty-year-old shop owner Scott Ponder was found just outside the door in the parking lot. He was Guy's son. Brian Lucas was in the doorway.
Kohlhepp was released from prison in Arizona in 2001. As a teenager, he was convicted of raping a 14-year-old neighbor at gunpoint and threatening to kill her siblings if she called police. Kohlhepp had to register as a sex offender.
But that didn't stop him from getting a South Carolina real estate license in 2006 and building a firm.
Wright said "it's strange" that Kohlhepp managed the pretext of a normal life for so long.
------
Associated Press writers Jonathan Drew in Raleigh, North Carolina and Jeffrey Collins in Columbia contributed to this report.
AP-WF-11-06-16 1913GMT