Man flies to Africa for the best superhero proposal ever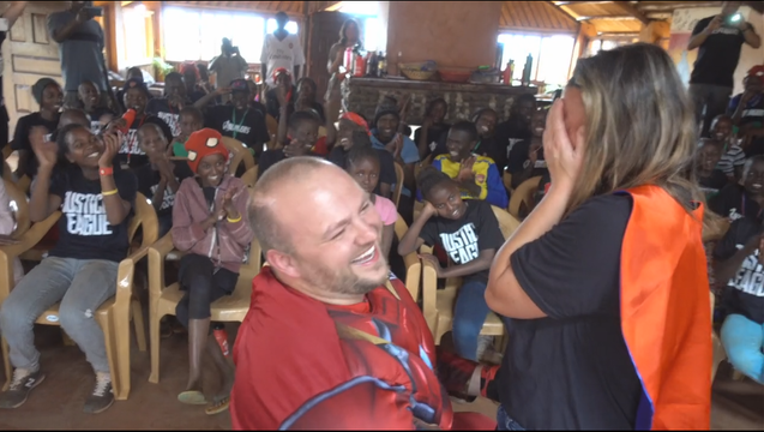 article
ATLANTA - A man in Georgia was so in love with his girlfriend that he flew all the way to Africa to propose to her while she was on a mission trip. What happened was all captured on video, and it is just amazing.
Justin Page told FOX 5 that Brittany Duncan was the woman of his dreams, and he shared with us his trip to Africa, his proposal, and more.
Justin + Brittany - Kenya - Proposal from BC Serna on Vimeo.
Page, a Georgia native, boarded a plane just three days after his girlfriend had flown overseas to help children in Africa. Her mission trip was superhero themed, and Page used that as an advantage to keep his proposal a secret.
He dressed up as Iron Man, and Brittany was told she would be captured by bad villains for a skit for the kids. Once she was captured, Justin and his Iron Man team swooped in to save the day.
Justin rescued Brittany in front of all the kids. He pulled off his mask, revealing himself. Brittany was completely surprised. And as Justin got down on one knee, she fell to the floor.
Justin Page asked the big question, and SHE SAID YES!
After all of the joy and celebration, Justin and Brittany got to enjoy their engagement by helping the children in Africa. Justin says that 12 kids were saved and baptized while they were there.
When the newly engaged couple returned home, Justin gave Brittany the real ring. The told FOX 5 that they hoped we would share this video of something incredible and happy with all of the bad things going on in the world today.