Man rams police vehicle in Paris; attacker likely killed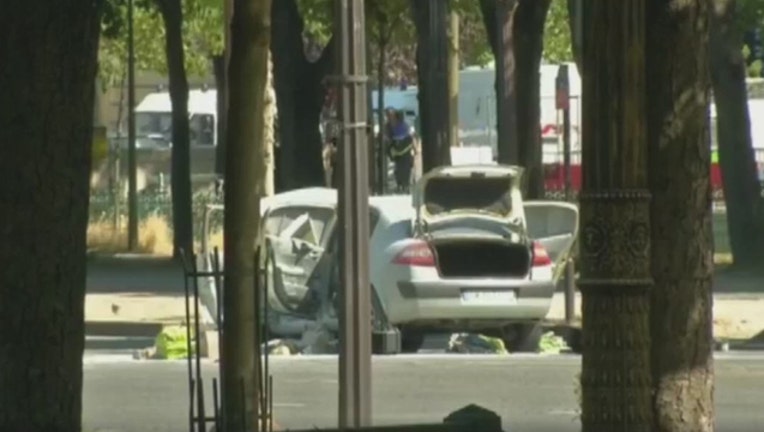 article
PARIS (AP) - PARIS (AP) - A man rammed his car into a police vehicle in Paris' Champs-Elysees shopping district Monday, prompting a fiery explosion, and was likely killed in the incident, authorities said. France's anti-terrorism prosecutor opened an investigation.
No police officers or passers-by were hurt, the Paris police department said. It is unclear why the attacker drove into police, though the Interior Ministry spokesman said the incident was apparently deliberate.
Two police officials told The Associated Press that a handgun was found on the driver, who they said was badly burned after the vehicle exploded. They spoke on condition of anonymity to reveal details of the incident, the second this year on the city's most famous avenue, which is popular with tourists.
An attacker defending the Islamic State group shot and killed a police officer on the Champs-Elysees in April, days before a presidential election, prompting an extensive security operation. France is under a state of emergency after a string of deadly Islamic extremist attacks.
On Monday, police cordoned off a broad swath of the Champs-Elysees avenue that cuts through central Paris, warning people to avoid the area. Bomb squads are combing the area and the nearest subway station is closed to the public.
Interior Ministry spokesman Pierre-Henry Brandet said that the man is "most probably" dead.
Eric Favereau, a journalist for Liberation newspaper who was driving a scooter behind the gendarmes, said he saw a car blocking the convoy's path, then an implosion in the vehicle. Favereau wrote that the gendarmes smashed open the windows of the car while it was in flames and dragged out its occupant. Other gendarmes used fire extinguishers to put out the flames. The account didn't say what happened to the occupant of the car afterward.
A man could be seen lying on his stomach on the ground immediately after the incident, wearing a white shirt and dark shorts.