Man's body found on Blanco River bank in San Marcos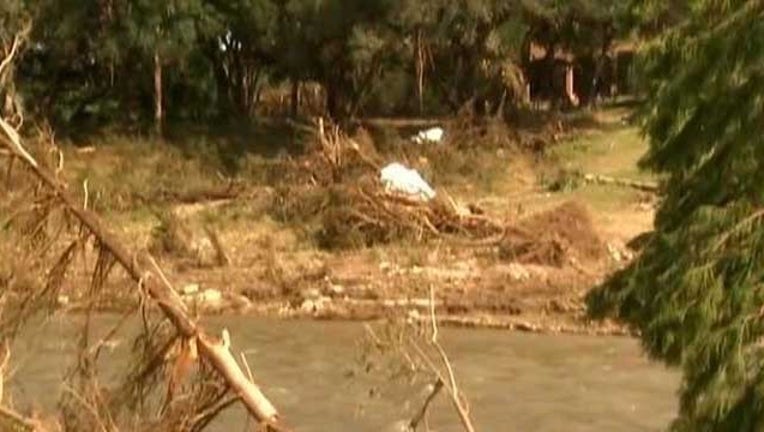 article
Thursday night, officials announced an adult male's body was found on Blanco River bank in San Marcos.
He was found in debris. His name has not been released.
Volunteer efforts continue to gather speed in Wimberley.
Agencies from around the country are descending on the town to offer relief.
Locals are doing their part too - they've set up a center at Wimberley High School where flood victims can come to get supplies.
When they come in, they register and are then paired with a volunteer to get what they need. There are mountains of clothes, baby supplies and pet food, blankets, towels, and cleaning supplies which they say they are in desperate need of.
Small donations can be brought to the school. Large quantities can be brought to the distribution center at 200 Springtown Way in San Marcos
The local animal shelter is also here to help victims too
"We are set up as the central resource for lost and found pets for Wimberley and the surrounding areas. we are also reaching out and helping in Kyle and Buda as their resources are limited and now in Blanco," explained Canine Director Debbie Nordyke of the Wimberley Adoption Group and Rescue.
Lieutenant Governor Dan Patrick toured the flood zone by helicopter.
"You can read about a tragedy, you can see it on TV but unless you hit the ground or fly over it you don't have a sense of the devastation," he said.
The Lieutenant Governor also said that late yesterday legislators talked about allocating emergency funds from the budget to this disaster. It's not clear when or how much.
The volunteer efforts in the region have grown quickly and Hays County is organizing a central location for victims to go who need help.
Hays County and the City of San Marcos is working together to create a resource center for flood victims. There will be one in Hays County and one in San Marcos. For details, click here.

Donations for flood victims are being directed to the main drop off location: 200 Springtown Way in San Marcos
They are in need of clean-up supplies.
Flood survivors are also asked to go to the Bridges Gym at Wimberley High School located at 100 Carney Lane for supplies including: clothing, bedding, baby supplies, pet food, hygiene products, basic needs and food kits. Forms for survivors to register with are also available there. The center is open from 9am-8pm except on Friday, they will close at 5 p.m. for graduation.
For a list of more ways you can help flood victims, click here.