Wrong-way driver crashes into Mansfield gas pipeline, causing large fire
MANSFIELD, Texas - Mansfield police say a speeding, wrong-way driver crashed into a gas pipeline overnight, sending flames high into the air. 
Video from Wednesday morning shows how bad it was near the Highway 287 and 360 merge.
Police say they were alerted about a wrong-way driver, and a DPS trooper was headed that way. But the speeding driver veered 125 feet from the road and hit the pipeline. 
Some people in nearby homes were told to evacuate.
"During that time when the fire was actively burning, we evacuated residents within a one-mile radius of the pipeline," explained Jeff Smith with the Mansfield Fire Department.
The fiery explosion happened around 1 a.m. The injured driver suffering from burns was flown to Parkland Hospital.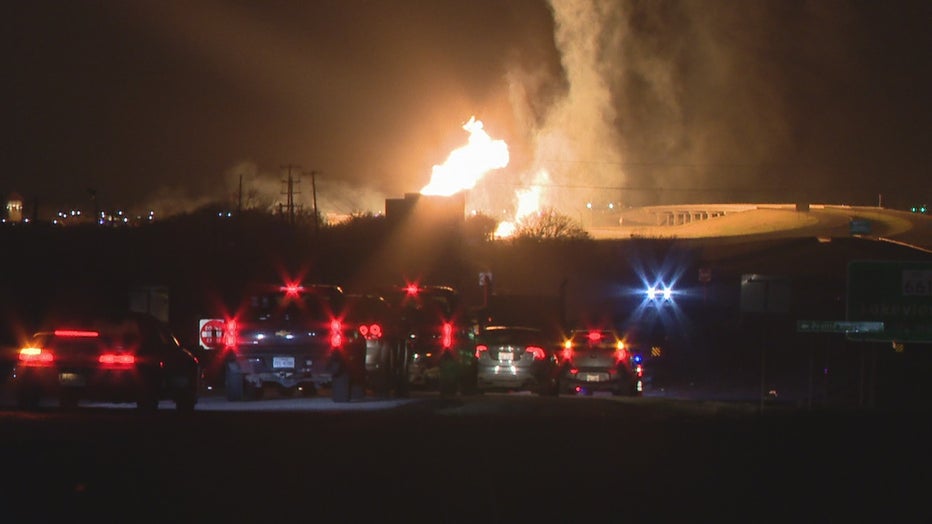 Homeowners like JJ Salomon were rattled.
"So this is when it got scary. We went outside and started seeing the fire trucks," he recalled. "We went and asked the fireman what's going on, and he was like, 'You guys are going to have to get out of here. One mile or not, regardless.'"
Salomon and his wife scrambled to notify neighbors who they knew were fast asleep.
"I went that way. My wife went this way knocking on as many doors as we could because you don't know the severity of it. But at the same time, it's late," he recalled. "It was frantic and nervous and a bunch of anxiety all at the same time. But you're just thinking about your neighbors. So we called as many people as we could, knocked on as many doors as we could. I even went up and down driving because, like I said, the firetrucks came in a little section. I went up and down honking."
The homeowners were allowed return to their houses around 3:30 a.m. After Atmos Energy shut off service through the line. No other injuries were reported.
 "Everybody came through, letting each other know where to go, letting each other know when it was time to come home," Salomon said. "So it was great a real neighborhood community feel tonight everybody coming together."
Mansfield firefighters said some grass fires broke out in the area where the pipe broke, but those fires were quickly extinguished.
The driver's identity has not been released. Charges are unclear at this time.
READ MORE:
South Dallas mass shooting victims were not the intended targets, police say
Texas tornado outbreak: 10 confirmed tornadoes rip through North Texas, 1 dead
Video shows red truck driving through tornado in central Texas