Most popular Halloween candies, according to Instacart shopping data
October is in full swing, somehow. 
Many people are eagerly anticipating the spookiest season of the year, and with it, one of the tastiest, too: trick-or-treat time.
The online grocery delivery and pick-up service Instacart revealed the top candy cravings among Americans — and it definitely contains chocolate-y dreams.
AMERICA'S HALLOWEEN CANDY PREFERENCES IDENTIFIED STATE-BY-STATE: REPORT
To determine the top 10 list, Instacart calculated the total weight of each type of candy sold on its platform in October 2022. 
Is your go-to candy on the list?
"Reese's Peanut Butter Cups, Peanut M&M's, and classic M&M's reaffirm their status as Halloween favorites among Americans coast to coast," Laurentia Romaniuk, Instacart's trends expert, told FOX Business. 
"Hershey's Milk Chocolate and KitKat also secured places within the top 10, further underscoring the spell that chocolate casts on Halloween enthusiasts nationwide." 
It's clear that chocolate reigns supreme in Americans' candy bowls, but it's also interesting to see the non-chocolate items that made the cut.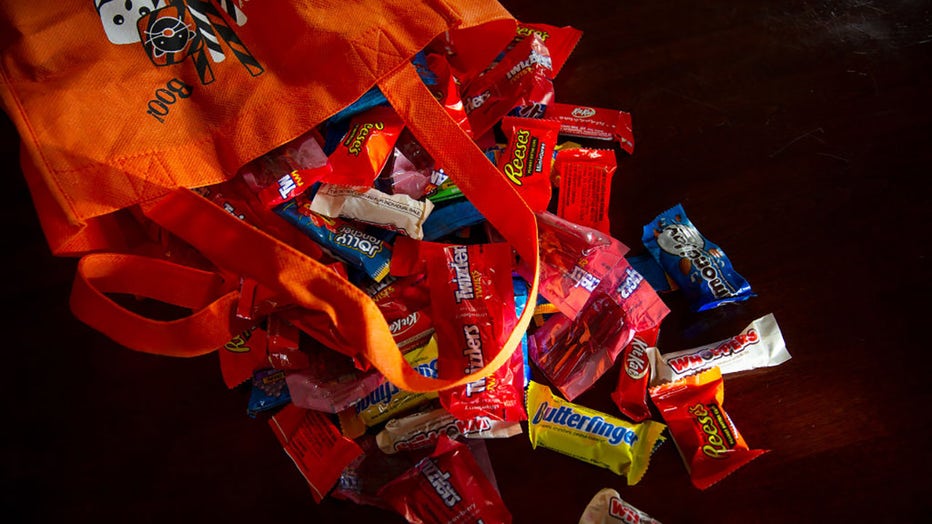 FILE - Halloween candy is pictured. (Photo by Derek Davis/Portland Press Herald via Getty Images)
HALLOWEEN SPENDING TO REACH RECORD $10.6B: NRF
"Comparing this list of the top 10 Halloween candies to last year reveals some exciting changes. We've got three newcomers: Tootsie Pops, Sour Patch Kids, and Candy Corn — two classics and a candy with a modern sour twist, which tells us there's a delectable blend of nostalgia and contemporary flavors showing up in candy bowls," noted Romaniuk in a company blog post. 
FYI: Starburst and Twizzlers are also on the top 10 list.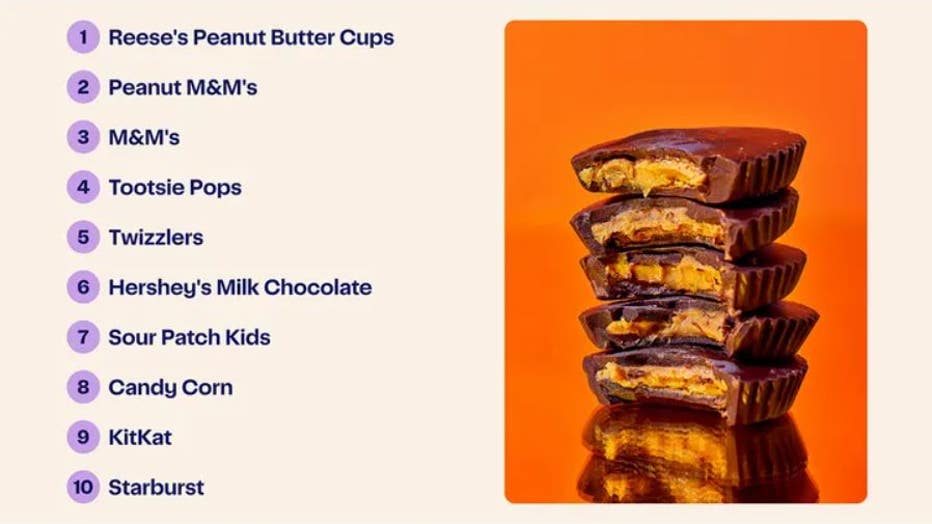 The top 10 list of candies is primarily up chocolate confectionary items with peanut butter cups taking home the top spot. Instacart calculated the total weight of each type of candy sold in October 2022 to identify the top candies. (Instacart / Fox
Come All Hallows' Eve, you might also enjoy whipping up your own delectable confections. 
GET FOX BUSINESS ON THE GO BY CLICKING HERE
Some of the favorite easy-to-make candy and sweets recipes for this October include Sour Punch Halloween muddy buddies, Goblin skillet cookies and Halloween ice cream cups. 
Or, try a playful display with the spooky Halloween charcuterie board that you can assemble in about 15 minutes.
For more information, visit Instacart.com.