Moving for Marijuana: Texan helps Texan in Colorado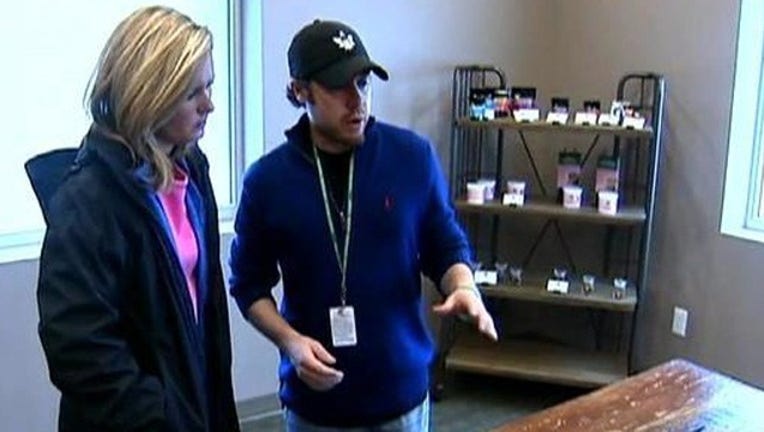 article
The mountains of Colorado bring a sense of peace for many. For Sherise Nipper it's where she feels alive.
Three weeks ago she left Texas to try medical marijuana in Colorado. She's spent the last decade of her life living with epilepsy. The results, so far, she says are remarkable. For ten days she has been seizure free.
"Over here are my patches and they are just $10 dollars," said Nipper inside Emerald Fields in Glendale, Colorado.
Nipper is using a range of products and buying them recreationally since she isn't a Colorado resident.
"I came up here to change my life and get my family back and my life back," said Nipper who believes strongly in what she's doing. Initially she was hesitant and somewhat skeptical but desperate to try something that could possibly help.
Through Facebook she connected with Chris Seliga. Seliga is a cannibas consultant and owner of Green Horizon Medical. His company makes sure companies are compliant with state rules. Being in the marijuana business was never something he imagined. The Wisconsin native quit his job and moved because his wife, Kelly, was diagnosed with multiple sclerosis.
"We realized from our past experiences as refugees that we needed to jump in and help Sherise," said Seliga.
"This pot head thing people are expecting you to have dread locks and it's just not that anymore. Cannibas has come a long way," said Seliga.
Seliga is part of Team Pluto. Pluto is Sherise's seizure detection dog who has been by her side for several years.
"When you see people come in with crippling pain you try something with them and it works and you believe in it even more," said Michael Thompson who is also working with Sherise. Thompson is the director of science and the master grower for Emerald Fields.
Thompson is also a Texan. The canniboutique is a growing business for recreational marijuana and helps people like Sherise who are using it for medical purposes.
The business launched in January with 12 employees and by November the company could have 200 people on payroll. Thompson is in the process of setting up a nearly 30 acre cultivation field to grow more marijuana.
From seed to sale the state regulates the industry which Thompson says is a good thing. Cameras are peppered throughout the two stores keeping a watchful eye on what goes on. Every ounce of marijuana is accounted for.
Between 300 and 400 people visit the location in Manitou Springs outside Colorado Springs. No one under 21 is allowed inside and the dispensary scans identification for each person entering. They also keep track about where people are coming from state by state. Thompson says that Texans account for the second most visitors behind those who call Colorado home.
News of Texas lawmakers passing a CBD oil bill is a step in the right direction according to Thompson. He maintains that access to the whole plant is needed.
Momentum behind the marijuana reform movement is growing. A bill to legalize marijuana made it out of a House committee but not much further. Thompson says he's keeping an eye on what happens in Texas.
He's got plans in place to bring his business back home if the state were to ever legalize marijuana.
"We have a project planned and funded by a friend of mine from the Fort Worth area and it is done," said Thompson.
All he says he would need is a couple of weeks and he could be operational.
"I sent my greenhouse guys down to look at the land already and the business plan is complete. We are just waiting for it to get legalized and then I would get to come back home," said Thompson.
Only time will tell when and if that happens. For the time being Thompson, Seliga and Nipper will continue to stay where they are.
The Nippers don't want to leave Texas and plan to stay in Colorado. Within the next week she plans to see a medical doctor.