Multiple Dallas CEOs send anti-bathroom bill letter to Gov. Abbott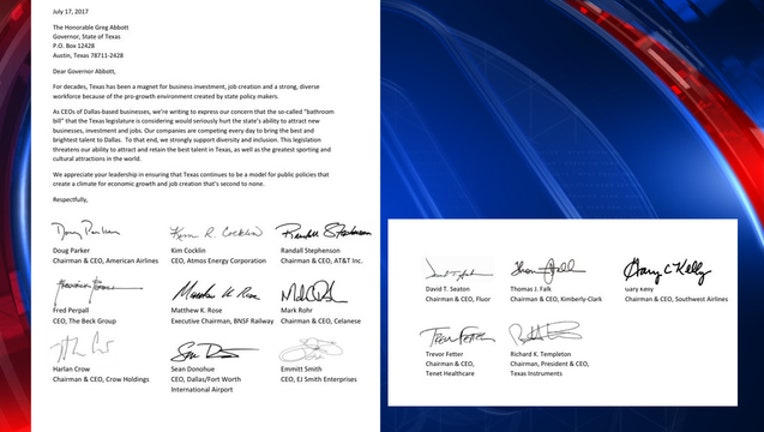 article
Multiple CEOs of Dallas-based corporations sent a letter to Gov. Greg Abbott on Monday stating their opposition to the proposed bathroom bill in the Texas Legislature.
The businessmen said Texas has been a magnet for investment, job creation and a diverse workforce over the years -- but passage of the bill would hurt the state's ability to attract new business, jobs and employees.
"Our companies are competing every day to bring the best and brightest talent to Dallas. To that end, we strongly support diversity and inclusion," the CEOs said in the letter. "This legislation threatens our ability to attract and retain the best talent in Texas, as well as the greatest sporting and cultural attractions in the world."
The CEOs of American Airlines, Southwest Airlines, Atmos Energy, AT&T, Texas Instruments, DFW International Airport, BNSF Railway, Kimberly-Clark, Tenet Healthcare, The Beck Group, Crow Holdings, Celanese, Fluor and Emmitt Smith (EJ Smith Enterprises) signed the letter.
The Republican-controlled Legislature is heading into a special session this week and is set to revive the bill requiring transgender people to use public restrooms according to their birth-certificate gender.