Multiple people dead, 3 injured after crash leads to vehicle explosion on I-35W in Denton
DENTON, Texas - At least three people were killed and three others injured after an explosive crash between two 18-wheelers and multiple vehicles on Friday afternoon in Denton.
The crash, which involved tanks with liquid propane, took place on northbound I-35w in north Denton just after 1 p.m. Friday. Large plumes of black smoke could be seen for miles after the explosion caused a fire.
University of North Texas journalism student Julian Esparza says he was on his way home when he saw smoke.
"I drove a little closer and the smoke started to get more intense," he recalled.
Esparza pulled over and started recording video on his phone.
"You're looking at that, and there's obviously nothing you can do. And I'm thinking there's no way that like someone can survive that," he said. "It was insane. The flames were massive. You couldn't even really make out whether if it was one truck or some cars or what it really was."
Police were still working Friday evening to pull all of the vehicles involved apart to determine if there were any other deaths. As of now, it's believed four other vehicles were part of the crash with the two 18-wheelers.
"At this point, the cause is under investigation and speed may have been a factor," said Denton PD spokesperson Khristen Jones.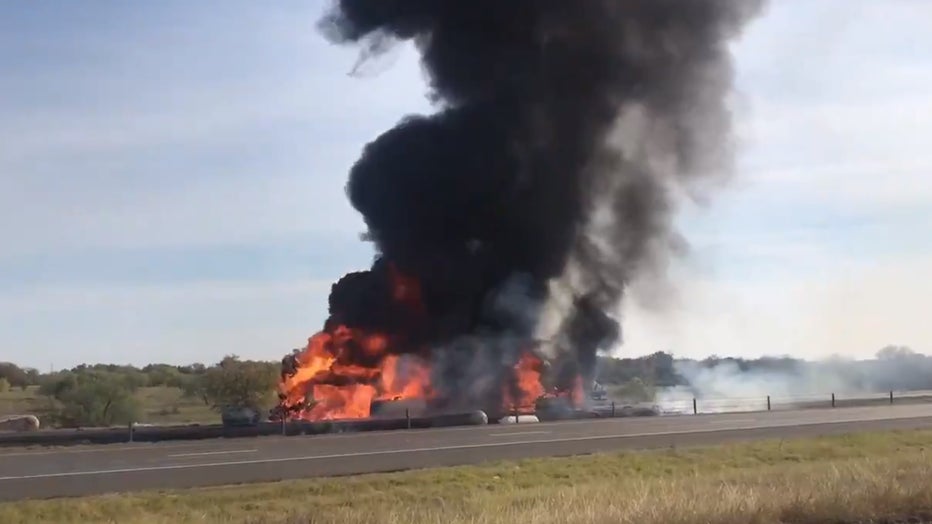 The driver of the truck that exploded suffered minor injuries and was not transported to the hospital. The identities of the victims have not been released.
Both directions of the interstate were closed for hours, with southbound lanes opening back up after about three hours. Northbound lanes could be closed until Saturday morning.