New Braunfels police on lookout for Wal-Mart Wells Fargo bank robber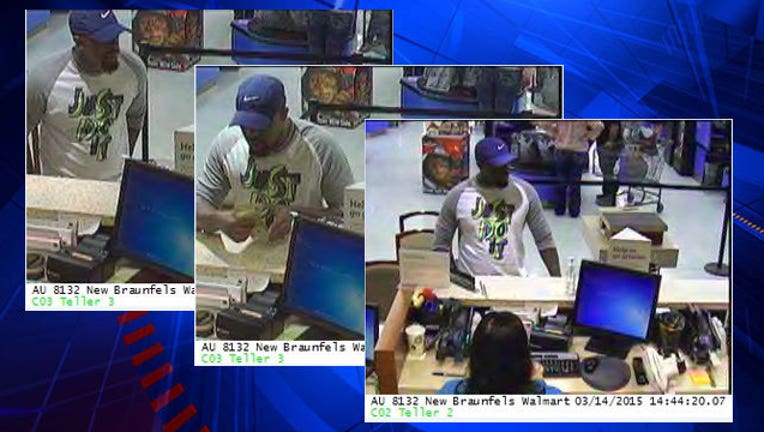 article
NEW BRAUNFELS, Texas - The New Braunfels Police Department is on the lookout for a man who walked to a bank teller at a Wells Fargo Bank and aggressively demanded money from her drawer. The Wells Fargo is located inside the Wal-Mart at 1209 IH 35 South. He's believed to responsible for other bank robberies up and down the IH 35 corridor.

Police responded on March 14 just before 3 p.m.
Witnesses say the suspect did not brandish any weapons at the time, however he should be considered armed and dangerous.
The suspect was described as a black male approx. 6'3" tall with goatee style facial hair, wearing a white baseball jersey style shirt with grey sleeves with the logo "Just Do It" printed on the front in green and purple colors, blue jeans, and white athletic shoes with black soles.
After obtaining an undetermined amount of money, the suspect quickly left the Wal-Mart through the general merchandise doors. The suspect then got into a two door grey in color Nissan Altima Coupe with unknown license plate, last seen traveling Northbound on the IH 35 frontage road.
At this time it appears that this may be the same suspect that has done previous bank robberies up and down the IH 35 corridor, in San Antonio, San Marcos, and Austin, all at Wal-Mart locations.