New flavor from Blue Bell inspired by camouflage trend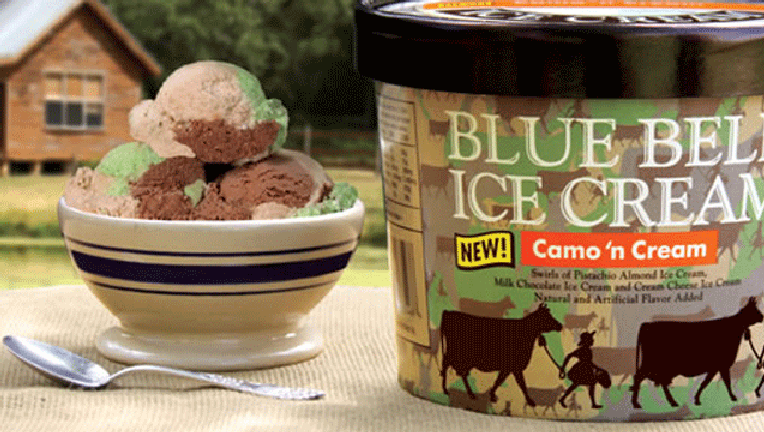 article
BRENHAM, Texas, September 1, 2016 - The newest flavor from Blue Bell won't be hard to spot on your next trip to the grocery store. Or will it?  Camo 'n Cream Ice Cream, packaged in a unique carton decorated in  a camouflage design created from the Blue Bell cow and girl logo, arrives in stores today.
Camo 'n Cream is a colorful combination of three great tasting ice cream flavors- Pistachio Almond, Milk Chocolate and cream cheese - swirled together in a camouflage pattern.
"We are having a little fun with this flavor," said Carl Breed, director of marketing for Blue Bell. "You see the camo design on everything these days, so we thought why not create an ice cream flavor that looks camouflage? The best part is these three flavors taste great together. We tried a few different combinations but chose these flavors because they complement each other so well. We think our fans will love the mixture of Pistachio Almond, Milk Chocolate and cream cheese ice cream."
Camo 'n Cream is available in limited quantities in the half gallon and pint sizes.
Blue Bell offers more than 25 flavors of ice cream in the half gallon size as well as a selection of pint and cup sized items. And, additional fan favorites will be released over the next several months.
For more information about Blue Bell and for a list of flavors now available in stores visit here.