New UT President discusses plans for the campus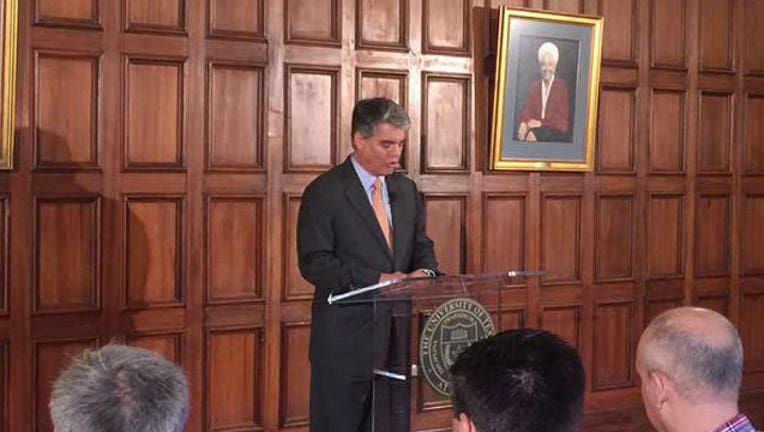 article
It's official, UT has a new president. His name is Gregory Fenves, and some students on campus say the new president has a pressing list of improvements to make.
Chris Omoregie is on a path to a career in the natural sciences at UT-Austin, but he still feels the school has a long way to go.
"It feels like it heavily favors against blacks in the school," said Omoregie, UT Senior.
Diversity is one of new president Gregory Fenves' issues to address.
"It is a great honor to lead this university into a future to build our levels of excellence, to increase diversity, and to make sure that our public research university provides value to the entire state," said Fenves.
Fenves was previously Executive Vice-President and Provost before taking the presidency.
He comes at a time when the school is rapidly expanding, with Dell Medical School to open in about a year. His biggest mission remains clear.
"Giving undergraduates the support they need to stay successful, to stay on track, and yes graduate in four years," said Fenves.
Now, there is another issue at large, campus carry. With UT being home to more than 50,000 students, there is a need for strict enforcement.
"It does help protect the Second Amendment, but at the same time too it will create more tension," said Omoregie.
With the bill passed and headed to Governor Abbott's desk, Fenves has about a year to come up with policies that will keep his students safe.
"The campus has some unique issues because of its size and complexity and we're dealing with guns and people. There will be some judgment given to me as president in working with the chancellor and the board of regents," said Fenves.
The new president may have a lot on his plate in the coming years, but he says ultimately his goal is to be supportive of students feeling comfortable at his university so they can enter the workforce prepared.
"Some good may happen some bad may happen," said Omoregie.
Fenves is the 29th president of UT. Before coming here as Vice-President in 2008 he served at University of California at Berkeley.