North Austin shooting suspect arrested, charged with 1st degree murder
AUSTIN, Texas - A suspect has been identified in a double homicide that happened earlier this week in North Austin.
19-year-old Edgar Alejandro Barahona has been arrested and charged with first-degree murder in the shooting deaths of Juan Carlos Loarca-Villatoro and Heliodoro Arias-Flores.
The shooting happened just after 10:30 p.m. on January 23. It in between two restaurants in the 7500 block of North I-35 Service Road, in the southbound direction, just near Highway 183.
The Austin Police Department says officers responded to a shoot stab hot shot call and when they arrived they found a person who had apparently been shot. That person, later identified in court paperwork as Loarca-Villatoro, was pronounced dead at the scene just before 11 p.m.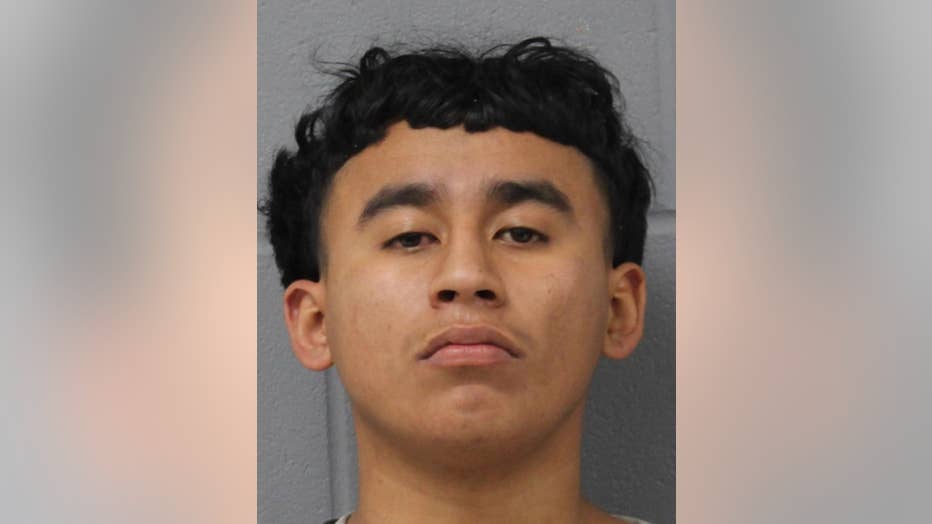 Edgar Alejandro Barahona (Austin Police Department)
Officers were notified of another victim who was transported to Dell Seton with a gunshot wound to his torso and in critical condition. That person died from their injuries just before 4 a.m. and was later identified as Arias-Flores, according to court paperwork
Court paperwork says that combined witness testimony led APD to a Facebook profile of the suspected shooter, an Alex Barahona, who was positively identified later as Edgar Alejandro Barahona.
One of the witnesses APD interviewed stated he was sitting inside his car in the parking lot and heard a gunshot nearby. When he looked in the direction of the shot, he saw a man in a red jacket "standing in a shooting position and making a shooting motion with his right arm extended," says court paperwork.
The witness told police there was no one else in the parking lot besides Barahona, Loarca-Villatoro, and Arias-Flores, and said that he recognized the shooter because he saw him inside the bar before wearing the same red jacket. The witness also stated he saw Barahona get into a white Honda sedan which left the scene.
The witness also stated that he had known Barahona as Alex for about two years and confirmed his identity when presented with a photo of Barahona, court paperwork says.
Anyone who has information is asked to call Crime Stoppers at 512-472-TIPS.
___
DOWNLOAD: FOX 7 AUSTIN NEWS APP
SUBSCRIBE: Daily Newsletter | YouTube
FOLLOW: Facebook | Instagram | Twitter