NYC subway gunman sentenced to life in prison
NEW YORK - A man who sprayed a New York City subway car with bullets during rush hour, wounding 10 people and sparking a citywide manhunt, was sentenced Thursday to life in prison.
Frank James, 64, pleaded guilty earlier this year to terrorism charges in the April 12, 2022, mass shooting aboard a Manhattan-bound train. He received a life sentence on 10 counts and 10 years for an 11th count.
Prosecutors had asked for the life sentence, saying James spent years carefully planning the shooting in order to "inflict maximum damage."
James' attorneys had asked for a reduced sentence of 18 years, saying he didn't intend to kill anyone and suffered from serious mental illness.
RELATED: Prosecutors seeking long prison term for accused NYC subway gunman
The attack wounded victims ranging in age from 16 to 60 as the train pulled into a station in Sunset Park, Brooklyn.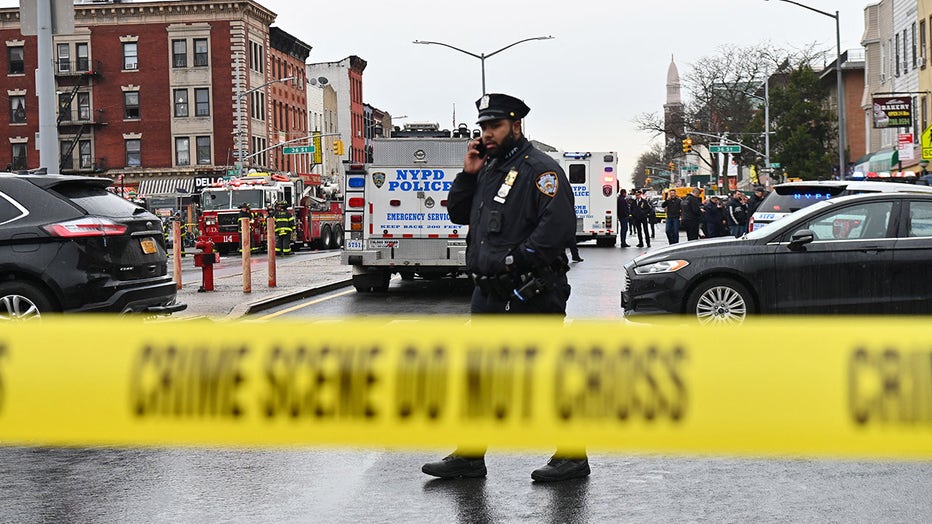 File: Members of the New York Police Department and emergency vehicles crowd the streets after at least 13 people were injured during a rush-hour shooting at a subway station in the New York borough of Brooklyn on April 12, 2022. (Photo by ANGELA WEI
As emergency responders tended to the victims, James walked calmly out of the subway station and vanished. The search for the gunman lasted for roughly 30 hours. Police identified James as a suspect relatively quickly, using a key to a rented moving van left behind on the bloodied subway car. He was eventually arrested in Manhattan's East Village after calling a police tip line to turn himself in.
"The fact that no one was killed by the defendant's 32 gunshots can only be described as luck as opposed to the defendant's intentional choice," Brooklyn prosecutors wrote in a memo to U.S. District Judge William Kuntz.
The attack stunned New Yorkers, heightened anxiety about safety in the transit system and prompted local officials to add additional surveillance cameras and police to the trains.
Before the shooting, James, who is Black, posted dozens of videos online under the moniker "Prophet of Doom," ranting about race, violence, his struggles with mental illness and a host of unnamed forces he claimed were out to get him.
In one 2019 video, James alluded to a pending conflict in his hometown, stating that "it's going to be very interesting what happens in New York with me." By that time, prosecutors allege, James was already in the process of planning the subway shooting.
When James pleaded guilty to the terrorism charges earlier this year, he said he only intended to cause serious bodily injury, not death.
His attorney, Mia Eisne-Grynberg, suggested that while James may have initially planned to kill people, he changed his mind in the heat of the moment.
"In a society where, sadly, we learn nearly every day that mass shooters who intend to kill readily achieve their goals, it is far more likely that Mr. James lacked that specific intent than that he simply failed in his mission," Eisner-Grynberg wrote in a sentencing memo.
Referencing the defendant's abusive childhood in the Bronx and his ongoing struggles with both alcoholism and paranoid schizophrenia, she added, "Mr. James is not evil. He is very, very ill."
Prosecutors, however, say the trajectory of the bullets show that James aimed at the "center mass" of riders for maximum lethality. They say James only stopped firing his semi-automatic Glock pistol because the gun jammed.
James has spent the past 17 months held at the Metropolitan Detention Center without bail. He was previously forced to appear in court after refusing to leave his cell. On Tuesday, Judge Kuntz said U.S. Marshals should use all necessary force in order to produce James for the sentencing.
Associated Press contributed to this report.