NYC subway riders fight back at groping, grinding, lewd acts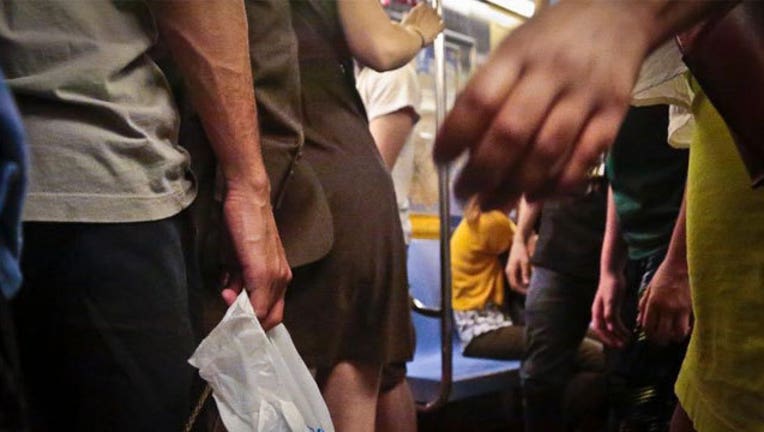 article
NEW YORK (AP) — A young woman boards a crowded subway in New York City. As more passengers pile in, a man inches closer and starts grinding his groin against her. The woman knows what's happening but the train is so packed she can't get away.
It's a situation police say plays out hundreds of times a year beneath the nation's largest city. With subway ridership approaching all-time highs, averaging 5.6 million daily riders, reports of sex crimes are also rising, up nearly 57 percent.
But police say that doesn't necessarily mean there's more groping, grinding and lewd acts going on. They instead credit an orchestrated campaign by the Metropolitan Transportation Authority to encourage riders to report sex crimes, including posters and automated announcements in subway stations, a web page for victims to document encounters and a new smartphone app that makes it easier to send in pictures of perpetrators in the act.
Chief Joseph Fox, who commands the New York Police Department's Transit Bureau, said the campaign was bolstered by more plainclothes officers, many of them women, looking specifically for subway lewdness, and more assurances that complaints will be taken seriously.
"More people are feeling empowered to report incidents they might've just walked away from before," said Debjani Roy, the deputy director Hollaback! an advocacy group that collects accounts of street harassment. "We hear stories every day of people groped, grabbed, public indecency on the subway."
Roy said subway crowding is only making the problem worse by creating more opportunities. "They start with a brush," she said, "and often times the person who is on the receiving end is second-guessing what's happening."
New York police say there were 431 reports of sex crimes from lewdness to forcible touching in the subway from mid-2015 to mid-2016, up from 275 over the same period the previous year. There were also 72 more arrests for such crimes over the same period.
Such numbers pale in comparison to transit systems around the world, such as Japan, where nearly 64 percent of women in their 20s and 30s reported being groped on trains or in transit stations, or India, where the problem has prompted separate cars just for women.
But they were enough to draw the ire of New York Gov. Andrew Cuomo, who sent a letter to the MTA asking the agency to take all the steps it can to increase patrols and work with the police department to "crack down on this sort of depraved behavior."
MTA Chairman Tom Prendergast said the agency needs to continue reducing the frequency of the offenses and raise the awareness of them among the public and its employees.
"Perception is reality, and we need to deal with it at that level," he said at an MTA board meeting Wednesday.
Natasha Huang-Smith acted as her own detective last week at the 42nd Street subway station when she encountered a man masturbating on the platform while staring at her. She pretended to be texting with her smartphone but actually recorded the man in the act, evidence she gave to police as well as posting it on her Facebook page.
Police were able to arrest the man the next day. He's pleaded not guilty.
"At first I was like 'forget it, it's not worth it,' but then I thought about it," she said. "People think it's a part of New York life. It's not."
___
Follow Michael Balsamo on Twitter at http://twitter.com/MikeBalsamo1.