Woman shot, killed by DPS trooper in Round Rock after pursuit
ROUND ROCK, Texas - A woman is dead after being shot by a state trooper. It happened near I-35 and Old Settlers Blvd. in Round Rock Friday afternoon.
Officials say the incident started around noon. Round Rock police reported a stolen vehicle, and a trooper found it near Westinghouse and I-35. The trooper tried to pull it over, but the woman inside it kept driving.
"It appeared she was trying to make a right turn onto Old Settlers Road and couldn't negotiate the turn and traveled right through the median, and that's where she struck the black passenger vehicle," Sgt. Deon Cockrell with the Texas Department of Public Safety said.
Christopher Santos-Velasquez says he was the driver of the black car.
"I just see a vehicle just coming straight towards me, and I didn't know how to react. I was like, 'what?' By the time I could react, the impact had already happened. That's when I was just like, 'whoa." Airbags deployed. My car was completely shut off, and it wasn't working or running, nothing. I was just in shock. I was like, 'yo, this really just happened,'" he said.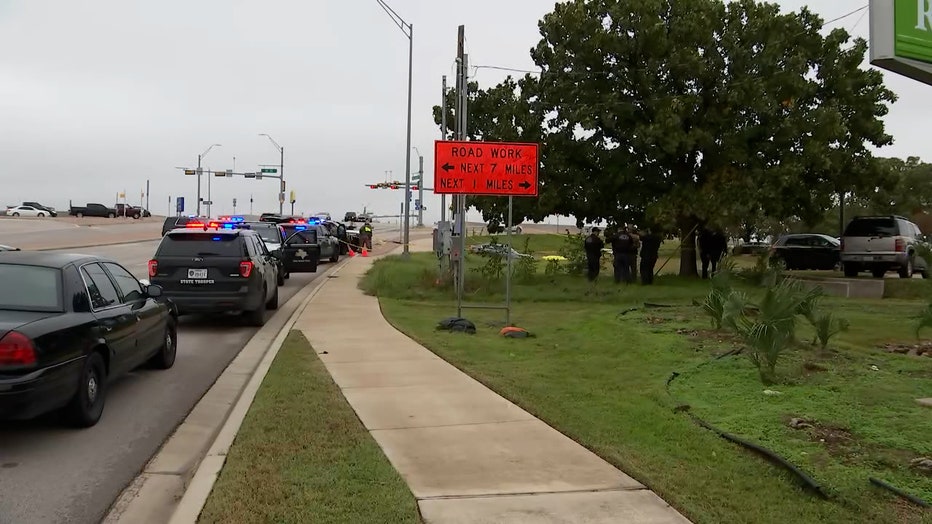 The woman's car went into a grassy area, and officials say she had a weapon in her hand when she got out of the car. A trooper fired at her, killing her.
"I heard gunshots at first, and I didn't know how I reacted," Santos-Velasquez said.
Santos-Velasquez was taken to safety. He says he has some bruises and whiplash but is overall okay.
"Drive safe, always be aware and make sure you at least call your loved ones and make sure they're safe as well," he said.
Meanwhile, at the nearby Cracker Barrel, customers were frightened as they tried to figure out what was going on.
"I just heard people yell, and I had my daughter with me, my husband was with me, and I'm also pregnant, so I had to drop to the floor really quickly, so it was really terrifying," Ashley Chambers said.
"Somebody screamed, 'everybody get down,' and that's when I lunged across the table because I have two little kids, I have a three- and five-year-old, and they were both in highchairs so they couldn't move," Juliane Frank-Griffin said. "My husband grabbed my son, and I tried to get around to the other side of the table to get my daughter out... we ran into the kitchen and at some point, I don't know how, but I fell and busted my face open, and I guess I started bleeding, but I didn't know."