Officer killed in shooting at Philadelphia International Airport; second officer wounded
PHILADELPHIA - A Philadelphia police officer was killed late Thursday night and another was injured after a shooting inside a parking garage at the Philadelphia International Airport. 
Both officers had just arrived to work at the airport, when Interim Commissioner John Stanford says they came across a group of suspects attempting to break into a vehicle in the garage. 
The officers approached the suspects who proceeded to open fire. One of the officers was shot multiple times in the torso and the other was shot in the arm. 
The officer who was hit multiple times was rushed to Penn Presbyterian Hospital where he was pronounced dead just after 11:30 p.m., Stanford said. The second officer was taken to Jefferson Hospital where he was listed in stable condition. 
The slain officer was a 22-year veteran of the Philadelphia Police Department, according to Stanford, and was married with one child. Stanford described the killing as a "numb moment" for his department after three officers were injured in a shooting last week.
The department, along with his family, gathered at the hospital to salute their fellow officer and escort his body to the medical examiner's office, then a local funeral home.
City leaders spoke out after the deadly shooting to express their "anger, devastation and heartbreak."
"Anger, devastation and heartbreak are the emotions. One officer gave his life tonight and one is recovering. Please wrap your arms and prayers around their families and our department. We will continue our search for those responsible and won't stop until all are in custody!" Stanford said.
Mayor James Kenney offered his thoughts and prayers to the families of both officers after the city's "tragic loss."
District Attorney Larry Krasner is urging anyone with information to come forward to help them identify suspects in the deadly shooting.
"Police go to work every day knowing they could at any moment encounter someone who has no business holding a gun, has a gun anyway, and is willing to fire upon others for no reason at all," Krasner said.
The Philadelphia Fraternal Order of Police Lodge No. 5 and Delco FOP Lodge 27 are offering a $30,000 reward for any information in what FOP President, John McNesby called the "murder of a Philadelphia police hero."
The Temple University Police Association added an additional $5,000 "in solidarity" on Friday, bringing the total reward to $35,000.
Authorities have not reported any arrests in the wake of the deadly shooting. Stanford said police believe a possible suspect was taken by private vehicle to Children's Hospital of Philadelphia where he was pronounced dead.
Police were searching for a black Dodge Durango that FOX 29's Steve Keeley reported was seen fleeing the scene by plowing through an airport gate. Police were scouring surveillance video in hopes of tracking the vehicle down. According to multiple sources, the Durango was found, "torched," in South Brunswick, New Jersey. 
Sources tell FOX 29 that a police investigation on I-95 near Academy Road and Cottman Avenue Friday afternoon was in connection to the deadly shooting.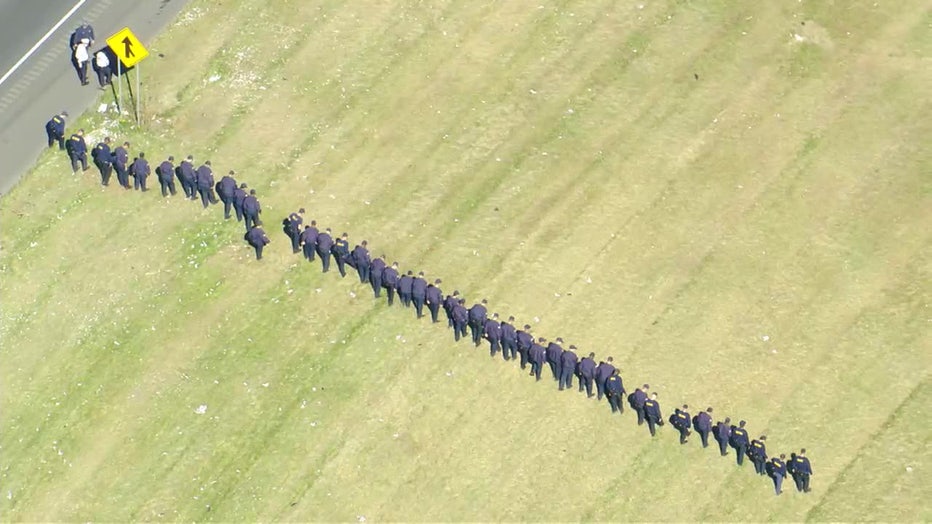 SKYFOX was live over the scene as a line of officers searched grass along the interstate, shutting down several lanes and ramps in both directions.
Details of this investigation, and how it is related to the shooting, have yet to be released.