Police name adult victims in Oklahoma State homecoming crash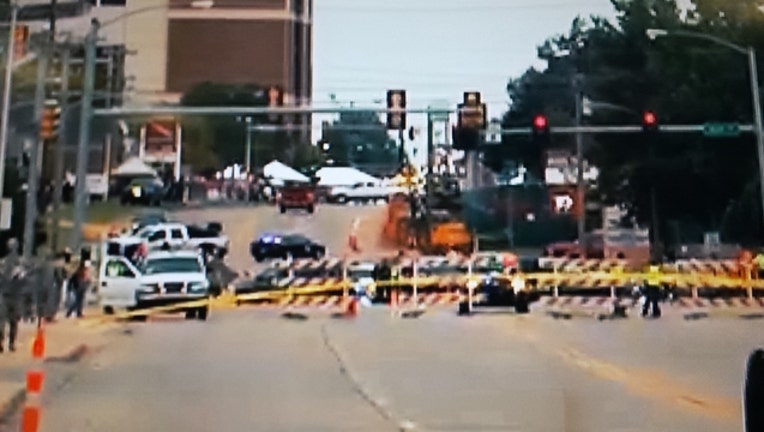 article
STILLWATER, Okla. (AP) — Police have revealed the identities of the three adults killed and dozens more injured when a woman plowed her car into the Oklahoma State University homecoming parade crowd, sending some spectators flying through the air.
The crash also killed a 2-year-old boy and hurt other children among spectators during what was supposed to be a joyful event Saturday morning in Stillwater. Police arrested the driver, 25-year-old Adacia Chambers, on a DUI charge and are awaiting blood test results to determine if she was impaired by drugs or alcohol.
After seeing the crash and surveying the street still strewn with lawn chairs, blankets and water bottles Saturday afternoon, Dan Whitmore said he had changed his mind about attending the homecoming game.
"You look at the carnage alone. (Someone) had a little baby stroller crushed up. It's disgusting," said Whitmire, who was visiting his daughter from Dallas.
Oklahoma State University President Burns Hargis said there was discussion about canceling the homecoming game against Kansas, but that it was played as scheduled. The victims were remembered with a moment of silence before kickoff, and most of the OSU players knelt on the sideline in prayer.
Early Sunday, police identified the three adults who were killed at the scene, but kept under wraps the name of the 2-year-old boy who later died at a hospital and other minors who were hurt.
Capt. Kyle Gibbs said 23-year-old Nakita Prabhakar of Edmond was killed in the crash, along with Bonnie Jean Stone and Marvin Lyle Stone, both 65 and of Stillwater. Another 47 people were injured in the collision, including five who remained in critical condition early Sunday, Gibbs said in a news release.
Chambers, a Stillwater resident, remained jailed Saturday night. Gibbs said Chambers' Hyundai Elantra struck an unoccupied motorcycle of an officer who was working security at the parade, then went into the crowd.
One spectator, Konda Walker, from Anchorage, Alaska, told the Stillwater News Press that some people initially thought the crash was part of the show.
"People were flying 30 feet into the air like rag dolls," Walker said.
Gibbs said police are conducting a homicide investigation into the crash.
Chambers' father, Floyd Chambers of Oologah, told The Oklahoman newspaper he couldn't believe his daughter was involved and said she was not an alcoholic. He described her as "timid" and said she had attended homecoming festivities Friday night with family but that her boyfriend had told him she was home by 10 p.m.
"This is just not who she is. They're going to paint her into a horrible person but this is not (her)," Floyd Chambers told the paper.
A woman who answered a call to a phone number listed for Floyd Chambers told The Associated Press no one was available to talk.
It's not the first tragedy to strike events connected to Oklahoma State sports programs. Ten people, including two OSU men's basketball players, were killed in a 2001 plane crash while returning from a game in Colorado. And Oklahoma State women's basketball coach Kurt Budke and assistant Miranda Serna were among four killed in a plane crash in Arkansas in 2011 while on a recruiting trip.
"The families, I know, and these victims will never be able to understand this, nor will we," Hargis said. "But the Cowboy family pulls together. Unfortunately we've had to do it before and we're going to do it again."
___
Associated Press writer Ken Miller in Oklahoma City contributed to this report.