Travel nightmare: Power outage at Austin-Bergstrom International Airport
AUSTIN, Texas - Austin-Bergstrom International Airport officials say power has been restored after an outage at the Barbara Jordan Terminal.
All roadways have now reopened and flights have resumed after a ground stop was issued for all arriving and departing flights at around 5:30 a.m.
Travelers are asked to continue to check their flight status here.
Flight interruption updates:
35 arrivals were canceled and 37 departures were canceled
59 flights out of AUS were delayed
5 arrivals were also late coming in
A spokesperson with AUS said the outage was so large, backup generators on site had to be started manually. That's why it took an hour for critical systems to get back on. 
Austin Energy says the outage was caused by "malfunctioning underground equipment." At least one burn out happened near the Hilton.
In a statement, Austin Energy says the equipment malfunctioned at 4:33 a.m. It used fault indicators, devices that light up to indicate a circuit issue, to determine and isolate the cause of the outage. 
At 8:03 a.m., crews completed repairs and restored power.
Traffic delays due to airport road closures
The Austin Police Department had blocked exits from 71 to AUS due to the power outage. This is right near Presidential Boulevard.
FOX 7 Austin's traffic cameras caught several people getting out of vehicles and walking with their luggage. 
The roadway was reopened at around 9:15 a.m.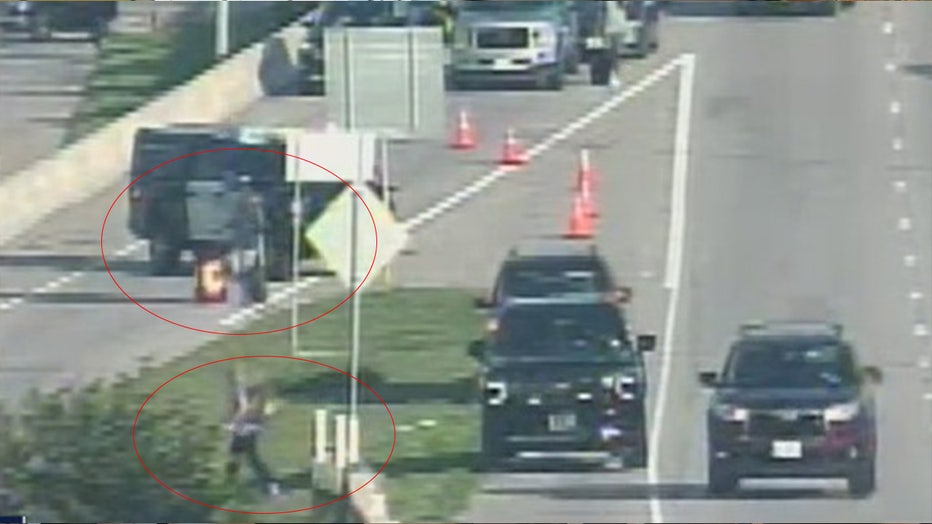 People captured on traffic camera abandoning vehicles on 71 as cars are stopped due to power outage at AUS airport. 
Alfonso Williams, who was on his way to Orlando, described a chaotic scene.
"Everything was dark. People was going in and out. It was, everything was dark," said Williams.
Molly Fischer and her cello arrived a few moments after the lights went out.
"My hubby dropped me off, and she called me later, and she was like 'it was like I was dropping you off at a secret portal in the middle of the night.' And I was like, it was like that. And that's what happened," said Fischer.
As Fischer waited for another flight, she played her cello. It was a way to describe how the morning sunrise eased her anxiety about being stranded.
A traveler by the name of Susan said she was also rebooting her travel plans.
"Yep. Just like the airport. And it takes a long time for an airport to reboot, because, I mean, like, the Internet just came out. Not the airport Internet, but the public Internet just came in. And it takes a long time. I've seen signs that were out for a while, and now they're back online," said Susan.
Some travelers, like Polly Anthony, said they were not surprised by the blackout.
"I think that it's a hot summer, where things get overtaxed and this happens," said Anthony.
Crews with Austin Energy could be seen around the airport repairing substations and transformers.
"And the question then becomes, why did this piece of equipment fail so catastrophically? And so we've pulled that piece of equipment, everything that was affected, both the cable, the switchgear and the elbow, as we call it, that that that is where those meet. And we're doing a full autopsy on that right now to try to ascertain as to why it failed so catastrophically, whether that was corrosion, whether that was the elements, whether that was animals, whether it's just old age, and how to make sure that whatever redundancy needs to be in place. We take a long, hard look at making sure that that redundancy is put in," said Austin Energy spokesperson Matt Mitchell.