Rally calling for end to Governor Abbott's COVID-19 mandates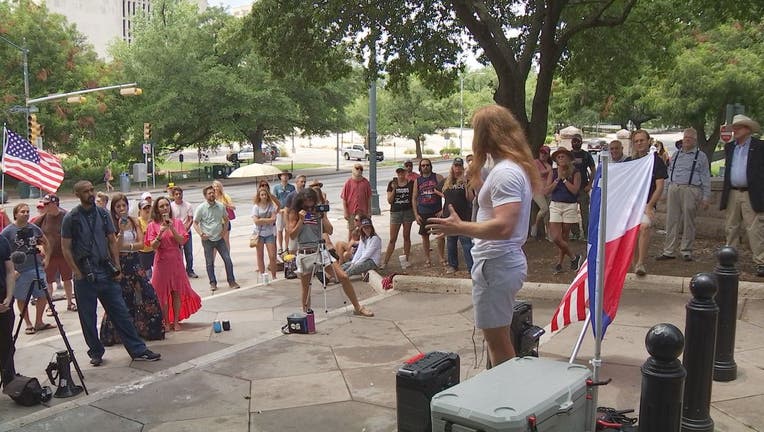 AUSTIN, Texas - A rally was held in downtown Austin as people gathered to call an end to Governor Greg Abbott's COVID-19 mandates.
Organizers say that the mandates are unconstitutional and want the governor to call a special session of the legislature.
SIGN UP FOR FOX 7 AUSTIN EMAIL ALERTS
---------
Get breaking news alerts in the FOX 7 Austin News app. It is FREE!
---------
Key issues the organizers say they want to see addressed include "the inability of families to see loved ones in nursing homes and hospitals, forced closures of businesses, mandatory mask mandates, contact tracing, and all aspects of the government response to Covid-19."
El Conservador Radio Show host and speaker at the rally, Geroge Rodriguez, says he feels like the mandates go too far.
RELATED: Gov. Abbott issues executive order requiring face masks in counties with 20 or more COVID-19 cases
"I believe our freedoms are being infringed on. Our personal freedoms are being infringed on in many ways," Rodriguez says.
Rodriguez adds, "I think that certain people need to take proper steps to take care of themselves, but I don't believe the government should put out a blanket edict for everyone, because one size doesn't fit everyone, and the health of many people who are not in danger of COVID is being impacted upon economically."
Several other people spoke at the rally which started at noon and lasted for a few hours.
CLICK HERE FOR THE LATEST INFO ON THE CORONAVIRUS OUTBREAK
___
FOX 7 Austin is working to keep you up to date with coronavirus, with both local and national developments. You can also get the latest COVID-19 news from around the country at coronavirusnow.com.