Austin police IDs man accused of sexually assaulting 11-year-old girl
AUSTIN, Texas - The Austin Police Department has identified a man suspected of sexually assaulting an 11-year-old girl at a Riverside apartment complex early last month. 
APD's Child Abuse Unit is looking for 36-year-old Uzziel Eduardo Garcia Cabrera, who is suspected of inappropriate sexual contact of a child for the April 1 incident.
Garcia is described as a Hispanic male, 5'5" and 220 lbs.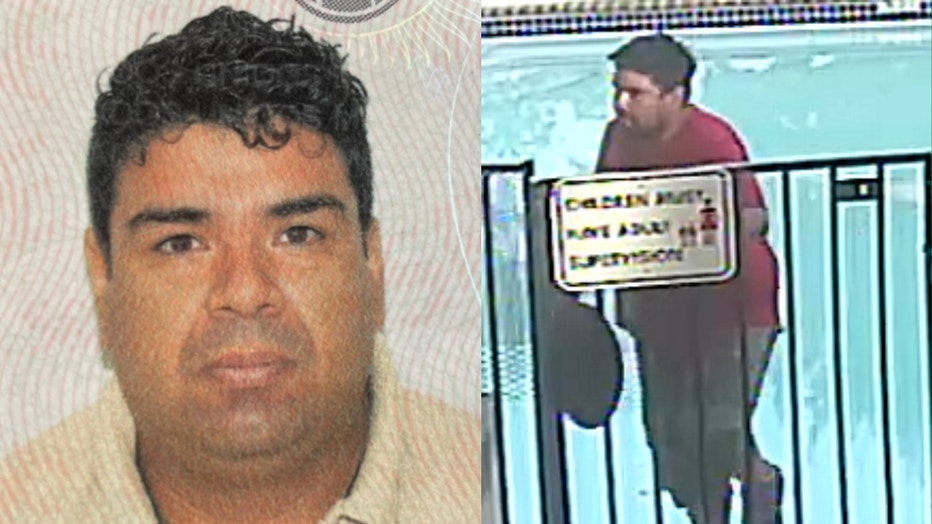 On left is a photo of 36-year-old Uzziel Eduardo Garcia Cabrera, on right is a surveillance image photo of the suspect in the April 1 incident. (Austin Police Department)
On April 2, around 10:15 p.m., officers responded to the Sophia Apartments at 2201 Willow Creek Drive where someone reported that they had witnessed a child being assaulted on their Ring doorbell camera.
Detectives reviewed surveillance video of the crime and investigators say the child, identified as an 11-year-old girl, had been returning to her apartment from the pool area on April 1 when a Hispanic man approached. The video shows the man grabbing the child and holding her close to his body.
APD says a few residents confronted the man and told him to leave, and he was last seen leaving the complex on foot. The girl later told detectives that the suspect touched her in a sexual manner.
Anyone with information about this incident should call the APD Child Abuse tip line at 512-974-6880 or submit tips anonymously through the Capital Area Crime Stoppers Program by going online or calling 512-472-8477. A reward of up to $1,000 may be available for any information that leads to an arrest.